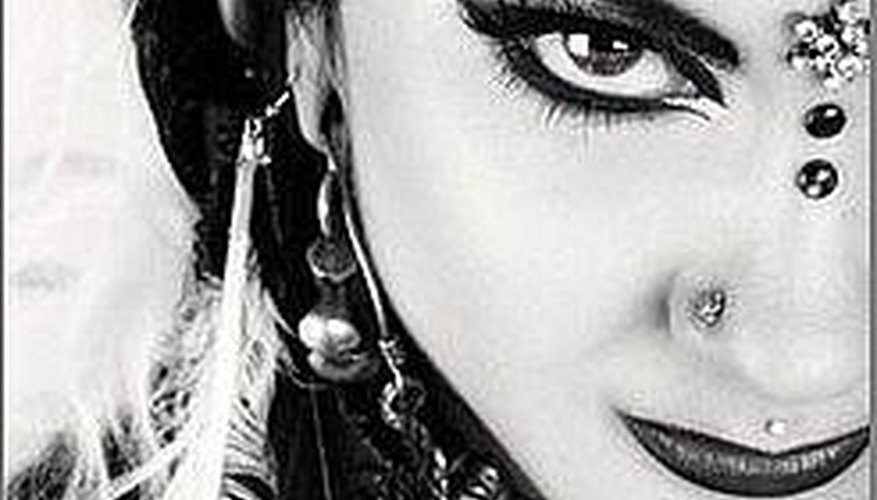 smashbox.com, ansuya.com, zoebellydance.com
Get in touch with your inner drag queen, girl. Cause when it comes to belly dance performance makeup, there can't be anything subtle about it. When you're a belly dancer, you are a fantasy woman: dark, mysterious, and graceful. And you need bold, flawless makeup to match the persona.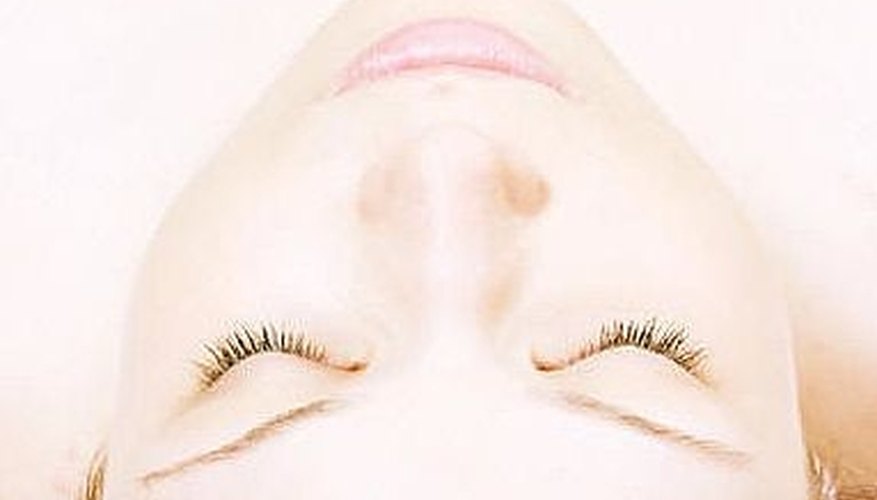 First you need to start with a clean slate. Prep your face by washing with a gentle cleanser and then applying a light moisturizer. If you have especially dry areas, you may want to invest in a good hydrating serum (like Chanel's Hydra Max) to spot treat any flaky areas. Dry skin stands out when you pile makeup on top of it, so if moisturizing isn't part of your regular skin care routine, you probably want to get in the habit of giving your skin a drink.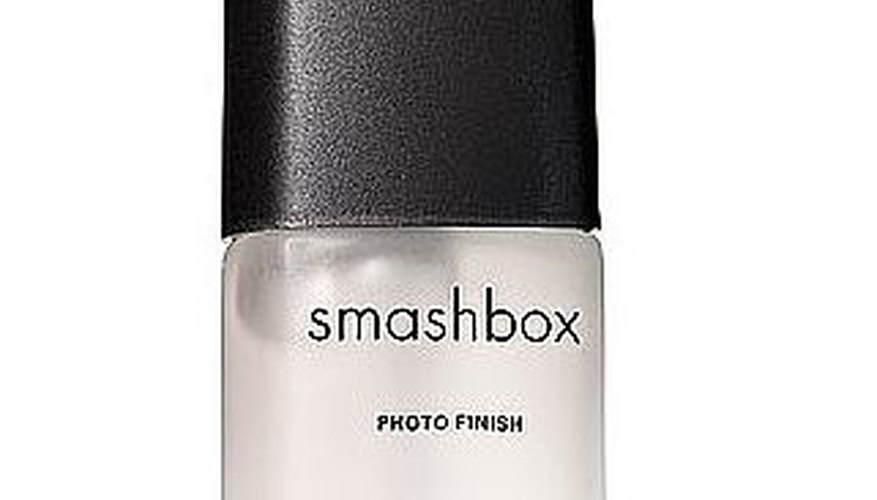 Now that your skin's good-to-go, apply primer all over your face. Makeup primer does for your visage what paint primer does for walls: it helps you get better coverage and smoothes over any flaws. And most importantly: It helps your makeup stay on longer, even as you sweat. If you're an especially "dewey" lady, be sure to cover the forehead and any other areas where your makeup usually sweats off. Don't neglect your hairline.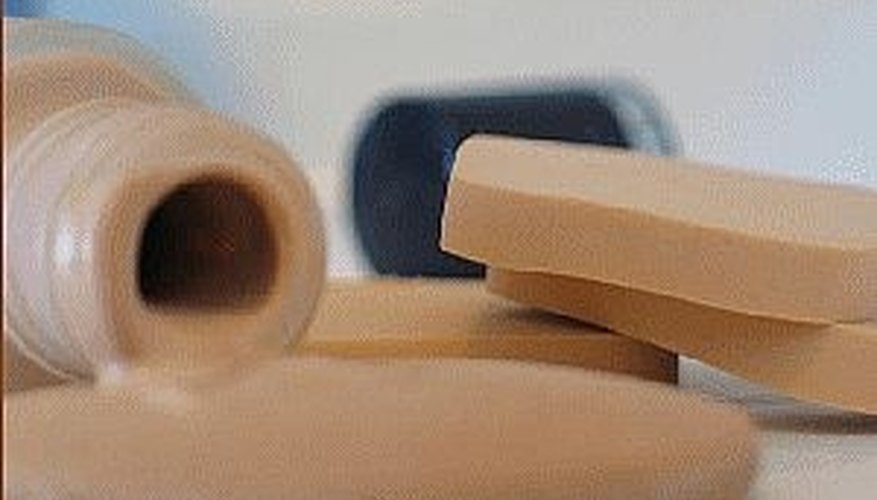 Apply liquid foundation using a brush or sponge. Liquid foundation tends to give good coverage to most women, and it makes our skin look flawless. Even if you aren't used to using it, you should wear it for performances. Remember: this isn't "every day" makeup. You are going for a very bold makeup look, and if yo do strong eyes, strong blush, and strong lips without a well-prepared base, you will look uneven.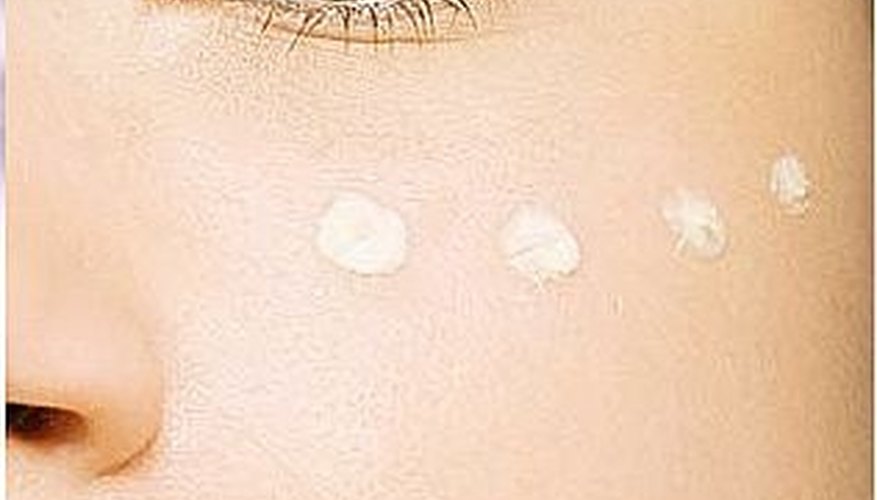 Finish your base off with concealer. Apply the concealer to your problem areas first: under the eyes, around your nostrils, and on any blemishes. Next apply concealer around the edge of your lips. Lining the lips with concealer will help keep your lipstick from bleeding onto your skin.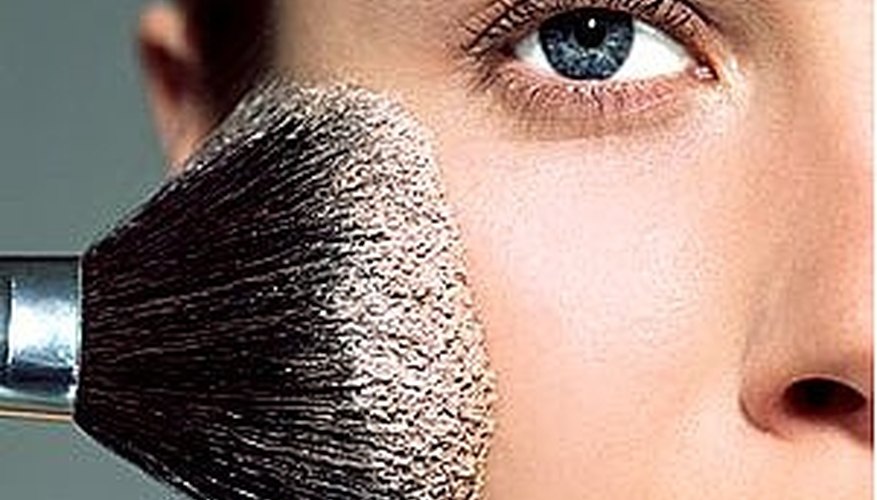 Now that you've done all that work making your skin look smooth and flawless, you need to set the foundation and concealer with pressed powder. Dust it all over your face, paying special attention to sweat zones and to the area under your eyes. Applying the powder under your eyes may prove helpful later: if excess eyeshadow ends up on the area under your eyes, it will be easier to dust off because it's laying on top of a layer of powder.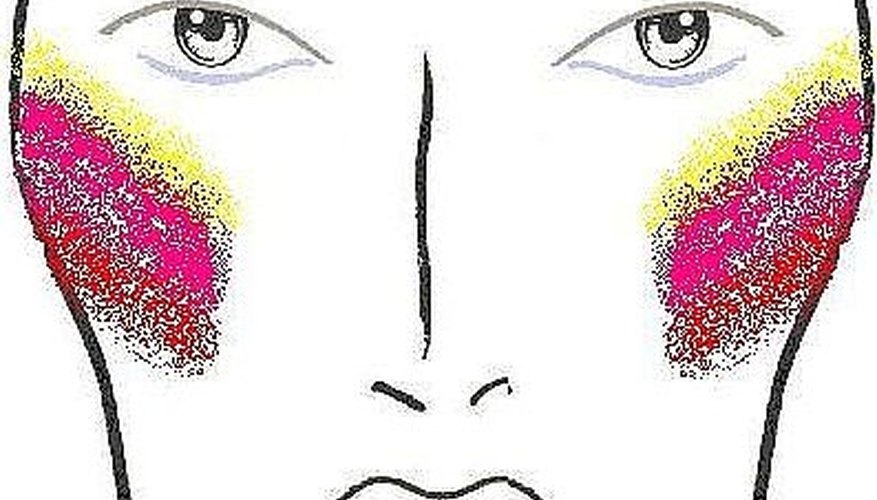 Time to create that rosey glow with blush. Choose a very bright pink shade--so bright that you wouldn't normally wear it unless you were going to an 80s party. Women of color should choose deep red shades. You will want to alter your blush application depending on what type of performance you're doing. For restaurant performances or any other situation where the lighting may be brighter, go easier on the blush. Just brush it across the apples of your cheeks, creating a healthy "flushed" look. For stage performances and other low-light situations, go heavy and apply the blush from apples to temples. Remember: this isn't your daytime look. Bold, bright cheeks look freakish up close, but come across beautifully in photos.
If you use bronzer, apply it after your blush. Don't put bronzer all over your face, only apply it to the areas where sun would kiss your face. Put a soft swipe down the bridge of your nose. Brush it on the right and left sides of your forehead. For a more dramatic look, sweep bronzer across cheekbones and over your nose.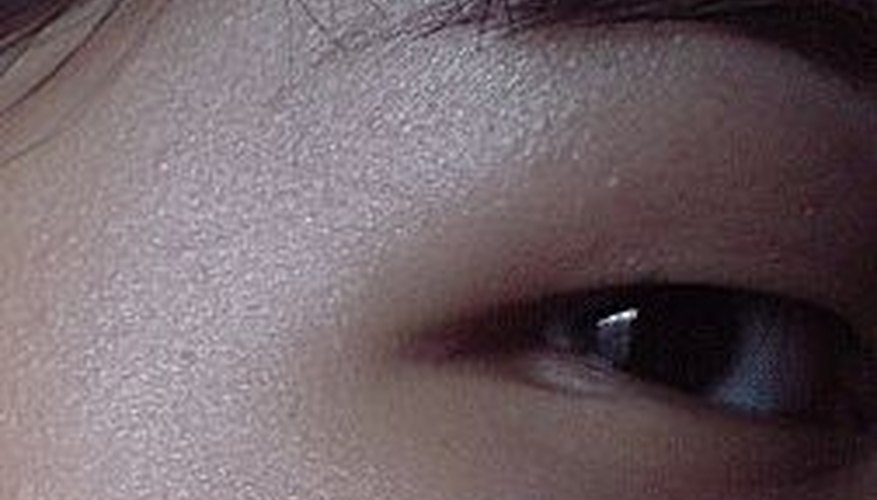 Now it's time to turn on your high beams with highlighter. Apply the highlighter just above your cheekbones, starting at the outer corner of your eye. But don't go crazy with it: you don't want your face to be electric, you only want it to glow softly. When you dance, the lights will catch the shimmering highlighter on your cheeks and make you look fresh and radiant.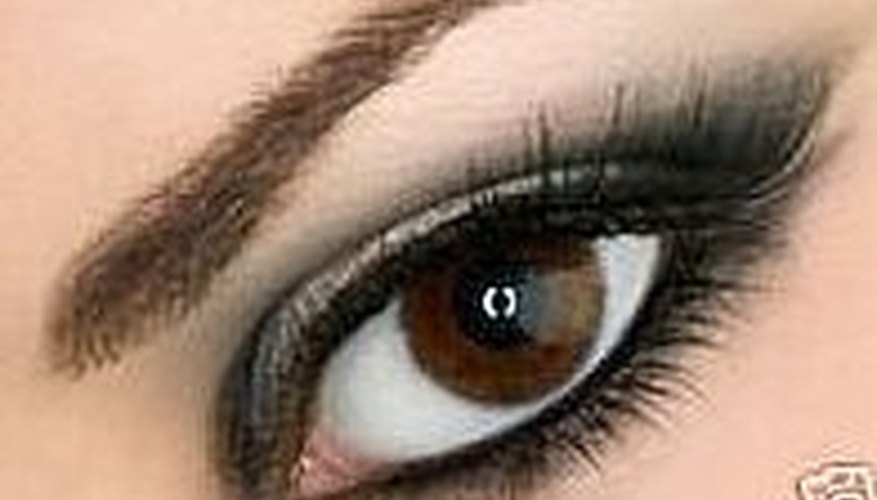 And now for the most dramatic part of your look: the eyes. You really want to think drag queen for this part of the look and channel Elizabeth Taylor in "Cleopatra." Start by applying three different shades of smokey grey eye shadow. You should use a palette that has a light, a medium, and a dark grey shade. If you aren't sure what colors to buy, look for palettes labelled "smokey eye." Using an eye shadow brush, sweep the medium grey shade over your entire lid. Next, fill in the crease with the darkest grey shadow, starting at the outer corner of and working your way in. Use the lightest grey shade to highlight your brow bone. Lastly, apply white eye shadow to the inner corner of your eye. This white shadow acts as a highlighter and creates the illusion of bigger eyes. It'll also make you look more awake. The last eye shadow step is the most important: blend, blend, blend. You don't want to have any sharp lines of color on your eyes, so use your finger to blend any hard lines into soft edges.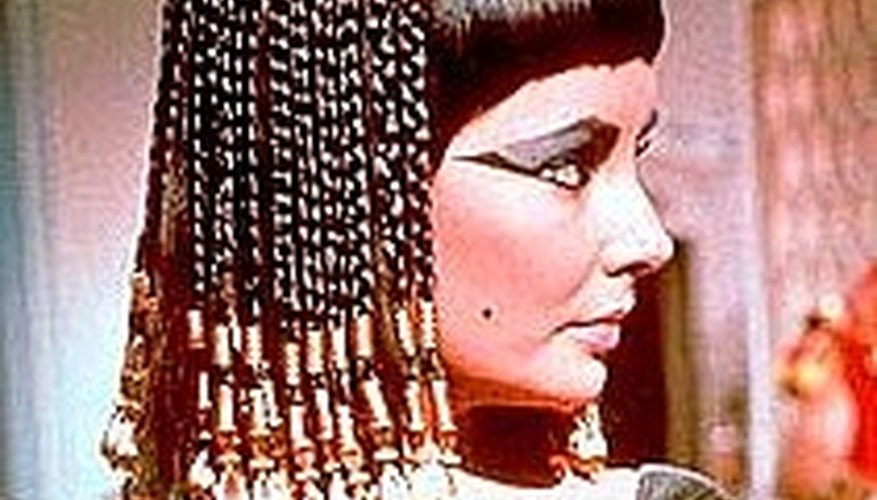 Now it's time for the fun stuff: black liquid eyeliner. Liquid Eyeliner is key to creating that Cleopatra cat eye look. Don't be scared of it. If you're new to the stuff, do yourself a favor and get a felt-tip liquid eyeliner instead of a brush eyeliner. The sturdy felt tip will help you control the line you draw. You'll draw a long line from the outer corner of your eye in towards the inner corner. Angle the brush so your line at the outside corner is thicker and tapers off as you reach the inner eye. The only way to draw the perfect line is to practice. You're essentially painting your eyes, so you'll have to be a bit of an artist to achieve the perfect look. The best way to learn is to scour the internet for photos of the look you want to achieve. Print out a photo that you like, and tape it on your mirror. Practice starting the line at different points on the outer corner of your eye until you get it right. Practice. Practice. Practice. Keep some cold cream and Q-tips on handy in case you want to "erase" your line and start over.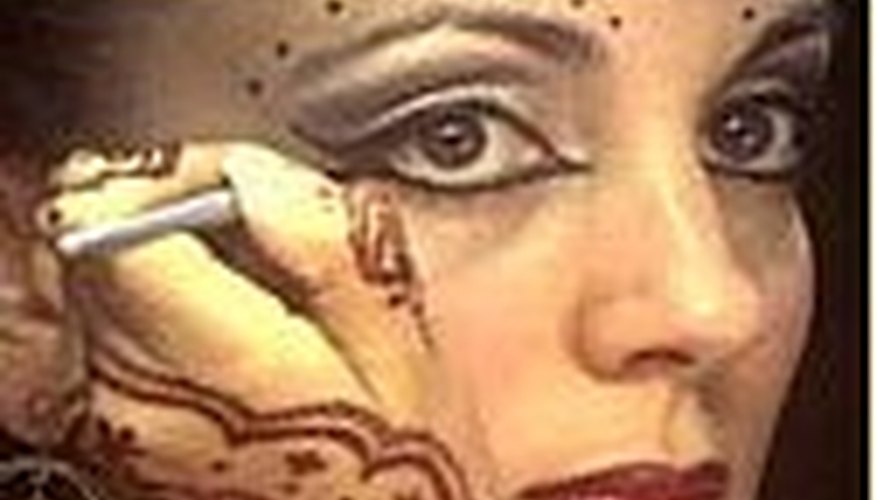 Now that you've plastered on the liquid liner, you need to finish your lower lids with regular black pencil liner. You may want to skip this step for a more casual performance or a bright lighting situation. Complete the cat eye look by lining the lower eye starting at the inside corner, approaching the outside corner. As you approach the outer corner of the eye, flick the pencil up quickly. The flicking motion will produce a little tail---the bottom portion of your cat eye.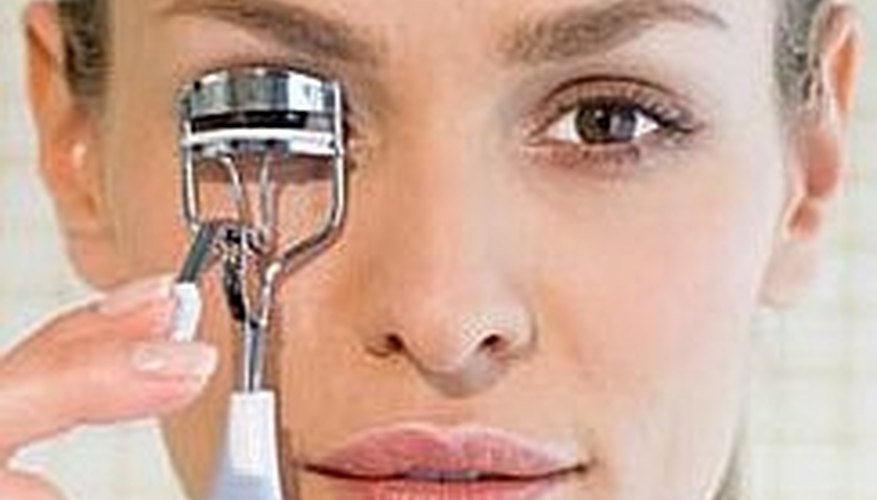 Finish off your eyes with mascara. Before you break out the tube though, grab an eye lash curler and curl away. Start right at the base of the lash line and crimp the lashes for 15 seconds. Then move the curler to the middle of the lashes and crimp there for 15 seconds. You definitely don't want to skip the curling step; curling lashes opens them up, making your eyes look much bigger. Finally, grab your black mascara and give the lashes a good coat, working from base to tip, wiggling the brush back and forth as you go. Wiggling will help separate the lashes.
The next step is optional, but gals with unruly brows will find it helpful. If your eyebrows typically behave badly, bending every which way, get yourself some clear brow mascara and brush it over your groomed brows. The clear mascara will keep them in the perfect position for your performance.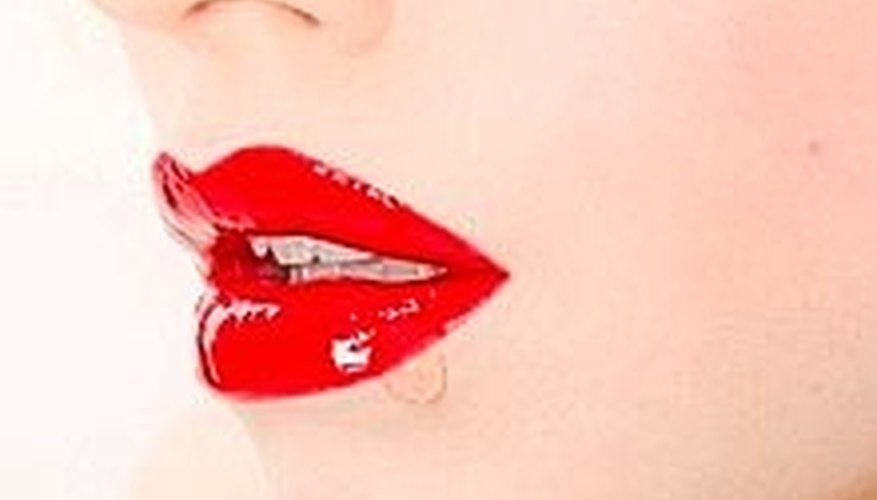 A luscious red pout is in order for your bold belly dance look. Choose a long-lasting lipstick that'll stay on for your entire performance and won't rub off when you swig a bottle of water. The shade you choose will likely depend on the type of performance: super dramatic dark red lips work well for stage and low-light performances while lighter red or pink shades are appropriate for casual performances. If you aren't used to wearing dark lip stick, get used to the idea. It may look funny to you in the mirror backstage, but your pretty pout will come across great in photos or on video. The more dramatic, the better. If you're the daring type, you may choose to wear dark red lips for each and every performance.
Tip
Liquid eyeliner can be tricky to apply. But it'll be easier if you work from the outside of your eye and move in. The part where most of us flounder is in finding the correct outer point. If you determine first where you want that outer point to be and draw in, it'll be easier to start there and end up in the inner corner. If your performance is really high drama or if you're not well-endowed in the lash area, you could consider using fake eyelashes. There are two types: individual lashes and single row. The individual lashes are more difficult to apply, but they look more natural. Add cold cream or makeup remover to your medicine cabinet. It may be difficult to wash off your makeup using regular soap, especially if you're wearing long-lasting lipstick. Besides, you don't want to strip the moisture from your face using soap, which can be drying. If you're prone to dry skin, you need to become BFF with cold cream; it moisturizes while removing your makeup easily.