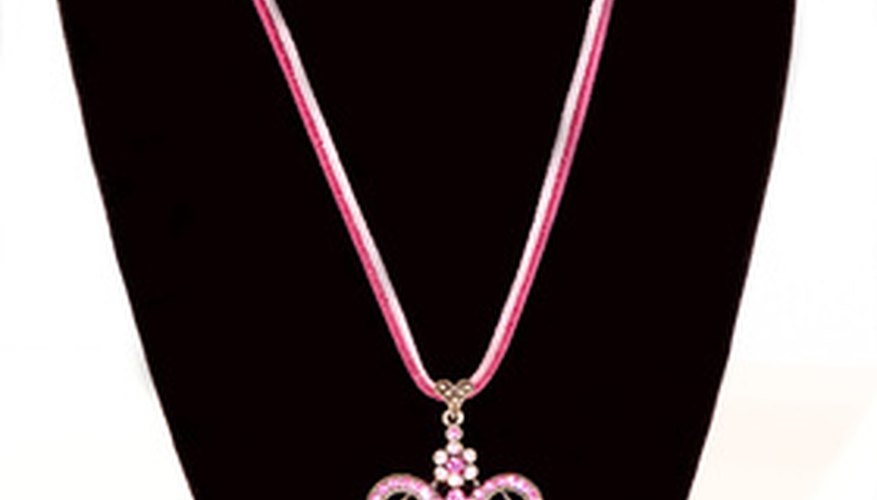 The costs associated with professional jewelry making and selling astonish many amateur jewelry designers. One of the major costs is jewelry displays, which professionals use at craft fairs and jewelry shows. Fortunately, artists like Bea Gransmaa from Home Jewelry Business Success Tips have found a way to create inexpensive, yet professional necklace displays.
Print out the design template in the Resources section. This is the template that you will use to set up the freestanding necklace display.
Enlarge this template using a photocopier to your desired size. Most necklace displays are approximately 10 in. to 1 ft. If you want to model especially long necklaces, adjust the measurements of your template accordingly.
Glue your template to a piece of cardstock or poster board. Both of these are durable enough to stand by themselves, as long as you do not hang a heavy necklace of large gemstones on the display. If you want a stronger material, use cardboard.
Glue a piece of fabric (imitation velvet, leather or linen) to your template. Use a glue stick instead of wet glue as it can cause the fabric to wrinkle. Allow your fabric to have a little slack to fold over the cardstock without stretching it too tight.
Wait 24 hours for the glue to dry.
Punch a hole on the two bottom corners with scissors or a hole punch. You can just use the small dots at the bottom of the template to guide your hole punch.
Go over the fold lines on your template with a knitting needle or other semi-sharp object so that the cardstock will fold over easily. If you used cardboard to create a more sturdy display, flip it over and nick the fold lines with a paper knife to ease folding.
Fold back the sides and the top as indicated on the template. You may have to pinch these folds to get them to stay folded.
Thread a piece of twine or cord through the two holes and then tie it off. Stand up your jewelry display and adorn it with a necklace.