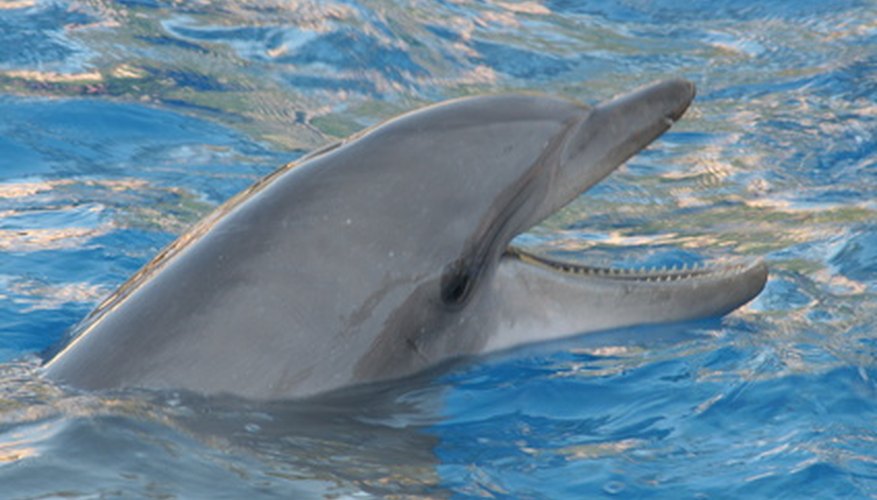 Dolphins appeal to kids for many reasons, including their repertoire of tricks in the water, their friendly behavior as well as their adorable faces which seem to be plastered with a permanent smile. Whether the kids have seen a dolphin in real life or not, the dolphin crafts allow them to learn more about these fascinating mammals. The dolphin crafts work well to supplement a lesson in class on sea creatures. They also work as a rainy day activity for kids who enjoy dolphins.
Dolphin Diorama
To create a dolphin diorama, paint the inside of a shoebox with blue paint to create the ocean. Spread glue on the bottom of the box and sprinkle it with sand to create the ocean floor. Create dolphins out of paper, craft foam or self-hardening clay. Encourage the kids to make their craft dolphins as realistically as possible using the materials. The kids can either glue the dolphins to the back of the diorama and suspend them from the top of the box using string. Let them add other details such as coral, fish, seaweed and other sea life.
Dolphin Mobile
Create a dolphin mobile that you can decorate your home with. A hanger or a wooden dowel works well as the base for the mobile. Provide dolphin templates for the kids to use to create the pieces for the mobile. Craft foam is a good material to use because it is easy to work with, yet durable. After the kids trace and cut out their dolphins, let them punch a hole at the top and tie a string through it. The dolphins are hung from the hanger or wooden dowel. To make it look like the dolphin is swimming under water, attach paper or craft foam waves to the hanger or dowel.
Jumping Dolphin
A shoe box creates the base for this jumping dolphin craft. Remove the lid and turn the box upside down so the open side faces downward. Cut a slit about ½-inch wide on the top of the box; the slit should be almost as long as the box. This creates the track for the jumping dolphin. Paint the outside of the box or cover it with blue construction paper. Add waves, seaweed and other details on the outside of the box for a more realistic look. Cut out a dolphin from construction paper, poster board or craft foam. Add details to the dolphin to make it more realistic. Attach the dolphin to the end of a paint-stirring stick or wooden dowel. Place the stick down through the slit in the top of the box. To make the dolphin jump, start with it inside the box near one end of the slit. Push the stick up in an arching pattern lifting the dolphin in and out of the box.