Michele Rider/Demand Media
Clear Christmas bulbs are a crafter's dream. Think of them as empty bottles to be filled and you will come up with more ideas than you may have bulbs to put them in. To spur your creativity, assemble glue, paints and brushes, glitter, ribbons, silk flowers, miniature items or any other craft items you have on hand before deciding what to make and then let your imagination take off.
Painted Bulbs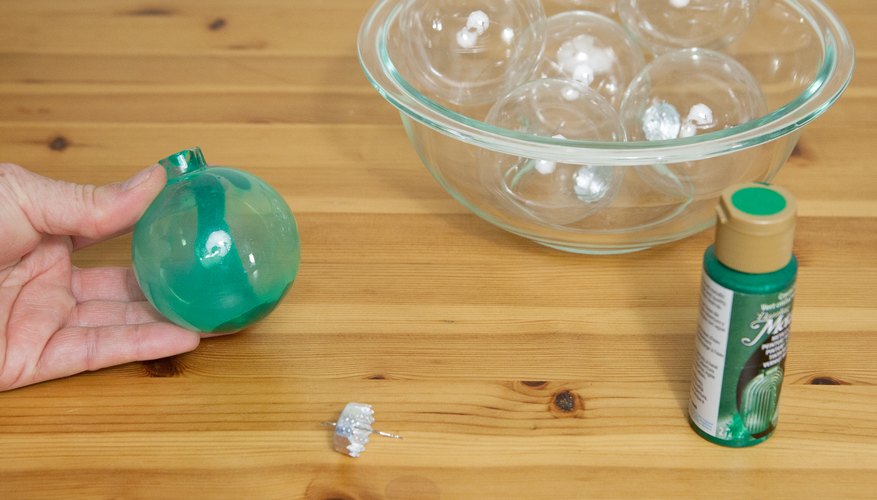 Michele Rider/Demand Media
Carefully remove the top from a clear bulb and squirt about a teaspoon of acrylic paint into the inside of the bulb from a nozzle tipped paint container. Use any color or combination of colors you like – pearl and glitter paints are especially pretty – and swirl them around to create interesting effects. You can let one color dry before adding another for layered effects, or blend colors by adding several colors at once, then swirling them together. Coat the entire bulb or leave clear spaces as desired.
Sparkle and Glitz
Michele Rider/Demand Media
Dilute white glue so that it will flow evenly, and then pour it into the bulb, coating the whole inside or just portions of it as you prefer. Give it a minute or two to become tacky, then pour in glitter or tiny glass micro beads. Turn the bulb all around to adhere your sparkles to the glue. Let the glue dry until it is completely clear; dump out any excess glitter or beads, replace the cap, tie a pretty bow around the top and hang the ornament.
Nature's Ornaments
Michele Rider/Demand Media
To make some truly beautiful Christmas bulbs with a natural theme, gather silk leaves, flowers or berries that will fit through the opening at the top of the bulb. You can get many larger flowers, such as poinsettias, into that small opening by folding them carefully or rolling them into a thin tube, then opening them back up using a toothpick or tweezers. Another option that works well with a sprig of holly berries is to dismantle the artificial plant and reassemble it piece by piece inside the bulb, exactly as you would build a ship in a bottle.
Light Bulbs
Michele Rider/Demand Media
Another way to add sparkle to your tree is with miniature, battery-powered LED lights. Fill each bulb with lightweight clear plastic beads or other transparent objects. Place one LED light in the center of the bulb with a pair of tweezers and pack the beads around it; they will catch the light and send it out in tiny rainbows around the room.
Snow Globe
Michele Rider/Demand Media
Make a snow globe from a clear bulb. Glue a piece of cotton ball to the inside bottom of the ornament to represent snow, then add a tiny pompom snowman or other miniature object to create a small scene. Mix pearlescent glitter with white glue and use a toothpick or long skewer to dab dots of the substance here and there inside the bulb to simulate snow falling. Tiny houses from games like Monopoly, painted to look more realistic, make a cute village scene.
Michele Rider/Demand Media