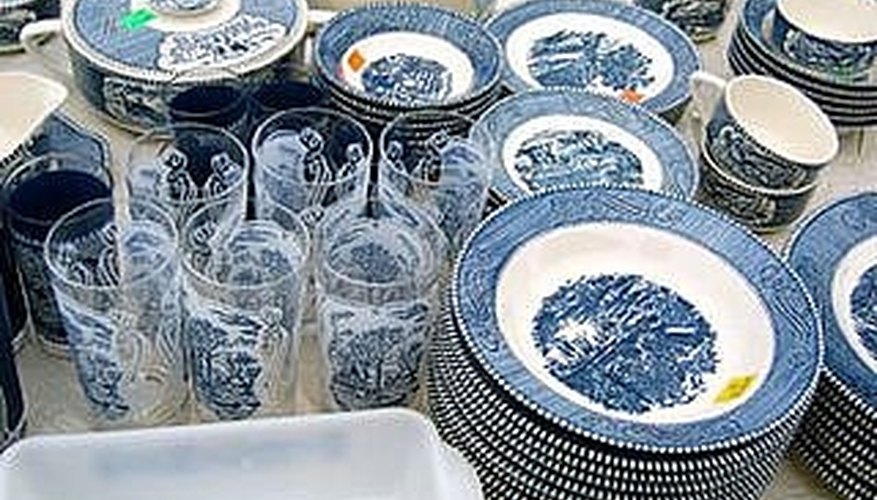 Remember those blue and white dishes with the beautiful scenery glazed on them? You probably ate on them at your grandmother's house, or saw them lying around your mom's cupboard. They're collectors items now, and some of the more rare pieces are even worth a fare sum. Unlike other items, however, they are fairly easy to collect once you know where to start.
Familiarize yourself with the types of plates available. The fun part about collecting Currier & Ives dishes is the sheer variety of objects available. Royal China, the company that first manufactured Currier & Ives plates back in the 1950s, continuously came out with special pieces, such as mugs, dessert plates, and glasses, in addition to their regular dinnerware. Many of the hostess or holiday sets are extremely rare and a welcome bonus to any collection. There are also advertising items like wall plaques and prints first given out by sales reps trying to promote the brand. The more you familiarize yourself with the history and background, the better you'll be able to spot a rare find when you happen upon it.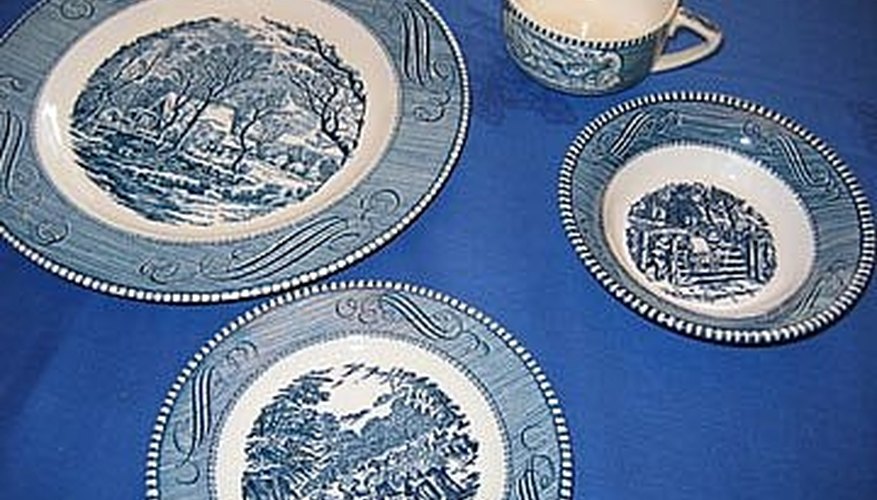 Common dishes are:
· Dinner plates · Tea cups · Tea cup saucers · Berry bowls · Bread & butter plates · Salad plates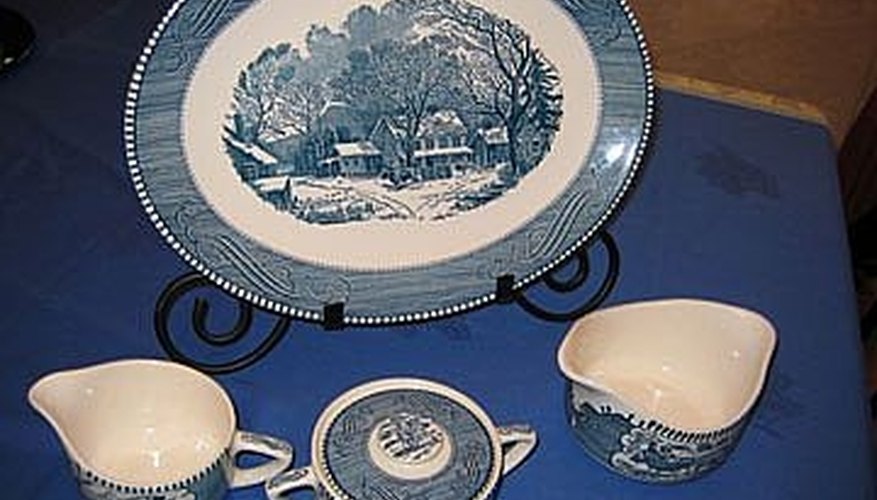 Harder to find items are:
· Cereal bowls · Glassware · Tabbed serving plates · Oval serving platters · Three different sized chop plates · Gravy boat · Large sized serving bowls · Sugar and creamer set · Butter dish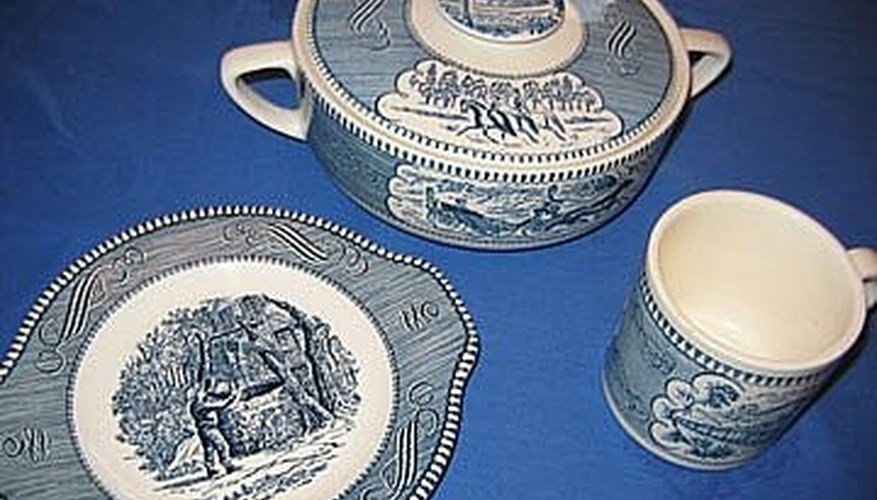 More rare items are:
· Luncheon plates · Soup tureen · Tabbed gravy boat plate · Coffee mugs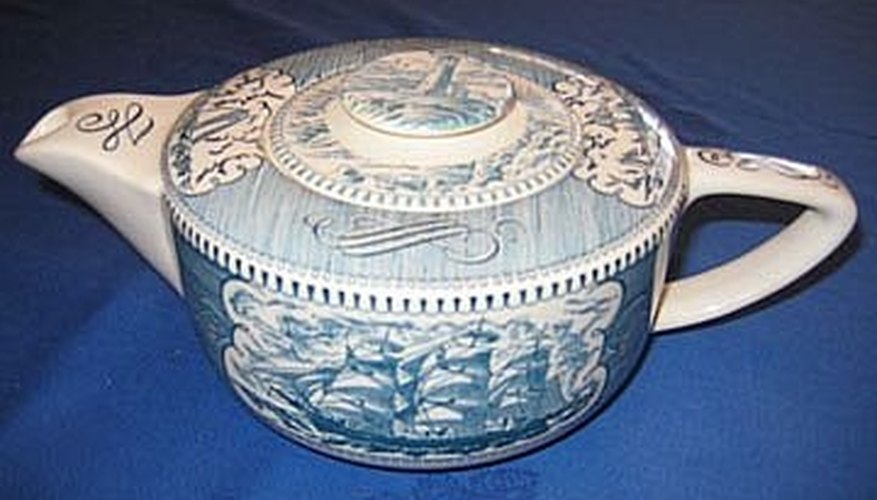 Most rare items are:
· Tea pot (with lid) · Three tiered serving stand · Egg plate · Hurricane lamp · Clock
Surf the Internet. Online stores, such as eBay, are a great place to begin your search for items. To find Currier & Ives dishware, vary your search phrasing. For example, "Currier & Ives" "blue C&I dishes" and "Royal China" are all phrases that will lead you to different areas of the site. Keep in mind that it all depends how people list the item they have. Change the search phrase until you find items you're looking for.
Flea markets and swap meets. Dealers at flea markets and swap meets all over town have various Currier & Ives dishware. Many dealers even specialize in it. If you see a dealer with a table full of Currier & Ives dishes, you'll probably ending up paying full market value for the piece. However, if you spot a dealer that has a hodge podge of items, Currier & Ives plates among them, grab them and negotiate a price. Dealers that sell Currier & Ives but don't specialize in them are generally more flexible in pricing and in working with buyers than those with large collections. Don't be shy in asking a dealer if they will come down on price - they expect you to do just that.
Antique stores. Prices are usually much higher at antique stores, but not always. Every once in a while a dealer will come across a Currier & Ives piece and not realize the value. There are so many pieces that were issues that no one person could keep track of them all. Collectors, in fact, are usually more up on what's worth money than the dealers generally are. Antique stores sometimes have the more rare and harder to find pieces, such as soup tureens and teapots.
Estate sales. When an entire household of furniture and collectibles is up for sale, this is called an estate sale. These are generally advertised in the local paper ahead of time, but you can also find them just by driving around your neighborhood on a weekend morning.
Rummage sales. Never forget the garage, tag, and rummage sales in your area. After all, sometimes this is exactly where dealers get their merchandise. Take a Saturday morning driving down the popular streets of your town and stay on the look out for signs. Generally from 9-5 are the best times to catch rummage sales, and many begin early in the week on Thursday. You never know how people come in contact with Currier & Ives dishes. Some folks ended up with them by choice and now want to downsize, while others just used them as their everyday plates and weren't aware that they were collectible. As with flea markets, always try to get the best possible price available.
Tip
Red, blue, green, or brown? If you've ever seen one of the Currier & Ives plates, chances are it was blue. Blue is the most common color in the Currier & Ives arsenal. The red, green, and brown items, despite being much fewer in number (and thus, rarer) are actually worth about the same as the blue items. Why? The blue were distributed in larger numbers when they were first available at A&P stores. Today, the blue dishes have higher nostalgic appeal for collectors. If you see a scroll on the handle of your item (tea cup, creamer, sugar dish, teapot) grab it. Scrolled items are more rare. Pick up "A Collector's Guide for Currier & Ives Dinnerware" by Eldon R. Aupperle (Library of Congress # 96-96253). It gives a short history on Currier & Ives dishes as well as pictures of the various types of items. It also provides a valuable pricing guide.