photographic instant camera image by The Blowfish Inc from
Fotolia.com
When Polaroid decided to close its instant camera and film manufacturing plants around 2008, instant photo enthusiasts were left with obsolete equipment and no alternative that could produce the same ethereal results. Before discontinuing production, one of the last models made was the Polaroid 600, which was popular for its ease of use. Now, the only original film available for this camera is extremely expensive back stock. Still, there are new options for the Polaroid 600 niche.
Impossible Project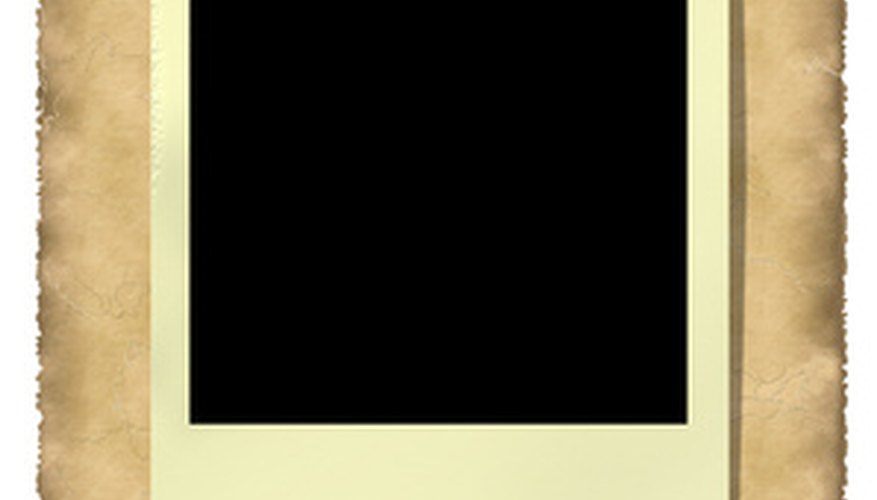 old polaroid frame at vitage image by PaulPaladin from
Fotolia.com
In order to save a cherished art form, a new company, unrelated to Polaroid, was formed in February of 2010 with the mission to build a new future for instant film. The Impossible Project started as PolaPremium a company dedicated to Polaroid products and the artistic images created with them. With the decline in availability of their supplies, the members of PolaPremium turned their efforts towards making their own film line to fit classic instant cameras. PX 600 Silver Shade is a black and white film that can be used with Polaroid 600 cameras. It is available in three variations. Some varieties exhibit random flaws in the appearance of the image, which is desirable to some artists. Special care must be taken to ensure the image is preserved after the initial development time has ended. If color film is preferred, The Impossible Project offers a selection of other products. A designer Polaroid 600 kit is available. It includes a Polaroid One pop up camera with a pack of color film. Other classic instant camera models and films are for sale if using a 600 camera isn't the priority. Finally, the FAQ section of The Impossible Project's web site states that they plan have a color 600 film available some time during the summer of 2010.
Fujifilm
Again, if 600 ASA models are not a requirement, Fujifilm offers a point and shoot instant color film system called "Instax 210." The prints are in a wide format, fine grain, 800 speed film. The camera is equipped with a flash and a close-up lens adapter is available. Mini versions of the camera produce images measuring about 2 inches by 3 inches. Outside vendors also sell their professional 100 ASA films, which can be used in some previous models manufactured by Fujifilm as well as other by companies, including Polaroid.
Polaroid
Since closing its factory, Polaroid has been working on new products to suit the digital photography market. They have recently partnered with Zink (zero ink) Technology to offer a digital camera, called "Polaroid PoGo" that can output instant color prints. A PoGo mini printer is also available for use with other digital cameras or cellular devices. PoGo prints are 2-inch by 3-inch sticker photos. As of July 2010, they are taking pre-orders for their new "classic instant" camera, the Polaroid 300. The 300 comes with a built-in auto flash and four lighting settings. The prints will have a white border, reminiscent of earlier Polaroid pictures. However, the perimeter is only 2.1 by 3.4 inches, which leaves a 1.8 by 2.4 inch image after the border has been subtracted.
References
Writer Bio
Stephanie Reid started writing professionally in 2002. Her articles covering music, art, culture and nature were featured on AustinYouth.org and in "Jeju Weekly." She is certified to teach English as a foreign language through International TESOL Teacher Training and holds a Bachelor of Arts in organizational management with a concentration in photography and graphics from Ashford University.
Related Articles