When I was asked to style my friend's wedding, my jaw dropped. If you think the word wedding by itself is intimidating, the idea of styling one made my heart race! You see, I am a perfectionist, but so are brides, making this feel like a daunting task! Lucky for me, my friend imagines a rustic chic wedding, and that means there's no need for perfection. Rustic means simple, homely, and beautifully imperfect. It also means you can easily style a wonderful wedding on a budget. After a trip to the thrift store and a short stop at a craft store, we came up with a great idea: vintage hardcover books transformed into one-of-a-kind-displays - perfect for the country chic wedding of her dreams.
Hardcover books wrapped in paper.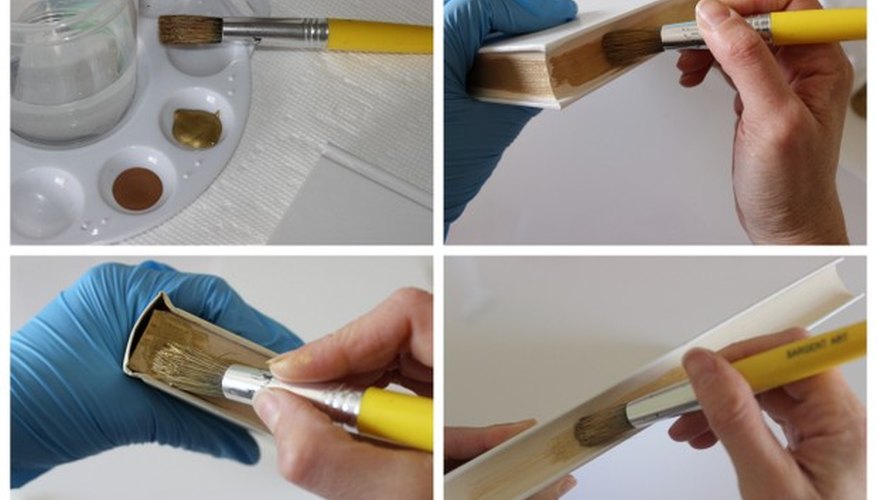 Gather your acrylic paints, a cup filled with water, and prepare your color palette. Prepare a mix of light brown and metallic gold, brush it on all 3 sides of the book. Don't try to be perfect - this is the fun part of the project! Spots and streaks are encouraged to give the book character and old world charm. Allow 5-10 minutes for the paint to dry before proceeding with step 2.
With the design facing down, lay your paper on a clean, flat surface, leaving at least 3/4" clearance on each side for folding in later. Fill the glue roller with the water-based glue and squeeze gently to let some of the product roll onto the book. Fold the remnant of the paper and smooth out with the help of a brayer or a ruler.
Turn your book over and repeat Step 2 on the other side.
For this particular project, I am using 12"x12" scrapbook paper off a paper pad so you will notice that I needed to add an extra page (of the same design) in order to cover the entire book. This step shows you how to make the addition almost seamless. A wide and long roll of wrapping paper will work perfect without having to make additions and it will make the process even easier.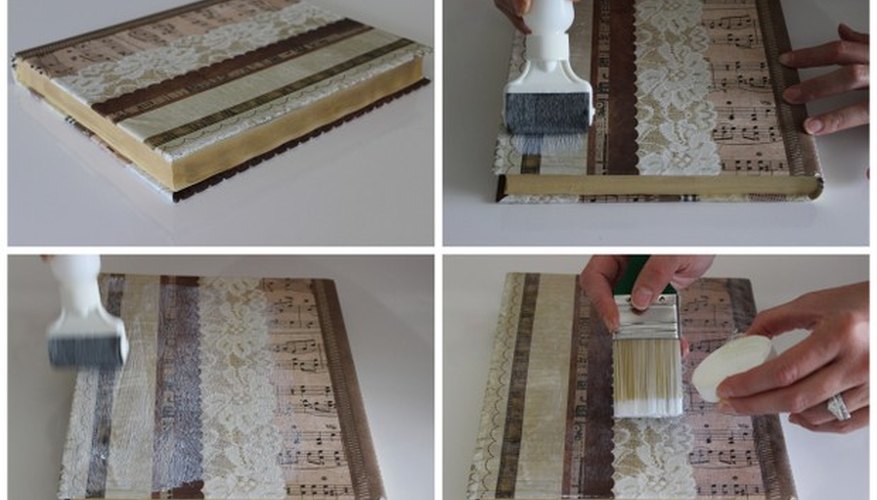 Once the book is all wrapped, proceed to add a coat of the water based glue directly over the wrapped book. Not only will this will act as a sealant and protectant, but it will give the surface of the book a nice, glossy finish. Allow 15- 20 minutes to dry between coats.
Painted hardcover books.
If your book has a dark colored cover prime it with one coat of plain, bright white acrylic paint using a wide brush. Repeat the process on all sides of the book. Allow an average of 15 minutes per side to dry. If you are painting a book with a light colored cover, you can skip this step altogether.
Gather your acrylic paints. Create the color palette of your choice. A mix of a minimum three colors adds interesting lines and streaks . Mix and match your paint. If you think that you need to lighten the hue, water down the paint as you go or add some drops of the white paint.
Brush only following one direction; preferably horizontal - as shown in pictures-. You can go from left to right and brush back from right to left. Be careful not to over-brush as acrylic paint is thick and dries quickly. If you run into a thick ' gooey' patch, water it down quickly and brush, brush, brush. The most important part is to have fun with it!
Allow paint to dry completely (around 15 minutes) and repeat steps 2 and 3 on the spine and other side of the book.
Mr. and Mrs. books wrapped in burlap.
Take a piece of burlap, lay it down on a flat surface and lay the book on top. Cut to size, leaving at least 1" of burlap past all book edges.
Lay the book down on the piece of burlap previously cut.
Open your windows.You are getting ready to spray the adhesive and this stuff is strong! Make sure to spray at least 10" away from the surface. Remember to spray the spine as well.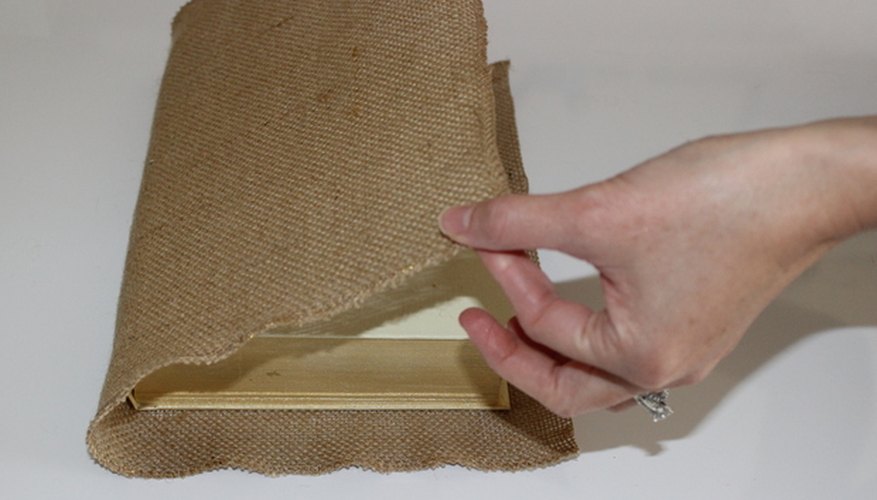 Right after you spray the adhesive, fold the burlap over and smooth it down. Turn the book over and repeat steps 2 and 3 on the other side.
Cut out the excess of burlap along the edges. To prevent fraying, brush on some the water-base glue, wait for it to dry and then cut the edges. If you go this route, make sure to add the glue before cutting the burlap. I've tried to cut the burlap first and then add glue to mend the frayed ends and it didn't work as well. Adding the glue first is the way to go.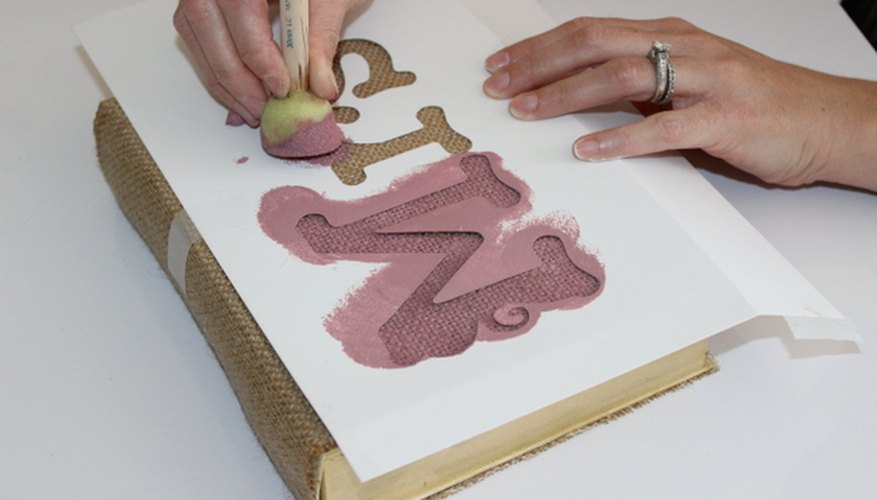 Grab your stencil and spell Mr. or Mrs. on each book. I own a die cutting machine, so I made my own stencil on chipboard. If you own one too, you know that the font options are endless. If you don't, any stencil will do the job!
Center, align, and affix the stencil with a piece of tape on top of the burlap. I found that painting over burlap is easier using a sponge brush. Dab the paint within the stencil until every nook and cranny is covered. Make sure you have a steady hand and hold stencil down with light pressure so the paint doesn't run under it.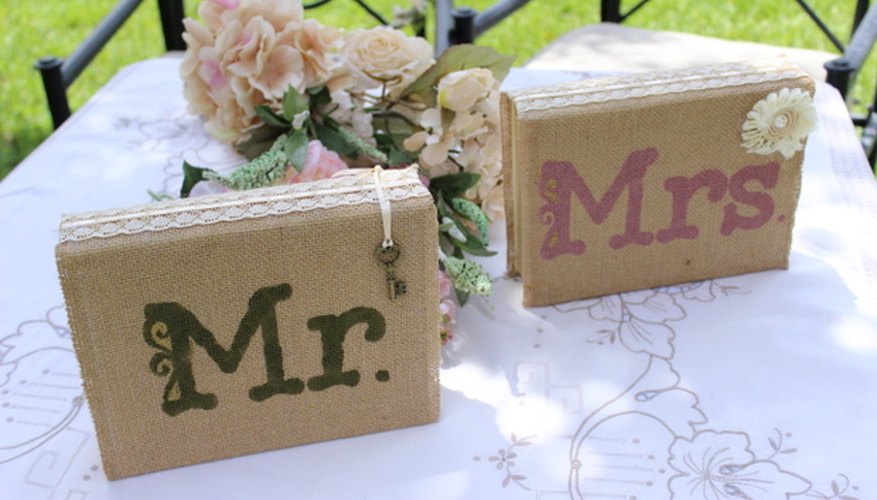 Add lace, ribbon, flowers and brass findings for the perfect shabby chic final touch. Once again, have fun with the decorating!
Tip
If you find imperfectly beautiful old books which pages are already yellowish and old, you can skip step 1 of section 1 altogether.
To achieve a similar look on all books, use a paper pad. They come with several coordinating paper patterns and colors.
You can purchase burlap fabric by the yard or in rolls of different width and length. I used a roll of 12" x 3'
To prevent the burlap edges from fraying, brush on some of the glue sealant over the edges before cutting the excess off.
Old tarnished silver items, burlap and antique rose hues complement the shabby chic charm.
Warning
Always follow the directions stated on the labels of all the products. - Use spray adhesive in a well ventilated area. - Although acrylic paint is washable on most non-porous areas, cover any surface you wouldn't like to be stained.