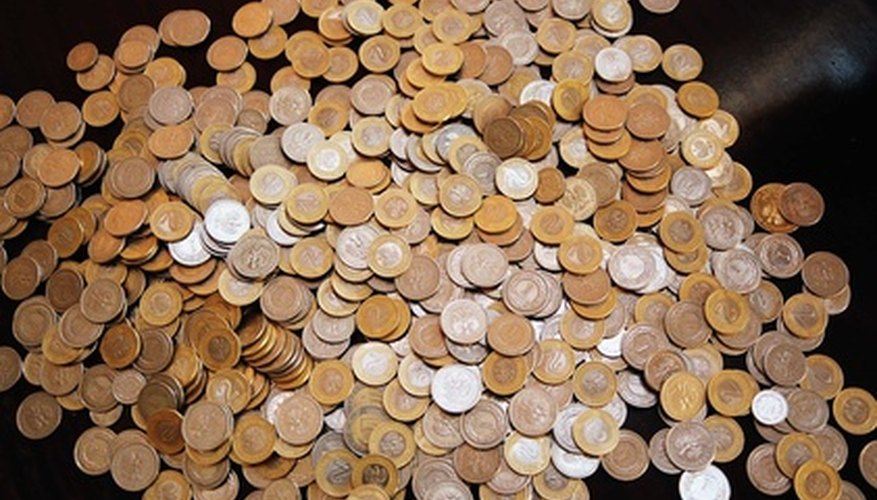 Some of the early coins struck by the U.S. Mint as the United States began to grow as a country can be quite valuable today. These coins, struck in the 1790s, often featured mintage numbers in the tens of thousands or less, and they can be difficult to find in the highest numismatic conditions.
Liberty Cap Half Cent
The initial half-cent coin minted in 1793 featured Liberty in profile wearing a cap on the front and the words "HALF CENT" on the reverse. This copper coin had a mintage of about 35,000. In well-worn about good (AG-3) condition, the coin can fetch more than $1,000. In about uncirculated (AU-50) grade with only slight wear in Liberty's face, the coin can sell in the neighborhood of $30,000.
Flowing Hair Large Cent
The first "penny" featured Liberty with flowing hair on the front. This copper coin minted in 1793 has two variations on the reverse. In one, "AMERICA" is spelled out. In the other, the word is shortened to "AMERI." The shortened version carries a slight premium, with AG-3 coins worth about $3,000, and extremely fine (EF-40) versions worth close to $70,000. The full America coin sells for about $2,500 and $50,000 in these conditions.
Flowing Hair Half Dime
Before there were nickels, the U.S. Mint struck half dimes worth five cents each. The first silver half dimes from 1794 featured the flowing hair Liberty, with an eagle on the reverse. About 85,000 were minted the first year. These coins in AG-3 shape can sell for around $750, while uncirculated (MS-63) half dimes from 1794 are often valued for $25,000 or more.
Draped Bust Quarter
With a mintage of only about 6,000, these coins are a rare commodity. The silver coin featured the profile of Liberty from the top of her head to her draped bust on the front and an eagle on the reverse. Even in AG-3 condition, this quarter can fetch $5,000. In the rare MS-63 condition, it can sell for more than $100,000.
Flowing Hair Half Dollar
The flowing hair design and eagle reverse was also used on the half dollar in its first year of mintage in 1794. Only about 24,000 of these silver coins were struck. It can fetch $2,000 in AG-3 grade and $75,000 in AU-50 grade.
Flowing Hair Dollar
Perhaps the Holy Grail for coin collectors, less than 2,000 copies of this coin were minted. The silver coin features the flowing hair Liberty on the front and the eagle on the reverse. In AG-3 condition it can sell for more than $30,000. In uncirculated condition, it is valued at more than half a million dollars. A version graded MS-64 sold at auction for $1.15 million in 2005, according to Whitman's Red Book.