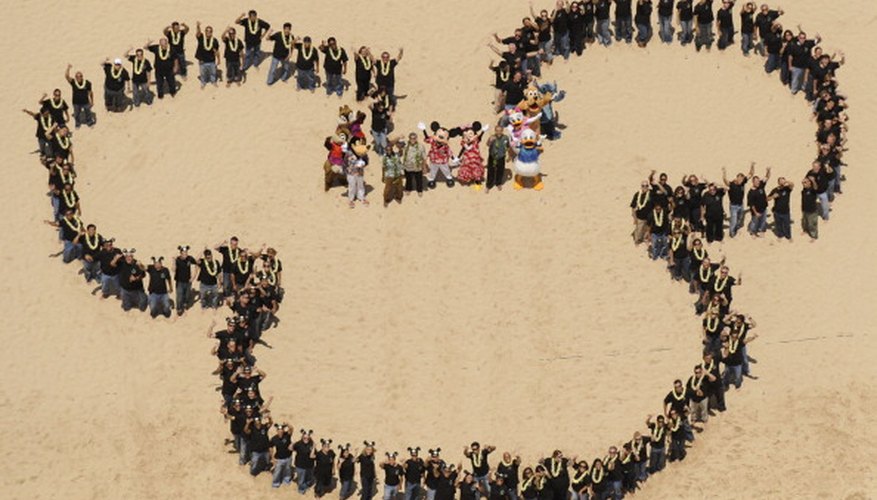 Walt Elias Disney, born December 5, 1901, contributed more than 40 years of his professional life to the motion picture industry, giving the escapism of animation to the world during times of two world wars and the Great Depression. His love for children gave rise to wholesome entertainment in movies, cartoons and in the creation of clean, theme parks such as Disneyland and Disney World. Disney wore many hats in his long life until his death on December 16, 1966.
Co-Creator of Disney Studios
With this older brother Roy, Walt established one of the earliest animation studios called "Disney Bros. Studio" in 1923, which was located behind a Los Angeles realty office. As the business grew, the name and location changed to Hyperion Avenue and finally to Burbank where the name became Walt Disney Studios.
Animator
Along with illustrator U.B. Iwerks, Disney created the famous cartoon character Mickey Mouse, whose name was changed from Mortimer Mouse on a suggestion from Walt's wife Lillian, and first appeared on November l8, 1928, in New York City. According to The U.S. Patent and Trademark Office, the Mickey Mouse image is on more than 7,500 items and is the number one reproduced image in the world.
Innovator
Walt Disney, quite the innovator, was the first to make an animated cartoon with sound in 1928 in the cartoon short "Steamboat Willie." His was the first commercial film to use Herbert Kalmus' three-color dye transfer system known as Technicolor in a cartoon, which was titled "Flowers and Trees" in 1932.
Inventor
Walt Disney invented the multiplane camera called the "art of animation" camera in 1936, which he patented on May 1, 1940. This camera used stacks of glass cells, each one depicting one specific animation feature, such as background, which allowed more richness and depth to animation. This resulted in a more realistic three-dimensional product. This process saved incalculable time because the panes that had nonmoving elements could be used over and over. The first full-length film to use this camera was "Snow White and the Seven Dwarfs" in 1937.
Developer
Walt had the idea for creating a clean theme park that would appeal to adults as well as children after taking his two daughters, Diane and Sharon, to a local park in the 1940s. After he established Disneyland in Anaheim, California, Walt began purchasing another location for his "dream park," a plot of land twice the size of Manhattan Island in mid-Florida, which was at the time composed mostly of mango groves and nut trees. This area eventually became Disney World and Epcot.
Philanthropist
Walt Disney along with his older brother Roy established the California Institute of the Arts through the merger of two schools, Chouinard Art Institute and the Los Angeles Conservatory of Music in 1961. Walt, who conceived and implemented this novel way to teach professional creative and performing arts by bringing them together under one roof in a "community of arts" atmosphere, considered this educational institution his highest achievement. He commented, "It's the principal thing I hope to leave when I move on to greener pastures. If I can help provide a place to develop the talent of the future, I think I will have accomplished something."