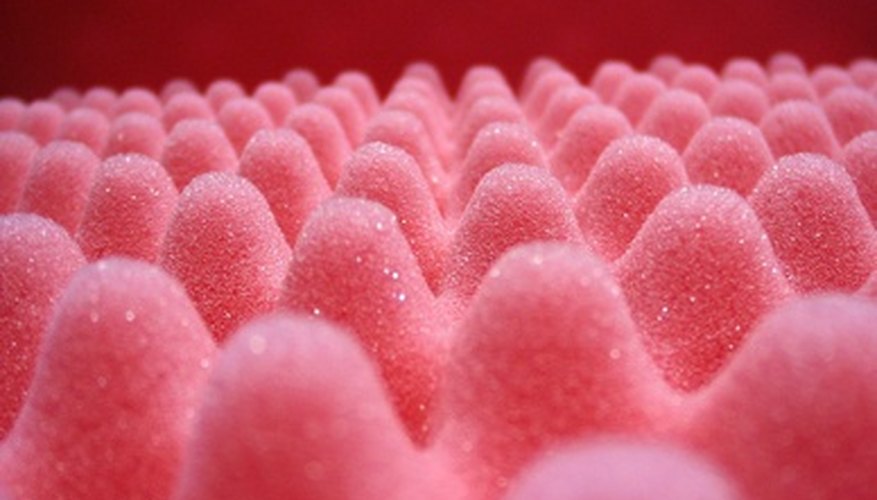 The Serta Courtland plush mattress is one of Serta's Perfect Sleeper models. Serta has been creating and upgrading the Perfect Sleeper line for 75 years. Incorporated into the Courtland mattress alone are the advanced options of foam encasement, memory foam comfort and double beam and continuous coil support. Years of expertise have earned Serta the prestige of being a Consumer's Digest Best Buy.
Advanced Comfort Quilt
Serta's Courtland mattress offers a comfort level identified by Serta as plush. The advanced comfort quilt that makes up the top layer of the mattress gives it this description. The quilt is made of egg crate foam, making the mattress very soft to lay on. While the plush mattress does not offer the back support of Serta's pillow-top and Euro-top mattresses, Serta claims that the quilt assists with blood circulation while sleeping.
Total Edge Foam Encasement
The Serta Perfect Sleeper Courtland mattress is encased in foam from corner to corner. Serta asserts that this kind of encasement broadens the mattress's sleeping surface and prevents sleepers from rolling off the edges.
StabL-Base Double Beam Foundation
The Serta Perfect Sleeper Courtland mattress has built-in V-shaped beams across the width of the mattress that separate the bottom from the top. These beams maintain the life of the mattress. The beams also absorb the shock of movements, so if two people are sharing the mattress at the same time, one sleeper is less likely to feel and be disturbed by the movements of the other.
Continuous Support Innerspring
Serta refers to its mattress's inner coil springs as continuous because they overlap. This construction makes the innerspring more stable and long lasting. The coils are also built in a head-to-toe fashion along the length of the mattress. This design assists the beam foundation in reducing motion transfer and provides back support.
Advanced Latex Foam
While softness is provided by a quilt and sturdiness by inner mattress construction, body-weight absorption and pressure-point relief is offered via an advanced latex foam. It is also antimicrobial and hypoallergenic.
Memory Foam
Visco-elastic memory foam has been added to the Serta Perfect Sleeper Courtland mattress to assist the latex foam with relieving pressure points. The memory foam gets its name because it conforms to both body shape and positioning to provide for a comfortable resting experience.
Warranty
Purchased new from any one of Serta's retailers, the Serta Perfect Sleeper Courtland mattress comes with a 10-year limited warranty against manufacturer material and workmanship defects. In general, the warranty covers deep body impressions, bad wires and problems with foundation support elements.