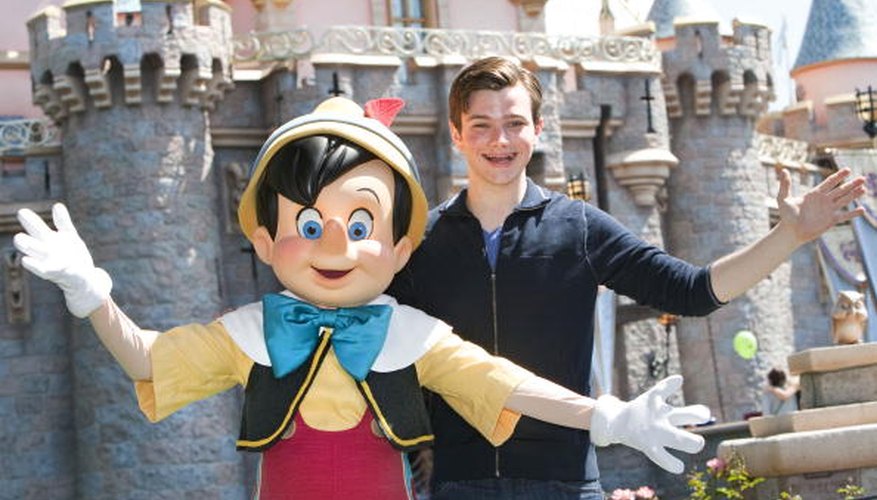 Thoughts of Pinocchio conjure up visions of a poor young boy who could not get away with telling a lie; imagine the kinds of crafts you could create with a nose like his. Pinocchio, the little wooden boy brought to life by the loving Geppetto, brings back childhood Disney movie memories for most. Celebrate those fond memories by crafting a couple of fun items.
Pinocchio Mask
Enjoy this craft with the whole family. Cut out a Pinocchio mask from craft foam sheets. Create a fun party or Halloween mask from the wide eyes, raised brows, perky ears and chipper smile. Of course, it's all about the nose, so make a cut, insert a tightly rolled piece of thin cardboard, such as a slit toilet-paper tube, and secure it in place with tape. Paint the prominent feature to match the face. Finish off the look by making a yellow craft-foam hat, complete with a red feather. Attach fitted elastics or string for wearing.
Pinocchio Marionette
Enjoy hours of puppeteering fun; create a Pinocchio marionette. Draw, color and cut out the separate body parts, using paper. Be sure to make each individual moving section, such as lower leg and upper leg, forearm and upper arm. Trace and cut out each body part shape from cardboard. Glue the paper parts onto the cardboard parts for durability. Punch a hole at each naturally occurring joint and attach the body parts with string or paper fasteners to create the movable body. Using 12-inch strings, make your puppet work by tying through holes made in the head, hands, elbows and knees. Tie all of the string ends to a pencil or craft stick and watch the wooden boy come to life.