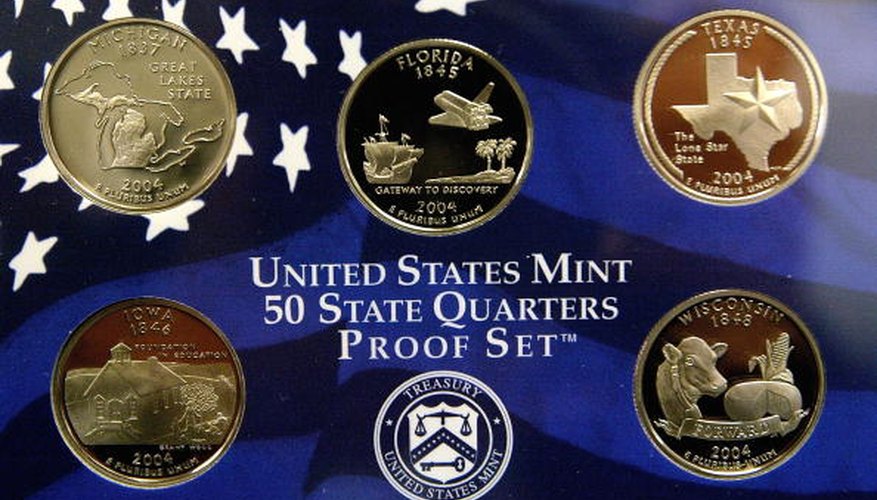 Between 1999 and 2008, the United States Mint released five quarter-dollars annually in a bid to boost coin collecting. Each represented one of the 50 states.
The state quarter series was a success, launching a coin-collecting frenzy that caused an estimated half the American population to save state coins, hoping they would appreciate in value. While most of the coins retain only their original value of 25 cents, some oddities are worth considerably more.
The Series
The state series was endorsed in 1995 by the Citizens Commemorative Coin Advisory Committee, which recommends commemorative coins to the Department of the Treasury. In 1997, Congress passed the 50 States Commemorative Coin Program Act.
To make room for the state designs on the reverse side of the quarter dollars, the words "United States of America," Quarter Dollar," Liberty" and "In God We Trust" were moved to the obverse, or George Washington side.
The coins were released in the order each state entered the Union, beginning with Delaware. The designs were made by artists who submitted concepts and each state selected their own, some chosen by the residents and others by the governor.
The Coins
American quarters are no longer silver, but "clad" or layered. The inner core is copper while the outer layer is a copper and nickel alloy called cupro-nickle.
Quarters are two layers of cupro-nickel (75 percent copper, 25 percent nickle) covering a core of copper. This makes the coins 8.33 percent nickel and 91.67 percent copper. They weigh 5.67 grams. The state series quarters are the same composition as dimes and half dollars, with nickels made of 25 percent nickle. Quarters are 0.955 inches (24.26mm) in diameter, 1.75mm thick and have 119 reeds (grooves) around the edge.
The Collectors
Americans embraced the state quarters and collected them avidly, especially in the first few years. With so many collecting, the value of the quarters has generally not risen. Exceptions are states with low issue numbers like Oklahoma or those with mistakes. Uncirculated low issue quarters sold for $4.95 in 2011.
Breaks in dye molds created odd state coins that are more valuable. Of the several famous flubs in the state series, the best known are the "extra" Wisconsin corn leaf in 2004 and extra trees in the 2005 Minnesota quarter. Some Kansas coins in 2005 had either a humpback bison or read "IN GOD WE RUST."
The Profits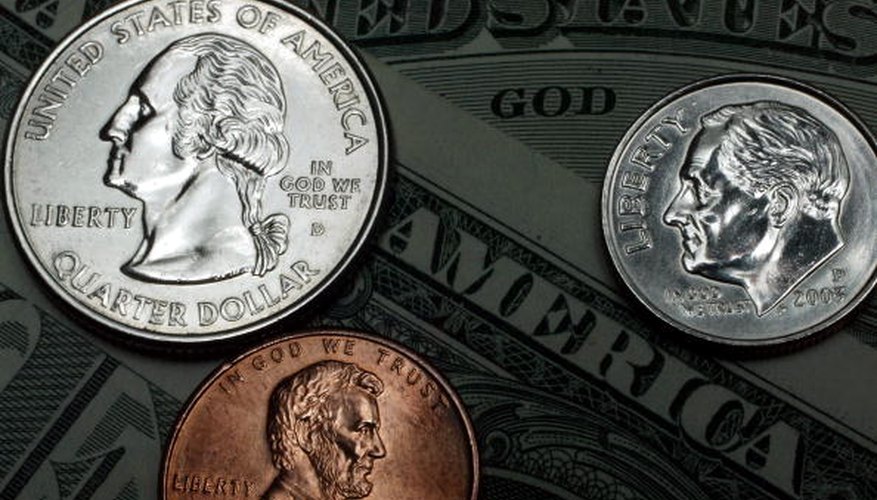 The United States Mint expected to earn a profit from the state coin series, and did. The state quarter series earned $3 billion in coin taxes and another $136 million as Americans and other coin collectors snapped up proof sets, uncirculated coins and other collector items from the mint in record amounts. Numismatists, or serious collectors, bought uncirculated coins made by the Philadelphia and Denver mints, proof coins from the San Francisco Mint and silver proof coins for each state.