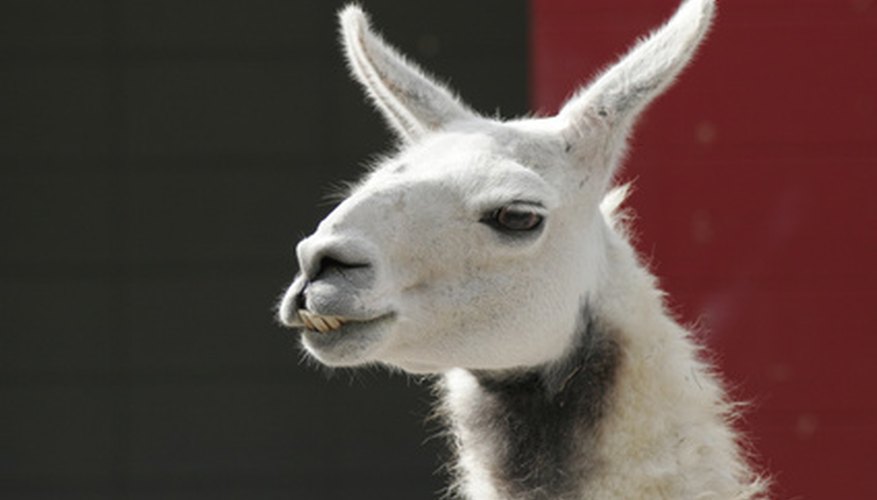 Llamas are quirky animals that make humming noises and hate to be alone. Contrary to popular belief, they do not spit all that often. With their long necks and confident strut, llamas can serve as an inspiration for some fun crafts projects for children. With proper planning and the right supplies on hand, kids can undertake various creative projects related to llamas.
Paper Mache or Clay Llama
For a tactile llama craft, help children create a paper mache or clay llama. Breeders and llama owners frequently trim the animals' coats, so you may be able to purchase authentic fleece locally for the project. The softness of the fur adds to the enjoyment of the craft. Choose either paper mache or clay for the children to sculpt the animals. If you go with the paper mache option, let it dry completely before gluing the fleece to the animal. With the clay option, after the sculpted llama has slightly hardened, but before it's completely dry, stick the llama fleece to it and let then let it dry completely. Encourage the kids to add painted details such as eyes and a mouth.
Costume for a Llama
Many state and county fairs have a tradition of showing llamas. If your child is involved in 4-H, get her into the llama costume competition. In these competitions, kids create a costume for themselves and for their llamas in a matching theme. Kids' imaginations can run free as they design and craft the special outfits. Maybe your child has a favorite character that is always with a sidekick, like Batman and Robin or Dora the Explorer and Boots the Monkey, that can serve as models for the costumes. There are countless pairings that would make entertaining costumes, such as a golf player and caddy, bride and groom, race car and driver, and knife and fork. The possibilities might truly be endless.
Llama Mural
Even young children can manage this artistic llama mural craft project. Print out llama coloring pages from the internet and have the kids color, paint or decorate the llamas. One decorating idea is to glue fleece to the llama for the effect of a soft coat. After the llamas are decorated, help the kids cut them out of the page. Spread out a large strip of paper and have the kids paint or color a farm or field background. Once the paint has dried, glue the decorated llamas into place and hang the mural on the wall.