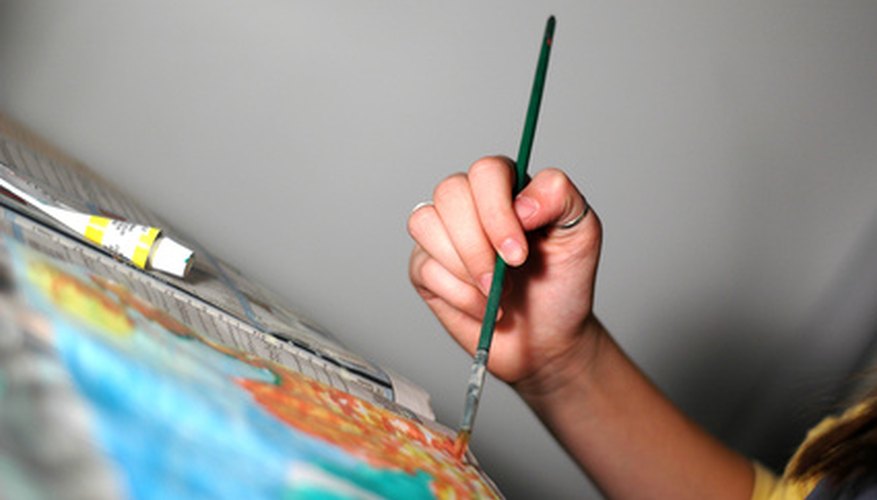 Joaquin Sorolla was a Spanish painter who died in 1923. Although he has received little attention from contemporary critics and historians, he was a well recognized-painter during his lifetime, featured in the Salon and sought after for his portraiture.
Subjects
Like many artists, Joaquin Sorolla had a preferred subject matter. Although mimicking his painting techniques does not require you to paint the same subjects, you should be aware that he chose his subjects for specific reasons and his preferred subjects are an integral part of his painting technique. Joaquin Sorolla primarily painted human subjects and landscapes. He was a passionate painter of sunlight and his best works are featured out of doors in natural sunlight. Many of his subjects are shown at the beach, where sunlight glints on the water and illuminates the figures in the water. Sorolla is also known for his sunlight-dappled portraiture, as in the case of the painting "Sewing the Sail", where spots of sunlight fall through the trees above onto the subjects below. To paint in a style similar to Sorolla's, you'll need to choose settings that fall out of doors, or near sources of natural daylight, like open doorways and windows. Subjects should be involved in natural daily activities like work and play.
Medium
Like many painters of his generation, Joaquin Sorolla painted primarily with oil paint on canvas. However, his paintings were highly focused on the illumination of his subject matter, which can be a difficult effect to achieve with oil because of the medium's natural tendency to become muddied as paint colors mix and blend. Some artists may find this effect easier to achieve with watercolor, because of the transparency of the medium.
Brushstrokes
Sorolla's brush strokes were feathery at times (similar to the style of Renoir), and more directed and certain at other times. To mimic his brush strokes, maintain a loose hold on the brush and don't worry too much about distinguishing every line and edge of every shape in the painting perfectly. This is especially important if you are painting subjects in or near water. Maintain a level of fluidity for all subjects and background.
Color Combinations
Sorolla painted with natural, earthy colors. For his beach and outdoor scenes, he often painted figures in white clothes and cream-colored sand. Sorolla made little effort to manipulate the natural colors of the scenes he saw to fit within a color scheme, preferring to display the colors as he truly saw them. When painting in Sorolla's style, keep this in mind. The colors on your palette should be composed primarily of earth tones like burnt sienna, burnt umber, sap green, thalo blue, and a great deal of white.