Pre-cut stencil, one purchased from an arts and crafts store or you cut yourself.
Fabric paint FolkArt ® Fabric™ Paint by Plaid Enterprises is recommend. It absorbs into the fabric, won't crack or flake off, is available in brilliant colors and is machine washable in cold water.
Cotton or muslin fabric
Scissors
ruler
Masking tape
Stencil brushes
A smooth surface to work on
The art of stenciling has many forms and a long history in decorative art. This article will concentrate on just one; stenciling with fabric paint on fabrics such as cotton blends and muslin. There is a new line of paint that is more pliable than craft paint, liquid acrylic. Liquid acrylic if not applied thinly will crack. Fabric paint will not. This project demonstrates how to stencil fabric for quilt squares. Stenciling on wearable goods requires the fabric paint to be applied twice to make it washable. This demonstration is specifically for non-wearable goods that will not be washed frequently.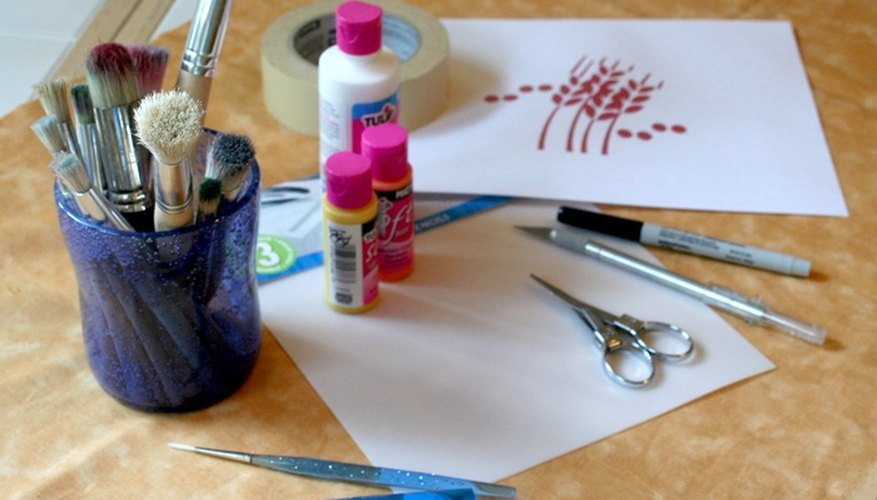 Fabric Preparation -- Pre-wash fabric and iron. Cut fabric into squares to fit the design plus inches on each side. This design is 6 inches so the fabric is cut in 9-inch squares. This gives the design an inch margin and allows the square to be trimmed and still have a ¼ inch seam allowance. Gather supplies.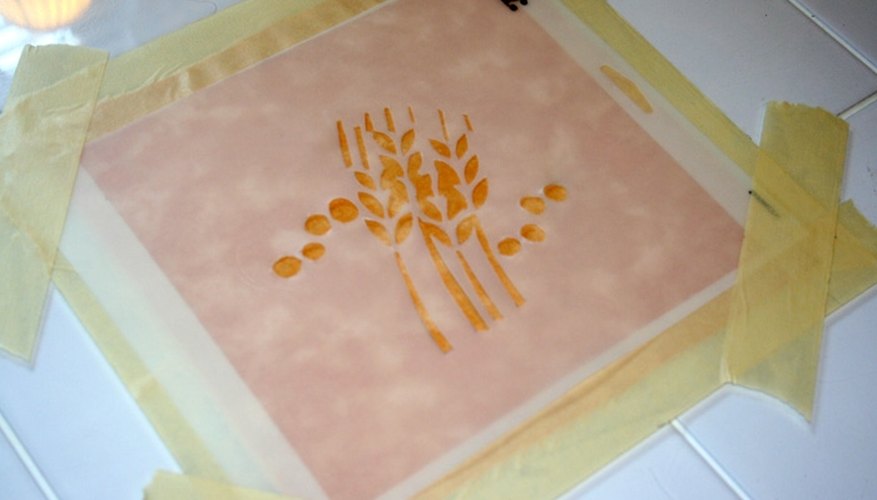 Setting up to paint -- On a smooth surface stretch the fabric square by taping down the edges with masking tape. Stretch top to bottom, side to side. Tape stencil in place by centering the design in the fabric.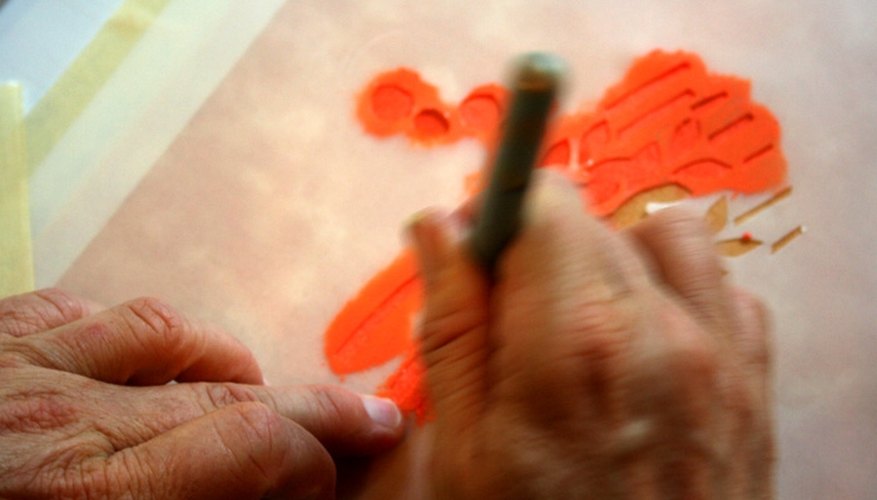 Painting -- Place a small amount of paint in plastic dish. Dip stencil brush into paint and use a piece of scrap card stock or mat board to prepare the brush by using a circular motion stroke. The brush should be perpendicular to the practice sheet. This eliminates excess paint and fills the brush more evenly. Start in the center of the stencil opening and work around each design using quick circular strokes. Having the brush loaded correctly will result in clean lines when finished. Avoid using too much paint.
Finish -- Carefully remove the stencil, lifting slowly from one side. Keep fabric stretch place until dry. The paint takes 72 hours to set.
The design maybe embellished with permanent fabric marker by adding detail. This design will be hand quilted with a contrasting thread for enhancement.
Writer Bio
Ruth Eshbaugh is a freelance graphic designer, writer, artist and photographer who has been writing for eHow, LIVESTRONG.COM and other websites since 2008. She graduated from the University of Texas at Dallas with a Bachelor of Fine Arts. Eshbaugh is a published haiku author.
Related Articles