Ruler
Scissors
Tape
Glue
Stapler
Markers
Straws
A fat package of multi-colored construction paper can provide hours of entertainment for kids of all ages. Depending on their skill level, kids can make all kinds of things with construction paper and have a great time expressing their creativity. They can also make some interesting useful objects as well as some gifts. And the best part is that the only additional supplies needed for all of these projects are readily found around the house.
Show kids how to make paper chains. Cut strips of paper 1inch wide by 6 inches in length. Staple together the ends, making a ring. Loop another strip through the first ring and staple it. (See photo.) Continue, making the chain as long as desired. Small children enjoy wearing paper chain necklaces; older kids like making these for holiday decorations.
Construct a paper house. Cut a piece of construction paper 10 inches long and 3 1/2 inches wide. Fold it to form a four-sided structure. Tape it together. Cut a 3-by-5 inch piece of contrasting colored construction paper; fold it in half and glue it to the top for a roof. (See photo.) If children wish to add doors and windows, do this before folding the house. Encourage kids to make a whole village of these, making schools, fire stations, stores and even construction paper roads.
Make bookmarks to give as gifts. Cut a piece of construction paper 1 1/2 by 6 inches long. Decorate it with scraps of colored paper cut into interesting shapes, or make a monogram by cutting out initials from the construction paper and gluing them onto the bookmark.
Create a gingerbread family. Make a pattern in various sizes for kids to draw around (or use cookie cutters). Cut out the gingerbread people and decorate them using construction paper clothing and markers. You can use this same idea for making other animals or paper dolls with clothes that attach with tabs.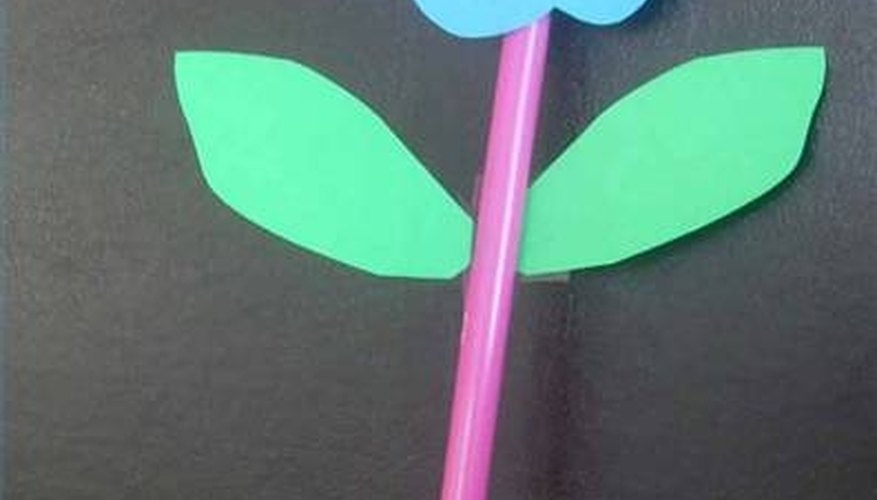 Give a gift of flowers by cutting out flower shapes and leaves and attaching to straws with tape. (See photo.) Use a wide variety of colors and shapes. Then find an empty can or oatmeal box, and cover it with decorated construction paper. Fill the "vase" you've created with a dozen flowers and you're ready to present a bouquet to someone special.
Make "caterpillars" by folding together two 11-inch by 1/2-inch strips of construction paper. Place the strips at right angles to each other and fold one color over another repeatedly until you reach the end. Round the edges of the last piece and draw on two eyes. (See photo.)
Buy good-quality construction paper for the best results. Extremely cheap paper will tear easily, causing kids frustration.
Writer Bio
Peggy Epstein is a freelance writer specializing in education and parenting. She has authored two books, "Great Ideas for Grandkids" and "Family Writes," and published more than 100 articles for various print and online publications. Epstein is also a former public school teacher with 25 years' experience. She received a Master of Arts in curriculum and instruction from the University of Missouri.
Related Articles