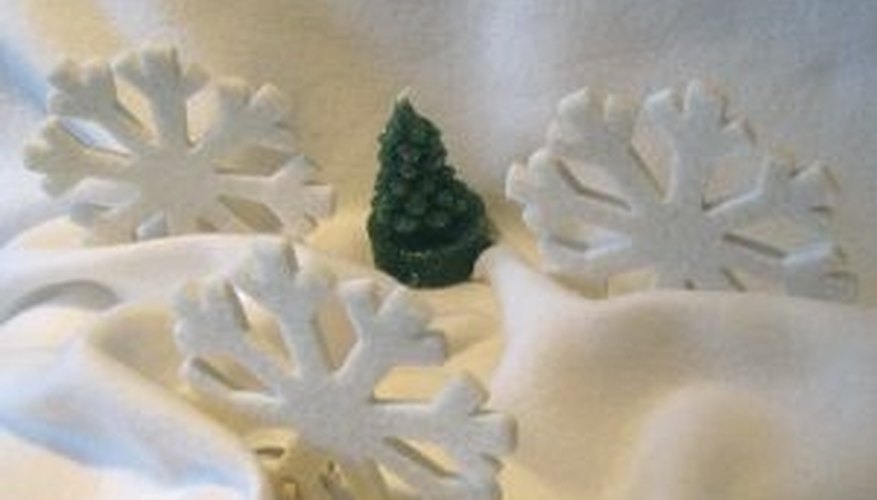 Stock.xchng
Snowflakes are one of those magical signs that winter has finally arrived. And what better way for a family to spend a cold, blustery afternoon than safely inside making their very own snowflakes out of sugar. This fun, easy procedure doesn't produce fluffy real-life replicas, but rather large solid flakes that can be hung on the Christmas tree or tied to presents.
Cover a large area with either wax paper or parchment. This will be your workspace. A large table or counter top will work just fine.
Cover the floor around you with newspaper. The project is messy and this will protect your floor or carpet from damage.
Spray the baking sheet with the vegetable spragy. Wipe off any excess with a paper towel. Put the baking sheet aside for now.
Combine the sugar, water and corn syrup in a heavy saucepan. Place the burner temperature on low heat. Stir once in a while until the sugar is dissolved.
Prepare a large bowl with ice water while you are waiting for the sugar to dissolve in the saucepan. This will be used very shortly.
Put a candy thermometer into the saucepan once the sugar has dissolved. Turn the heat up to high and bring it to a boil. Keep cooking the mixture until the temperature reads 310 degrees F. This is the "hard crack stage" on the thermometer.
Quickly remove the saucepan from the stove. Briefly dunk the pan into the ice water to stop the cooking. Now let the mixture stand in room temperature to thicken slightly. This will take about 1 minute.
Dip a spoon into the pot and bring it to the waxed paper on your workspace. Gently pour the liquid into the shape of a snowflake onto the wax paper. It will be a stringy texture, allowing you to create different shapes of snowflakes.
Make sure you get nice even lines. It may be a little tricky at first to get the hang of it. Practice makes perfect.
Do one straight line up and down. Now, position the spoon in the center of the line and move from side to side. You should now have a cross shape.
Do the same thing, only diagonally from the center. Continue making these lines until you have what looks like a star.
Dust the snowflakes with sprinkles of sugar crystals to make it look more snow-like and sparkle. You need to do this before the snowflakes dry. You can accomplish this by doing one snowflake at a time.
Let the snowflakes sit until completely dry. Then you can remove them from the paper by slowly peeling. Add loops using fishing line, so that you can hang them. Use the edible snowflakes to decorate your home and Christmas tree.
Tip
You can substitute vegetable oil for spray, if you don't have the spray available. Just be sure to use a small amount and spread it around with a paper towel. The snowflakes are totally edible.