Things Needed
Tire
Potting mix
Bedding plants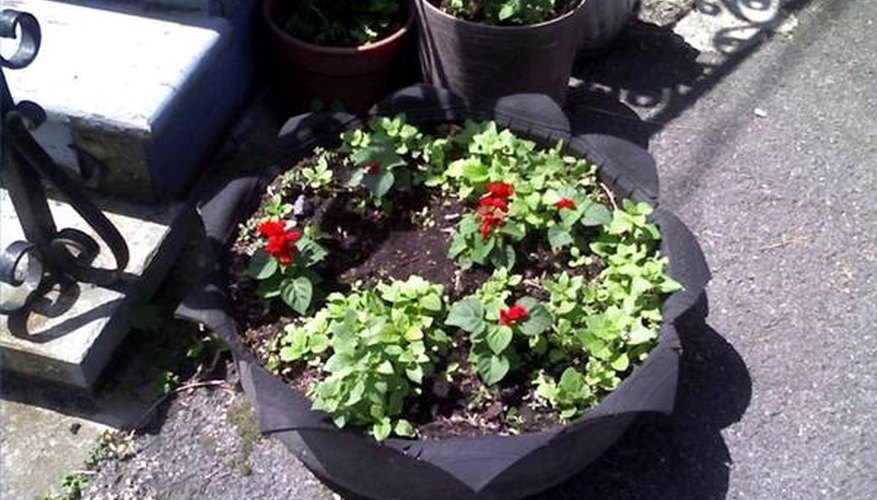 In just a short time, you can make a tire into a fun and colorful flower container. Use one tire to make a flower pot, or use a series of tires to make a landscape border. This project is ideal for teaching children about recycling. Here are tips to get that tire out of retirement and into a working garden.
Use any worn tire from a car, truck, tractor or other vehicle. The tire should be at least 4 inches wide. Bicycle tires, for example, are too narrow to make a planting bed. Use the tire with or without the wheel rim. If you leave the rim on the tire, put the rim at the bottom, on the ground, so that the lug holes act as drain holes.
Choose a permanent place for the tire flower pot. It will be too heavy to move after it is full of soil and water. A low spot or soggy area is great for the tire planter, as it helps absorb excess water and settles into the low spot. Be sure it is in reach of a garden hose.
Fill the tire with a mixture of dirt or sand and potting soil. For a large tire, put planter moss in the bottom and pack it in the tire well. This helps improve drainage and provides a good base for the soil. Do not leave gaps in the tire walls, because water may collect and breed mosquitoes.
Soak the soil well. Plant with annual bedding plants for a seasonal container. For full-season color, plant early bulbs like daffodils and crocus that die back when it is time to plant annuals. The planter is well suited to heat- and drought-tolerant flowers such as wildflowers and marigolds.
Decorate the tire with painted designs, or plant trailing vines that grow over the tire and down the sides. You can bury the tire halfway in soft soil so it is partly hidden among surrounding landscaping.
Use a tire or tires for children to learn garden skills. A tire flower pot is small enough for a child to maintain. It contains gardening accidents like too much water or fertilizer spills. A tire for each child is like a miniature flower garden that he can decorate with toys or sticks.
Tip
Use the tire as a raised landscape bed. Years ago, people planted large, used tractor tires as flower gardens for yards and parks. They provided a garden on bare ground that was otherwise unsuited to flowerbeds.
Warning
Do not grow edible flowers or vegetables in tires. Tires are composed of and exposed to chemicals not recommended for food crops.