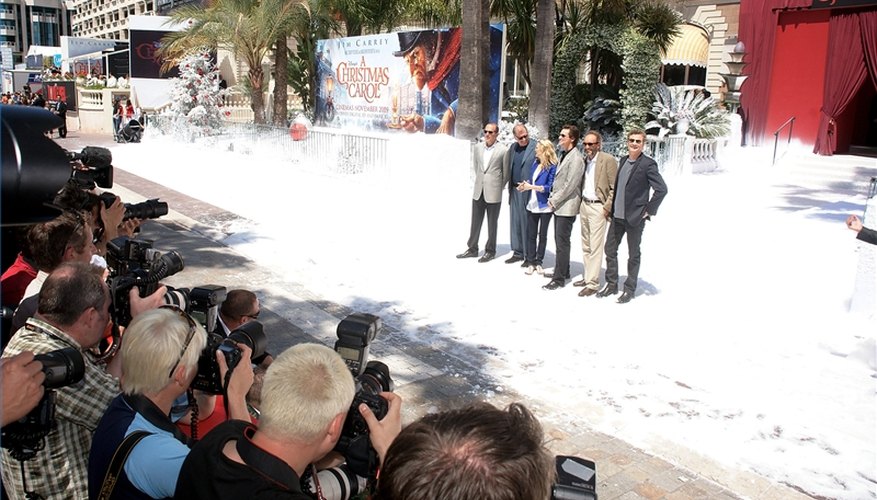 How to Make Fake Snow. Artificial snow can be used in craft projects and when putting on a winter-themed event, such as a school play or the senior prom. There are several methods for making fake snow that can top off art projects or enhance winter-themed events.
Make a sparkly glaze for small craft projects by mixing ¼ cup each of table salt and talcum powder. Spray the piece with spray-on craft glue or place dabs of white glue where you want the "snow" to congregate. Sprinkle the mixture on the wet glue and allow to dry. Turn the project upside down to remove excess "snow."
Create "snow" on a Christmas tree or for the stage set of a play by combining 1-1/3 cups liquid starch with 4 cups of laundry soap flakes and several drops of blue food coloring. Mix well, and add glitter if desired for a sparkly effect. Apply the mix liberally anywhere you desire "snow" and allow to dry.
Use plain laundry soap flakes or instant potato flakes to depict fluffy, falling snow.
Combine sodium polyacrylate with water to form artificial snow. You can buy sodium polyacrylate in powder or granulated form in any garden supply store; look in the soil treatment section. You can also obtain it by removing the granules from the inside of disposable diapers. Powder makes fluffy artificial snow, while the granules create slushy fake snow. Mix with water until you obtain the desired consistency.
Warning
Sugar bears a similar appearance to table salt. If necessary, you can substitute sugar for salt; but it will attract ants and other pests. Laundry soap flakes are very slippery when coating the floor. When using them as falling snow, watch your step.