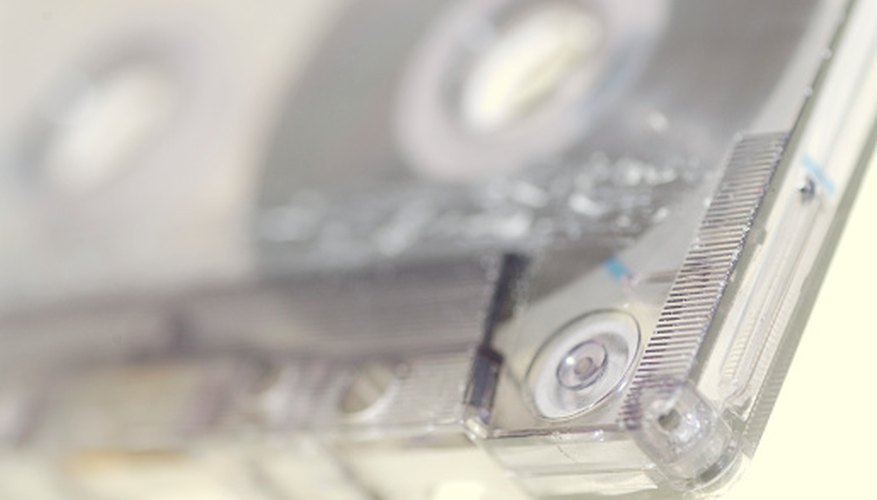 Before CDs were popular, the cassette tape was king in the world of music. Cassettes were small, relatively inexpensive and, best of all, recordable. No one was forced to listen to prerecorded albums; instead they made their own collections of favorite songs. In the 1970s and 80s, it became almost cliche to make a mixed tape of meaningful songs as a romantic gift. Bring back that inventive spirit by making your own cassette mixed tape, either for romance or just for fun.
Make a list of all the songs you can think of to put on your cassette tape. Think of the tape's recipient when choosing songs. If the tape is for music while you drive, you will choose different songs than if it's a romantic gift.
Put the music into a logical order. For driving music, start with a really strong song, move onto slower music, then end with louder sounds at the end. If you're making a romantic statement, consider the lyrics of all the songs you're including. Try to tell a story with the songs.
Assemble all your music and the cassette recorder together in one quiet spot. Make sure your recording room is as soundproof as possible, and that you won't be disturbed while recording. Cassette recorders pick up every stray background noise, so you may have to re-do a song if you are interrupted.
Plug in your recorder's microphone and lay it in between your speakers. If your recorder doesn't have a separate microphone, set the machine between the speakers. Load the machine with a blank cassette tape and run the tape for about three seconds to get to the beginning of the recordable part of the tape.
Start your music at the end of the song previous to the one you want to record. You need a couple of seconds of lag time to get ready to record. As soon as you hear the opening sound of the song, press the "Play" and "Record" buttons at the same time on your cassette recorder. When the song is over, press the "Stop" button.
Record more songs in the order you chose for your album until you have finished the list.
Open the cassette tape case and remove the label from inside. Look at the back of the label. You will find a form printed on the back of the label for you to list all the songs in your mixed tape in order. Write down the name of each song so you remember what's on this tape.