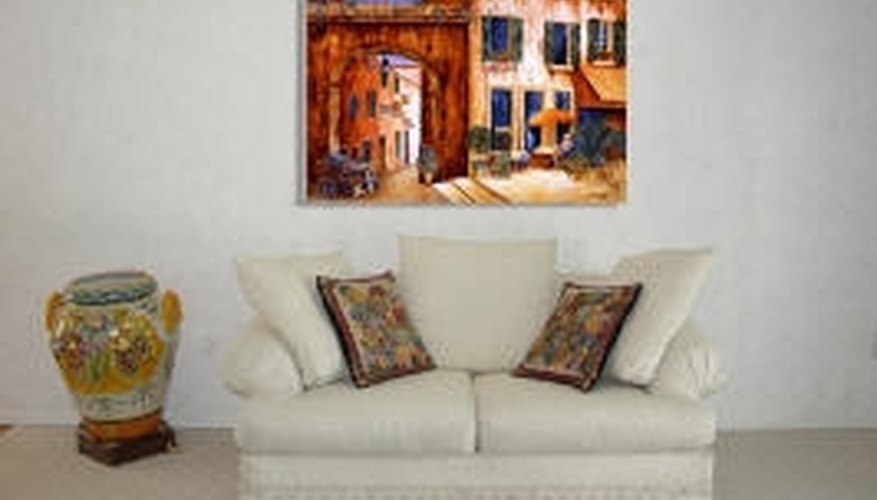 www.lindapaul.com
Artistic painters, both recreational and professional, will benefit from being able to create their own quality canvases upon which to design their work. Over time, this knowledge can save money because the raw materials for making your own canvas are less costly than buying prefabricated ones. This is especially true if your intention is to paint many portraits. The method outlined in this article is similar to that of most commercial manufacturers. Reserve 48 hours for canvas making. As you become more comfortable with this technique, you will find that it is just as easy to make several canvases as one in that time.
Use your cutting tool to cut the cloth sheeting to at least 1/2 inch larger in length and width than your mounting board.
Turn over the sheeting and spread it flat. Apply glue to the back, making sure to cover the entire rear surface.
Flip over the glued side and center it over the mounting board. You should have a 1/2-inch border at the perimeter. Smooth out any bubbles or wrinkles in the fabric as you press the fabric onto the board.
Rotate the mounting board and lay it face down. Fold back and press down the border fabric at the corners and sides of the board. Trim if necessary.
Put a drawing board on top of the front of the mounted canvas. Add several heavy books on top of this as additional weight. Leave to rest overnight. Cut a sheet of heavy brown wrapping paper and glue this to the rear of the mounted canvas. Repeat the gluing and pressing process for another night. By morning, your canvas should be ready for your use.
Tip
The brown wrapping paper placed on the back of your mounted canvas should be slightly smaller in length and width than the mounting board, since the ends of a larger piece would overlap onto the front.
Warning
After making sure that the canvas sheeting is flat and smooth, it should immediately be weighted down. Delaying this process could cause warping that will permanently distort the canvas.