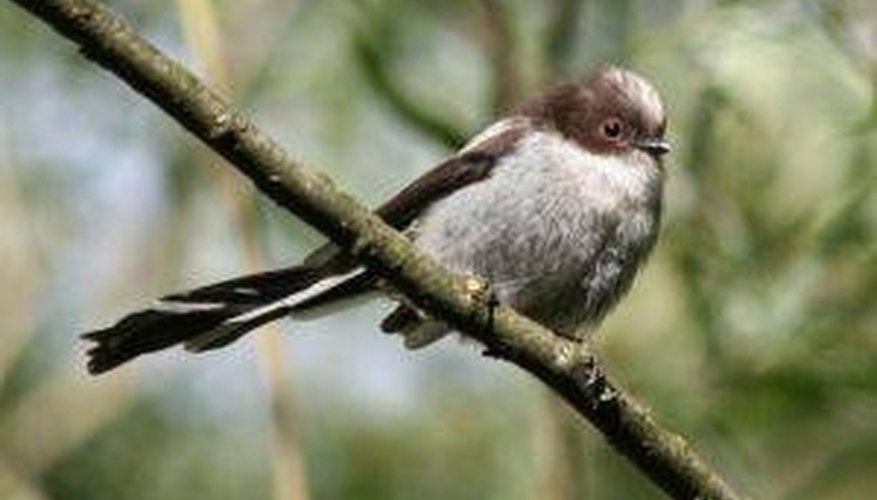 Clay pots lend themselves well to all types of craft projects, including homemade bird feeders that can be completed in an afternoon. Part of the fun of making this type of bird feeder is that you can decorate it as intricately or as simple as you like. Older kids can also make this by themselves, and younger ones will enjoy helping you. The most time-consuming part of this project is waiting for the paint to dry.
Paint a thin coat of oil-based polyurethane on the inside of each pot and over the entire saucer.
Wait at least two hours for the polyurethane to dry completely.
Apply a second coat of polyurethane to the insides of the pots and the entire saucer.
Wait at least another two hours for the polyurethane to thoroughly dry.
Paint the exterior of each pot and the saucer any color or pattern you desire using craft paint. If you want the natural clay pot to show, skip this step, as well as Steps 6, 7 and 8.
Wait for the craft paint to dry completely.
Coat the exterior of the each painted pot and the painted saucer with a thin layer of polyurethane.
Wait at least two hours until the polyurethane is completely dry.
Place the largest pot upside down on the ground, or on a paving stone, in the spot where you want the bird feeder.
Turn the second-largest pot upside down and slide it on top of the largest pot so that the two pots form a graduated stack.
Turn the smallest pot upside down and slide it on top of the second-largest pot.
Mix the epoxy glue, if necessary.
Place a thin layer of glue all the way around the rim of the bottom of the smallest pot.
Set the saucer, face up, on to the bottom the smallest pot, applying a small amount of pressure to make sure the glue adheres. Make sure the saucer is centered on the bottom of the pot.
Place a small stone or brick in the saucer to hold it in place until the glue dries.
Wait at least 24 hours for the glue to set completely.
Remove the small stone or brick and fill the saucer with bird food.
Tip
Stack the pots together before painting to see what areas will be visible if you are planning an intricate or continuous design.
Warning
Don't put too much pressure on the saucer when you glue it to the top or it could break.