A sewing machine
A self-mending quilt cutting board
A rotary cutter
A ruler of at least 12 inches in length
An iron
Thread to match at least one of the lighter fabric colors
Five assorted fabrics in coordinated colors in the following amounts: two different prints (fabric 1 and fabric 2) - one yard each, background fabric (fabric 3) - three yards, sashing fabric (fabric 4) - 1/1/4 yards, and four yards of fabric 5 (backing), and batting sized 58"x77"
Have you always yearned for a handmade quilt? It's easier than you might think to make a simple quilt for a gift or for yourself. A basic nine-patch quilt sews up quickly and easily. These instructions are for a "throw-size" quilt, which measures approximately 50"x 69".Please excuse the crude drawings--I'm a quilter, not an artist!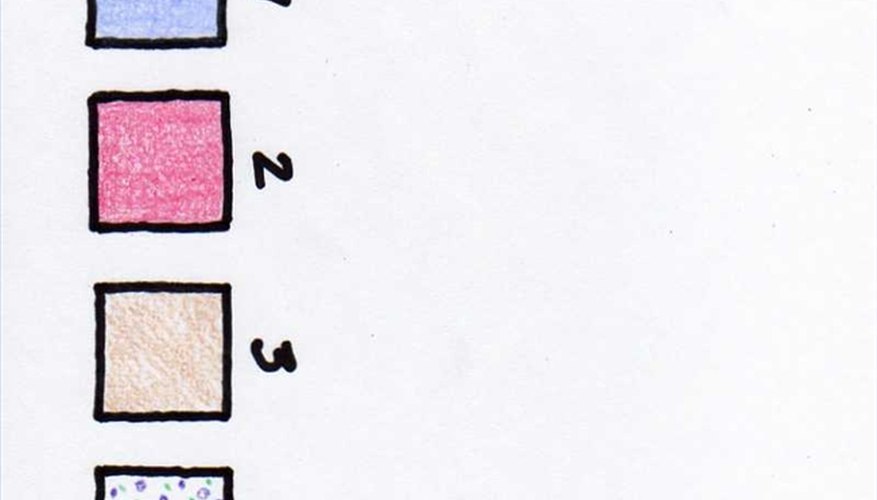 Launder all fabric (not batting) on gentle cycle; do not use fabric softener. Iron all fabrics.
Carefully fold, but don't crease, fabric #1 the long way twice. Make sure the edges at the top and along the folded sides are straight as you lay the fabric on the cutting board, aligning the long edge along the lines of the board. One of the most important aspects of making your quilt come out right is accurate cutting. You will need to cut 45 squares of fabric one and 36 squares of fabric #2. These squares are to be perfect four-inch squares. Using a ruler and your rotary cutter makes this job quick and easy!
Place one square of fabric #1 and one square of fabric #2 with the pattern side facing each other. For a beginner, you might pin the fabrics together for sewing. Sew one edge to the other with a 1/4 inch seam. Stitch another square of fabric #1 to the edge of fabric #2 to make an alternating color strip. Using your iron, press the seams to one side on the back of the fabric. You will need to make two of these strips for each block, and you are making nine blocks, for a total of 18. You will then do the opposite with fabrics #1 and #2, making fabric #1 the center. You will need one of these strips for each block for a total of nine.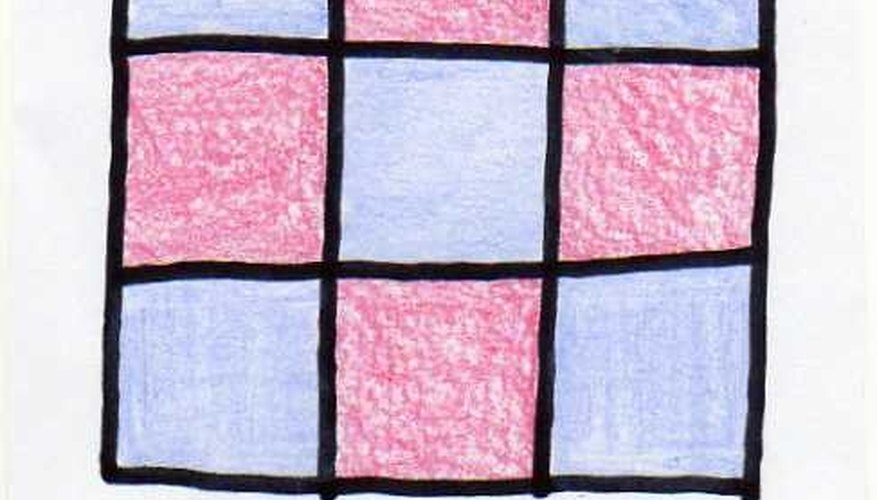 Sew them together to make squares as shown in picture, making sure to keep a seam of 1/4 inch. Make nine of these squares, pressing all the seams to one side. One by one, trim them on the cutting mat to make sure they are square and the same size.
Cut strips of Fabric #3 as follows:12 strips that are 2-1/2 inches and 12-1/4 inches long. Cut four strips that are 44-1/2 inches long.The 12 inch strips are to be sewn between the squares to make a long strip starting with a strip on top, a square, a strip, a square, a strip a square and a strip at the bottom. Press the seams open. Make three of these long strips exactly the same. Sew them together, right sides facing. You should lay these out of a flat surface and pin them to keep them together as you sew. Press the seams. You're almost there!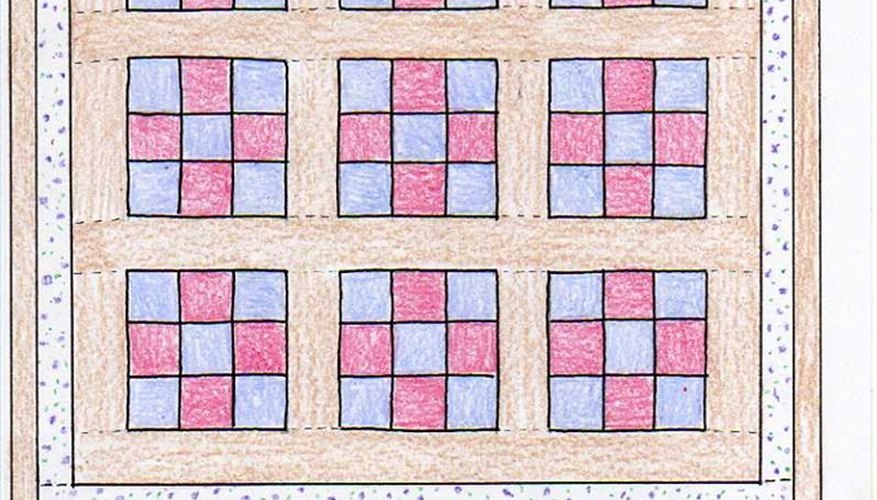 Cut fabric #4 into strips 1-1/2 inch wide. Sew the strips to all four sides of the quilt and press open the seams. The final step to the top is to go back to fabric #3 and cut four inch strips which will be sewn to the outside edge. Press open the seams. The quilt top is done! Congratulations!
Keep going: Fabric #5 can be fabric that coordinates, contrasts or matches one of the fabric colors from the quilt top, Or you can use white or beige sheets. If you use fabric, you may have to cut and sew it to get the right size; it must be approximately three inches larger, on all sides, than the quilt top.To lay out a quilt for finishing, it must be on a large flat surface like a clean floor or a large table.
Lay down the backing fabric (or sheet) with the print side down. Make sure there are no wrinkles or folds.Lay the batting on the backing, smoothing out all folds and bumps.Lay the quilt top on the batting with the print side up. Make sure all of the sides align. Take your time.Quilters dissagree on what type of pins to use for pinning. A regular safety pin works just fine as long as you are careful not to make bumps or pull fabric. Place pins starting with one in the middle, then work outward to the corners, pinning at eight-inch intervals. On the outside edge, you may want to add pins if there seems to be need for it to keep the fabrics together for sewing.
Move on: The final step is to bring the outside edge of the backing fabric in to make the border. Fold under the outside 1/2 inch and then fold the fabric once, and pining it to the front of the quilt. This should make about a one-inch border. Go around the quilt, carefully pleating the corners and pinning every few inches. Once this step is complete, sew this seam with the quilt facing up, being careful to make a straight, even stitch.To complete the quilt, you can have it quilted professionally, by hand or by tying, which is the quickest.
Thread a large needle, with the quilt facing up, with several strands of embroidery thread. You will push the needle and thread (no need to knot the thread) and bring it back up 1/4 inch from where it went in. Tie a double knot in it and cut, leaving 1/2-3/4 inch strings, depending on your preference. For this quilt, tie at every corner of the block, plus one in the middle. This keeps the quilt together when you launder it, plus makes it look old-fashioned.
Congratulations! You've completed a quilt!
Always remember to cut carefully Keep 1/4 inch seams Press your seams to prevent bunching
Writer Bio
Linda Batey has been working as a freelance writer for more than two years, specializing in travel, gardening, and herbal and home remedies. She has been published in "Gardening Inspirations" magazine and various online sites. Batey holds an associate degree in paralegal from Beal College. She also is knowledgeable is
Related Articles