Things Needed
Pattern for the inlay design
Sheet of mother of pearl
Finished and stained wood craft
Jeweler's saw
Non-permanent marker
Hand held power rotary tool
1/8-inch router bit
Super Glue
10-gauge sterling silver jewelry wire
Toothpick
Wire cutters
Small paintbrush
Jeweler's cloth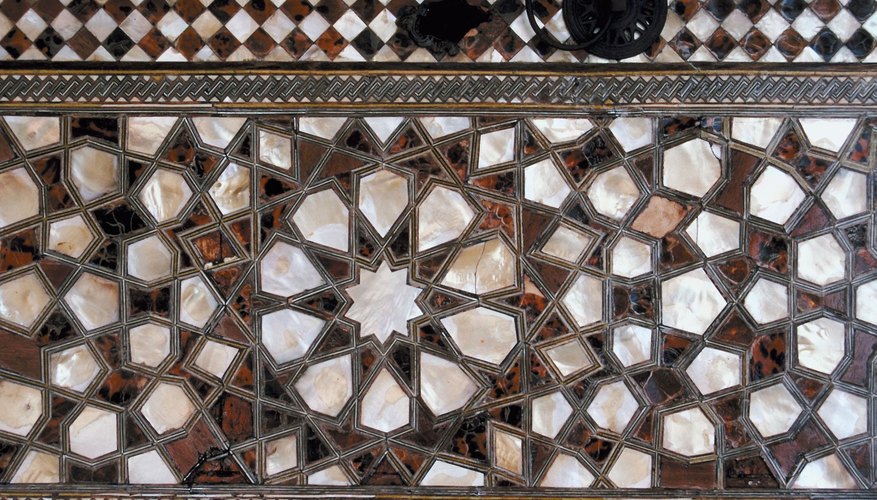 A mother of pearl (also called "nacre") inlay is a beautiful accent for a fine wood craft. Mother of pearl is an organic compound that is created by mollusks as their inner shell. It is also what makes up pearls. The iridescent shine and vibrant colors of mother of pearl make it a popular choice for jewelers and woodworkers. Inlaying mother of pearl to a box, chair, picture frame or other wood craft is fairly easy for the intermediate woodworker.
Trace the pattern for your inlay onto the non-shiny side of the mother of pearl with a non-permanent marker. Next, trace the same pattern onto the finished wood craft you're going to inlay the shell into.
Cut the pattern piece or pieces out of the mother of pearl using a jeweler's saw. Be very careful during this step. Though mother of pearl is fairly resilient and durable, when cutting, it is possible to crack the sheet which makes it not suitable for use in inlay.
Carve out the pattern using the power rotary tool and the 1/8-inch routing bit. Go slowly, first carving around the outline of the pattern. Next, carve out the center body of the pattern. The pattern should be 1/8 inch deep when finished. Brush away the sawdust with your hand or a damp paper towel.
Paint a thin layer of Super Glue onto the back of your mother of pearl piece. Place the piece into the groove and press down on the mother of pearl gently. You will have to perform this step quickly, as Super Glue dries fast.
Line the edges of the pattern where the wood meets the mother of pearl with a thin line of Super Glue and lay the 10-gauge silver wire on top of the line. Push it into place with a toothpick. Because Super Glue dries so fast it is advisable to do a small section of the outline at a time until the entire inlay is outlined in silver wire.
Shine the mother of pearl with the jeweler's cloth once the Super Glue is fully dry.
Tip
Outlining the inlay with silver or another metal is an optional step, though it does accent the inlay well.
Mother of pearl inlay is a popular adornment for wooden string instruments. Though the processes are basically the same, there are some additional steps the craftsman needs to take to inlay mother of pearl into a working instrument.
Inlaying mother of pearl into jewelry is different from inlaying mother of pearl into wood.