Embroidery fabric
Pattern
Heat transfer pencil
Ready-made heat transfer design (optional)
Iron
Embroidery hoop
Embroidery thread (floss)
Sewing scissors
Needles
Hand embroidery is a traditional craft that has been practiced for hundreds of years and is used to decorate a wide range of items from handkerchiefs and throw pillows to tablecloths and clothing. There are numerous different embroidery stitches, the most common of which are outline, daisy, French knot, satin, cross and running stitch. The simplest of these is the running stitch, and mastery of this basic technique will enable a beginner to get started with hand embroidery.
Instructions
Use an undecorated handkerchief or throw pillow in a white or light-colored, durable fabric such as cotton canvas or linen. Print your design onto paper to make a pattern. Trace the outline of your pattern using a heat transfer pencil on the reverse side of the paper. Place the pattern on top of the fabric and apply a hot iron to transfer the design.
Hold the fabric at an even tension by using an adjustable embroidery hoop. Separate the two concentric circles that make up the hoop. Place the fabric over the smaller of the two rings. Push the outer ring over the top of the fabric and inner ring and tighten with the screw.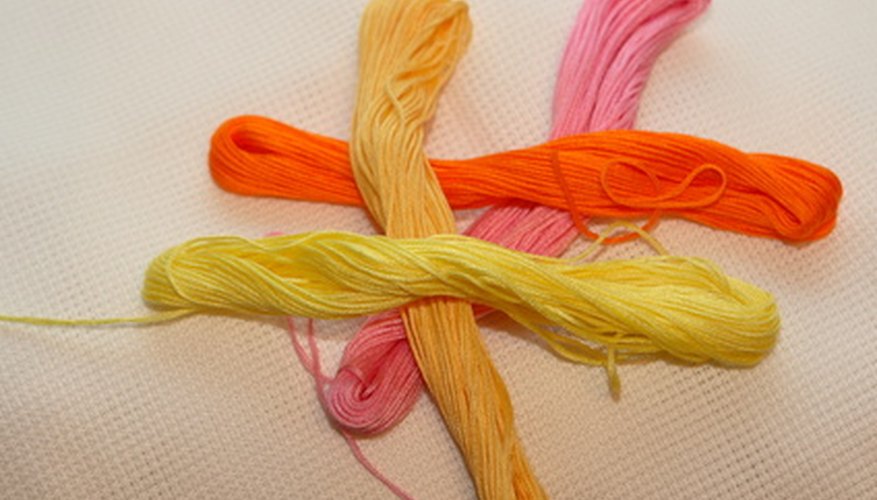 Cut a length of embroidery thread (floss). Separate the strands of the embroidery thread which should come apart easily. Embroidery skeins typically consist of six strands. Three strands of thread is an ideal thickness for beginning hand embroidery. Thread the needle and secure the long end with a double knot.
Pull the threaded needle up through the fabric at the start of your design. Continue to pull the thread until it is secured by the knot on the underside of the material. You are ready to begin the running stitch.
Push the needle back through the material at a distance no greater than 1/4 inch to make the first stitch. Pull the needle in and out of the fabric, following the outline design, making stitches equal in length. Leave a gap in between the stitches of half the size of the original stitch.
Pull the last thread through to the underside of the material and secure with a knot. You can do this when you have covered the outline of your design in running stitch or when you wish to change colors. Cut off any leftover thread.
Work on a simple design with a continuous outline (such as a heart) to begin with. Move on to more complicated designs (such as flowers with details), when you have mastered the basic embroidery skills.

Most retial yarn/craft shops sell iron-on transfers that you can use instead of creating your own designs.