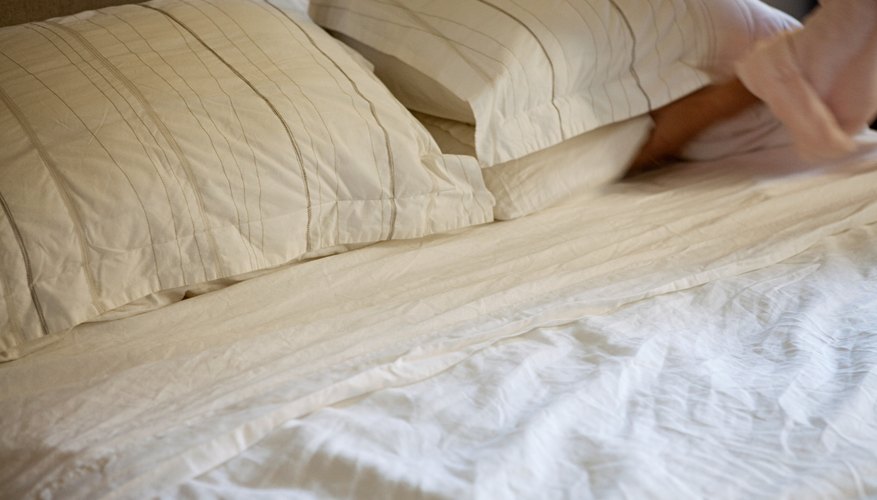 A well-dressed bed is the best thing for a large bed that is the central focus of a room. Many people do not know how to properly make their own beds, but after reading this, you will not be one of them. Here's how to dress a bed.
Attach the fitted sheet. On your bed there should first be a fitted sheet that hugs to the mattress due to its elastic inlay. This should securely cover the corners of the mattress to avoid riding up when there is a lot of movement. This is the hardest part to put on alone, so if you have a partner, have that person do the corner opposite the one you are trying to do and repeat this until all the corners are covered and the sheet is secure.
Place the flat sheet on the bed. A flat sheet is the sheet you sleep under, which lies below the comforter. It should be placed with equal lengths of fabric on either side of the bed. A proper fitting flat sheet will go underneath the mattress on both long sides and the short side of the mattress that is at your feet. Your partner should be able to tell you if there is enough on the side that you cannot see.
Tuck the sheet underneath the mattress at the short end first. Lift the mattress and fold the sheet underneath to ensure that there is no bunching. At this point, go to the head of the bed and pull the sheet toward you until the sheet hits 4 or 5 inches shy of the end of the mattress. Smooth the sheet with your hands and make sure that the long sides are still equal and even.
Fold the sheet so that the corner is neat and tight at the foot corners of the bed. Lift the bed slightly as you move up to the head of the bed, all the while using your hand to fold the leftover fabric on the side underneath the mattress just like at the short end.
Place the comforter on the bed, making the head edge touch at the same place as the flat sheet. Fold the comforter and the flat onto themselves so that the flat sheet is showing on top of the comforter and adjust the sides so that the flat sheet and the comforter lie flat as they drape down toward the floor.
Place pillows standing up so that the fitted sheet can only be seen minimally, and enjoy your nice neat bed.
Tip
You can never have too many pillows.
Warning
Never stand on bed to maneuver the fitted sheet onto the mattress, this will only worsen the situation.