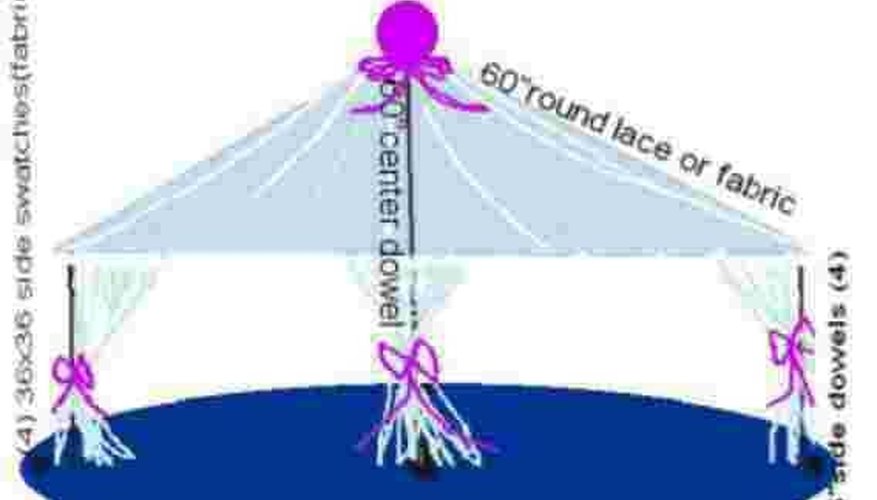 A carousel is an amusement ride that features seats built on top of a rotating platform. Carousels provide entertainment for children of all ages and are particularly popular at birthday parties or other celebrations. Most amusement parks have large carousels, and there are numerous companies that rent carousels for backyard use. Building your own carousel provides you with an affordable way to provide a great deal of fun for children at your next party.
Measure the center of the circular plywood base and drill a 1-inch wide hole in the center of the base.
Drill four 1-inch holes around the edges of the circular plywood base. The four holes should be evenly spaced around the outside and should line up exactly with the center hole. Use the measuring tape to ensure that the holes are evenly spaced.
Coat the end of the 60-inch long wood dowel with wood glue and insert it in the center hole. Allow approximately 6 inches of the wood dowel to stick out from the bottom of the plywood base.
Attach the ponies or other seats that you have purchased to the 36-inch long wood dowels. It is best to glue the ponies or seats to the dowels using the wood glue. Attach the seats approximately 24 inches from the base of the wood dowels.
Coat the ends of the 36-inch long wood dowels with wood glue and insert them into the holes around the edge of the circular base. The ends of the wood dowels should be flush with the holes.
Measure the center of the circular tablecloth or lace covering, and glue the center to the top of the center dowel. Stretch the covering out and glue the ends of the covering to the tops of the 36-inch long dowels.
Tip
You can purchase the ponies or the seats for your carousel from a carousel manufacturer such as Carousel Works.
Warning
Place the finished carousel on a soft surface, such as dirt or grass. Spin the carousel a few times before riding it in order to create a small divot for the bottom of the center dowel. This will give the carousel a firm base and allow it to spin freely while in use.