Priisk/iStock/Getty Images
Explore your creativity by making accessories for you and your home with clay. A few fun things to make with clay include embellishments for three-dimensional art, small designs to dangle from jewelry and masks suitable for wearing or to hang on the wall. Part of the appeal of working with clay is you begin with a blank slate, so to speak, to embellish as you wish.
Jewelry Charms
Мороз Вячеслав/iStock/Getty Images
Create fun charms for your jewelry designs with polymer clay push molds. The molds are small enough to create unobtrusive bracelet charms as well as pendants for necklace designs. Each mold has several designs built into the flexible, rubbery sheet. Push the softened clay into the desired mold, smooth the clay level at the top with a roller and then push the clay shape from the mold. Insert a strip of wire or needle into the soft clay before you bake it, so you will have a way to hang the charms. The hole should be large enough to fit a jump ring. After baking the clay according to the manufacturer's directions, add a shiny finish with clay glaze.
Embellishments and Appliqués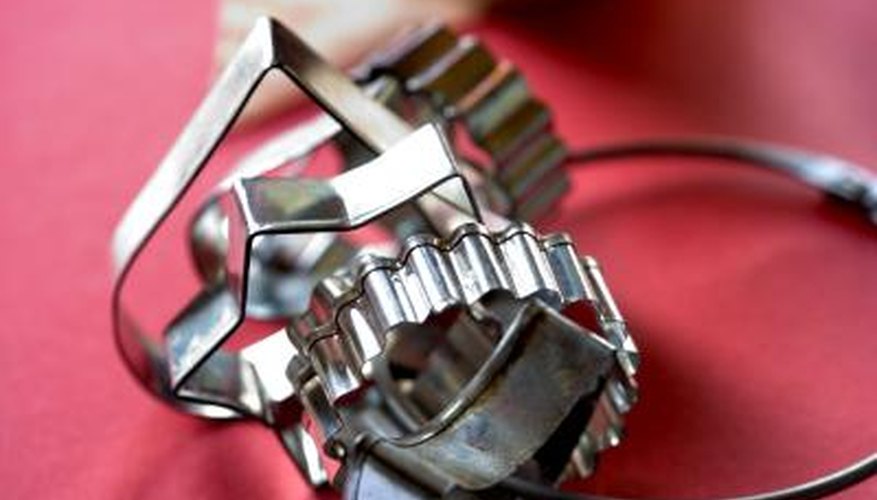 Angelika Antl/F1online/Getty Images
Decorative clay embellishments and appliqués are also fun to make with clay, clay cutters and cookie cutters. Soften and roll the clay into a uniform sheet. A pasta roller helps, but you can also use an acrylic clay roller. Cut the desired shapes from the rolled clay. Decorate the soft clay with glass cabochons, glass rhinestones, pebbles, wire mesh or other small items that will not melt in a warm oven. Most brands of polymer clay call for baking 20 to 25 minutes at 275 degrees, though some modeling clay doesn't need to be baked. You can also decorate the baked clay appliqués by gluing items to the clay with viscous craft glue. Painting the clay embellishments is also an option. Once the clay appliqués and embellishments are ready, glue them to planters, purses, metal garden art or other objects that need a touch of whimsy.
Masks
ValentinaPhotos/iStock/Getty Images
One of the more fun and creative things you can make with clay is a decorative mask. You are only limited by your imagination as you design and decorate a clay mask. Begin by rolling softened clay into a 1/2-inch thick sheet. Trace and cut the outline of the mask and then create holes for your eyes. Elevate the center of the sheet slightly to shape a nose; look around your home for small items that will lift the clay in a triangular shape or create a prop from tin foil. Insert a 1/4-inch diameter dowel or a thin rod into the side of the mask as a holder, if you like. Otherwise, puncture holes on both sides so you can add a ribbon tie after the mask is complete. Once the shape and overall design of the mask is ready, embellish it with objects that can withstand baking temperatures. You can also layer other colors of clay over sections of the mask to create a distinctive design, paint the baked mask or glue on objects to decorate the baked clay.
References
Resources
Writer Bio
Katherine Kally is a freelance writer specializing in eco-friendly home-improvement projects, practical craft ideas and cost-effective decorating solutions. Kally's work has been featured on sites across the Web. She holds a Bachelor of Science in psychology from the University of South Carolina and is a member of the Society of Professional Journalists.
Related Articles