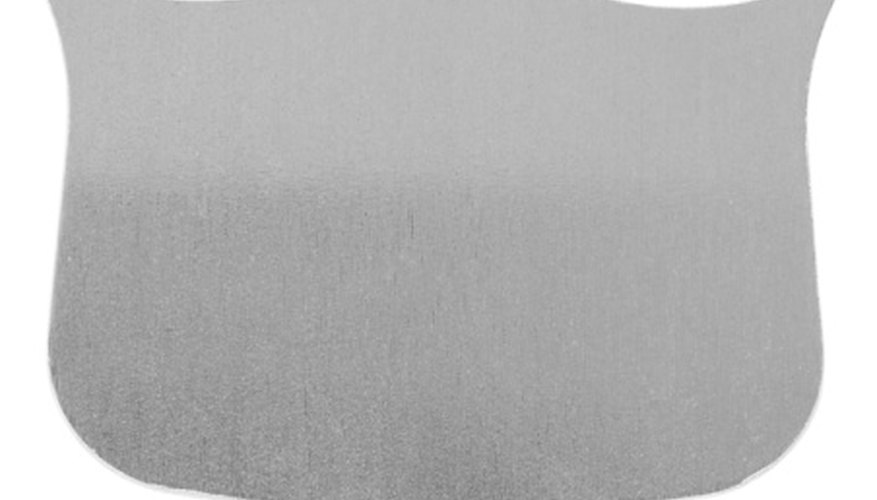 Engraving a lighter, pen, knife, trophy or hip-flask turns a nice gift into a treasured personal item which can commemorate an important event. Though it's not prohibitively expensive to have an engraving done professionally you can save yourself money by learning to do it yourself and more importantly you can learn a rewarding craft and feel the added satisfaction of producing something which someone you care about will treasure. Like with all new craft skills, just start simple and work up to harder projects.
Find an image or type text into a desktop publishing program, print it and cut it out using the scalpel. This is a stencil so leave two or more narrow strips between the paper on the outside of the image and any shapes on the inside. These pieces are to hold the central piece of paper to the rest of the sheet, without them the central shapes will come loose from the rest of the sheet.
Clean the item to be engraved with acetone and a soft cloth. Stretch the stencil you have cut over the piece to be engraved and tape around the edges to hold it in place. Draw through the stencil onto the item with the marker pen.
Remove the stencil and position the item to be engraved in the clamp, using rags to pad the clamp and prevent scratching. For some people, especially with heavier engraving tools, it can be helpful to place a tripod over the clamp and suspend the tool from the tripod using elastic cord so that it hangs tip down over the item. This holds the tool's weight and makes it easier to handle.
Before beginning on the item, practice on a scrap piece of material to see how the different tips for the engraving tool produce different results when used in different ways. Decide upon the effect you like most and fit this tip to the tool.
Switch on the tool and grip it near the cutting tip just as you would grip a pen. Using steady, even stokes run the tip of the engraver over the surface of the item anywhere where you have colored in with the pen. Keep going until all the ink has gone. When engraving over wider areas, make the strokes all in the same direction. Blow frequently to keep the item free of shavings.
Remove from the clamp. Clean of any left over marks of pen or gum from the tape with a dab of more acetone. Polish the item up with a cloth.
Warning
Wear goggles and mask while engraving.