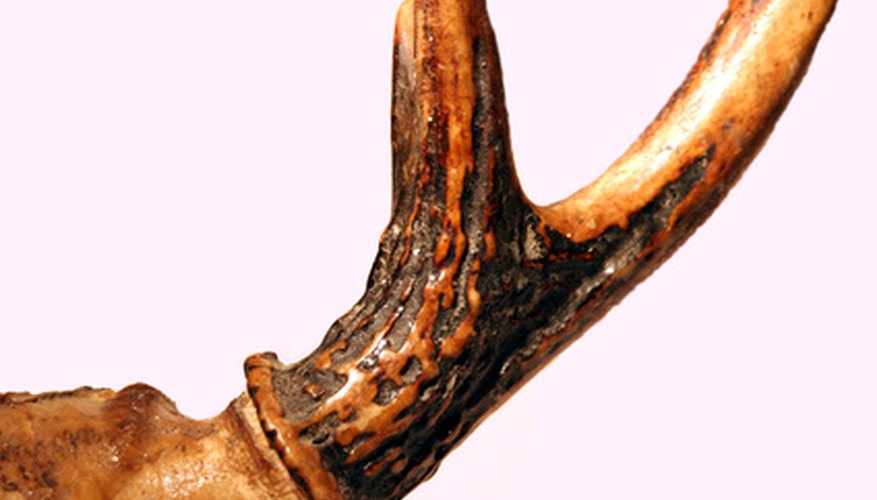 Deer antlers are good for making art because of their natural beauty and versatility. They come in various sizes, colors, shapes and structures, which makes options for working with them limited only to creativity and imagination. You can find deer antlers yourself, obtain them from a hunter or purchase them to make art projects.
Furniture
Furniture made with deer antlers can be works of art that are also functional. Screw deer antlers into an existing table top or piece of wood to make a table. You can make a chair entirely out of antlers, attaching them screws and bolts. Create functional yet artistic shelving by attaching deer antlers to a wall.
Lighting
Antler chandeliers are common works of art that you can find in many stores selling items made from natural products. Make chandeliers by attaching multiple pairs of deer antlers to one another and then attaching a lighting fixture in the middle. Some knowledge of wiring is necessary for this type of project. Another idea for an artistic lighting project is wall sconces made from smaller deer antlers and attached to a wall.
Jewelry
Make jewelry from deer antlers by carving or drilling pieces of the antler. Antlers are a similar density to bone and you can carve them into a variety of shapes for pendants, earrings and rings. To make an antler ring, saw a piece of antler of the correct diameter and hollow it out using a drill. You can saw and carve pieces of the antler to create interesting shapes, or leave it alone to create a larger piece of jewelry.
Other Project Ideas
Other art projects that use deer antlers include gun racks and candle holders. These projects use the existing shape of the antler in an interesting and creative way. Attaching a piece of metal to pieces of the antler creates a bookend that is an unusual piece of art. You can make salt and pepper shakers by sawing portions of the antlers, plugging the bottoms with cork stoppers and drilling tiny holes in the top for the salt and pepper to filter through.