The Image Gate/Getty Images Entertainment/Getty Images
There are numerous different types of vintage Hamilton wrist watches bought and sold online and from vintage watch collectors and specialists. Classifying a Hamilton watch by determining its condition and whether it's original or restored helps to determine its value and collectability. Classification of the Hamilton in poor, fair, good or excellent condition is sometimes done by assigning a percentage. For example, an unblemished well-running vintage Hamilton should be classified 90 percent or above to be in mint condition. Some watchmakers use Antiquorum Auctioneers' system of "Exceptonal," "AAA" (excellent), "AA" (very good), "A" (good), "B" (fair).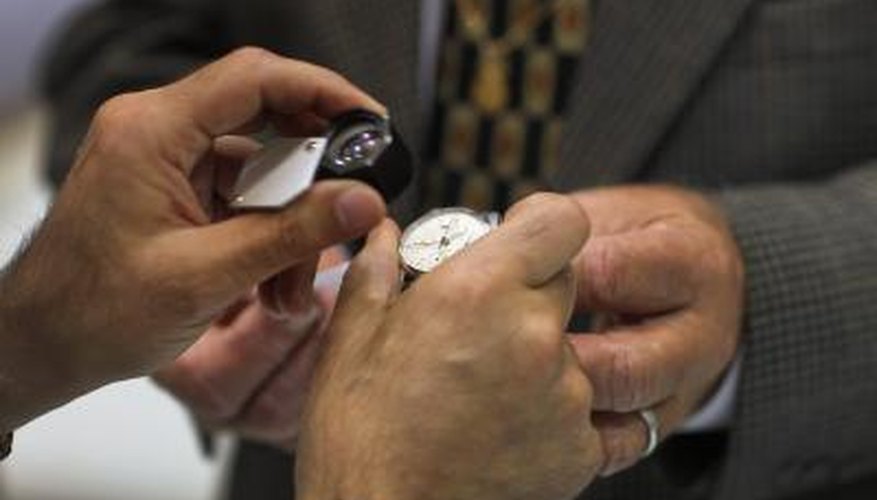 Joe Raedle/Getty Images News/Getty Images
Using a magnifying glass or jeweler's loupe (a small magnifier used by jewelers and watchmakers), examine the dial of the vintage Hamilton. A light, even patina across the dial and unblemished, or slightly blemished numbers, markings and hands indicate the watch is likely original and classified in good condition. Pristine color and perfect markings on an 80-year-old Hamilton may indicate a restoration.
Scan the crystal for scratches and cracks with the magnifying glass or loupe. Glass or mineral glass indicates originality. Sapphire glass indicates an overhaul, since sapphire crystals were not available until the 1960s and 1970s.
Examine the crown. A signed crown on a prewar Hamilton indicates it's not original. Hamilton did not sign its crowns with an "H" until the 1950s.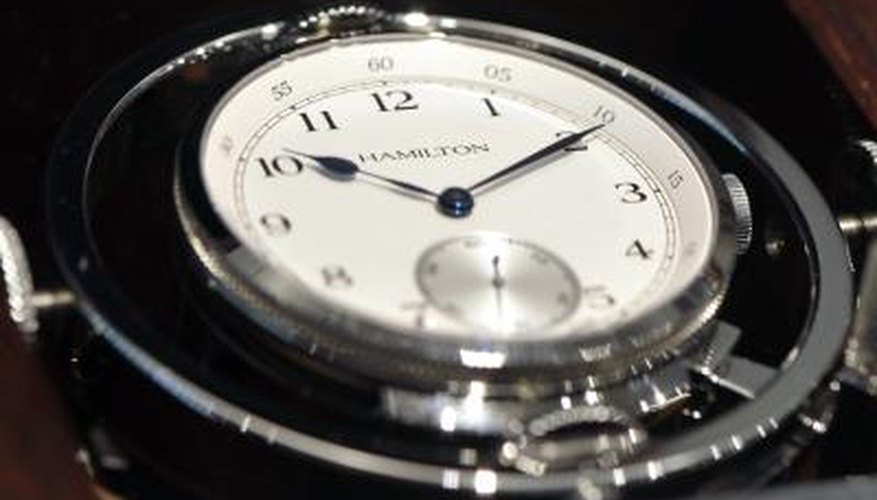 The Image Gate/Getty Images Entertainment/Getty Images
Using the magnifying glass or loupe, and a polishing cloth to wipe down timepiece, examine the case, case back and lugs for scratches, pitting and brassing. Some blemishes are expected due to normal wear and tear. A restored Hamilton many have no signs of wear.
The Image Gate/Getty Images Entertainment/Getty Images
Vintage Hamilton watches have either a snap or screw case back. If the watch has a snap case, carefully open it with a flat, blunt blade to examine the movement for dirt, grime or tampering.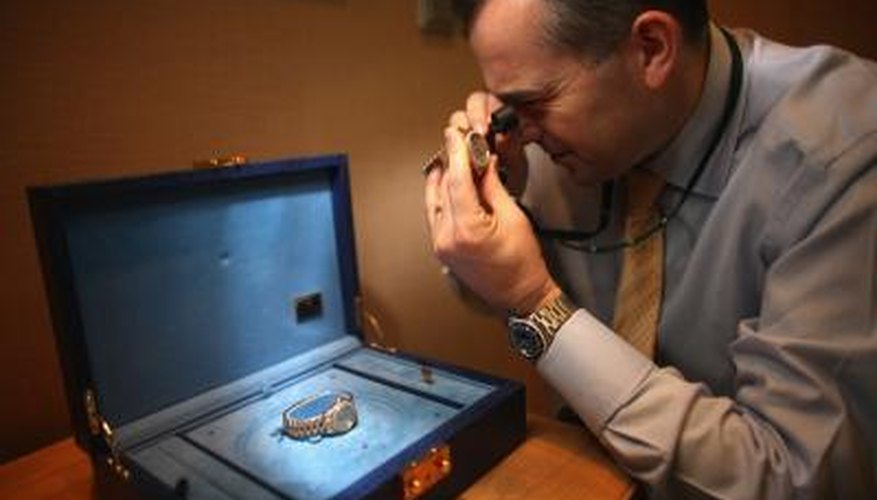 Christopher Furlong/Getty Images News/Getty Images
Using the magnifying glass or loupe will help identify the age the Hamilton watch. Locate the movement number, which consists of three digits sometimes combined with a single letter, and the multi-digit serial number. For example, movement number "986," and serial number 2100001, will identify a 1922-1926 Hamilton wrist watch.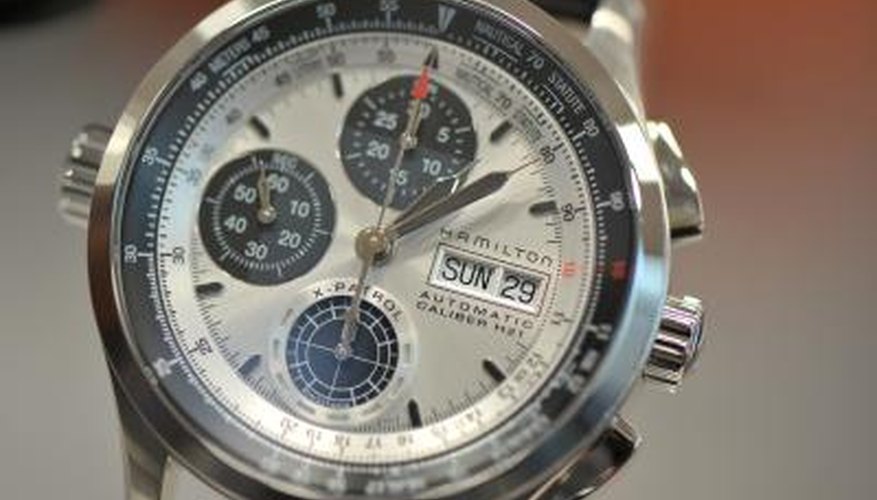 The Image Gate/Getty Images Entertainment/Getty Images
After noting its condition, classify your vintage Hamilton watch by using the percentage (or letter grade) criteria: 90 and above for pristine, possibly restored, condition, and no brassing, or never worn new old stock; 80-89 for slightly normal wear; 70-79 for normal wear and scratches; 60-69 for heavy brassing and dings; and under 60 for damaged or missing parts and possibly inoperable, but salvageable watch.
Magnifying glass or jeweler's loupe
Polishing cloth
Flat blunt blade
Consider leaving your vintage Hamilton watch in original condition. Patina, flaws and wear add to its vintage looks.
When considering purchasing a vintage Hamilton classified as restored or overhauled, keep in mind that some watchmakers may use non-Hamilton parts or movements, which will significantly reduce its value.
The Image Gate/Getty Images Entertainment/Getty Images