Mario Tama/Getty Images News/Getty Images
Christmas brings images of snow, reindeer, lights, bells and all-around enchantment. Amidst these visions of wintertime wonder no Christmas display is complete without a Christmas Village. These can be large or small, tiered, flat, or arranged in multiple ways.
Basic Layouts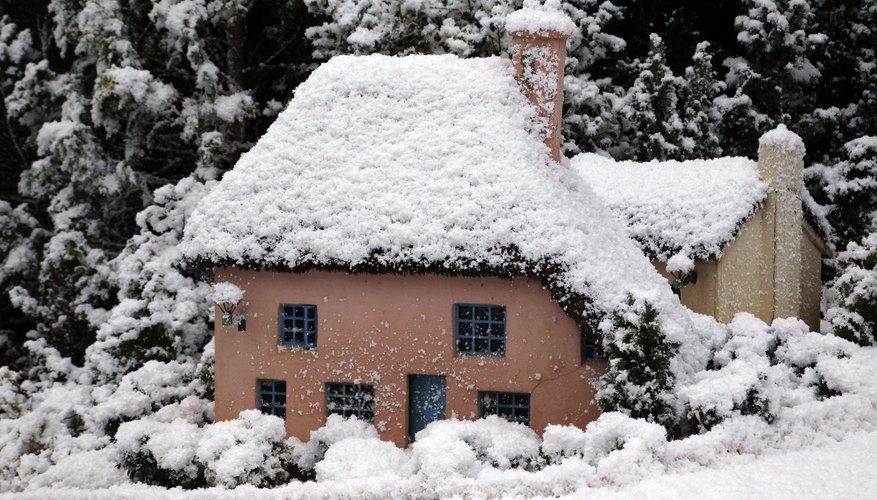 Matt Cardy/Getty Images News/Getty Images
A quick, easy and traditional layout for Christmas villages is to arrange them on a large banquet table, side table or china hutch. To make the snow, a plain white sheet suffices to give the houses and cottages a white surface on which to dwell. Place the sheet over your table, shelf or other flat surface for the base of snow. Next, use the boxes that the village buildings, trees and accessories are stored in and randomly place them around your newly made snow field. Now lay another white sheet over the boxes and push down the sheet between the boxes. This technique will make the boxes become mountains and hills. It will also allow you to place more village pieces on a small surface, and it will give a multidimensional appeal to your holiday wonderland. Next, place your village pieces in the valleys, on the hills and on the mountains.
Snow and Glittery Appeal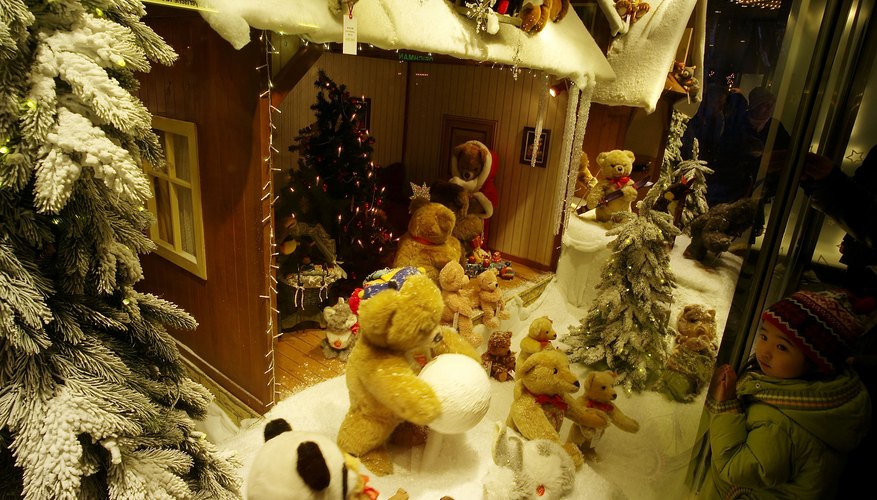 Johannes Simon/Getty Images News/Getty Images
No Christmas wonderland is complete without snow, glittery flakes of silver and gold, trees and even lights. Quick and easy snow can be made from batting and stuffing, both found at craft stores. Batting is generally used to line quilts, and it can be bought by the yard or in packages ranging from baby quilt sizes to king sizes. Just make sure you use white batting, as off-white would destroy the image of snow you are seeking. The batting can either be laid out as a large sheet over the white sheets, to make a uniform blanket of snowy fluff, or it can be ripped or cut into strips or smaller pieces and randomly placed around the buildings. Small handfuls of the stuffing should be randomly put around the display. Since the stuffing is light, it can be put on rooftops, stuffed inside so that the stuffing bulges from the windows, and in little nooks and crannies throughout the display. Lightly sprinkling silver and/or gold glitter over the batting and stuffing will give it a shimmer and ambiance of winter wonderland delight. If you are worried about the glitter rubbing off or damaging your buildings, use a glue stick on the batting and stuffing, sprinkle with glitter, shake off excess and let dry. Just remember to use the glue sparingly as the glitter will stick to it with greater intensity. To add another layer of zing to the snow, string a strand of white lights around the border of your display.
Accessories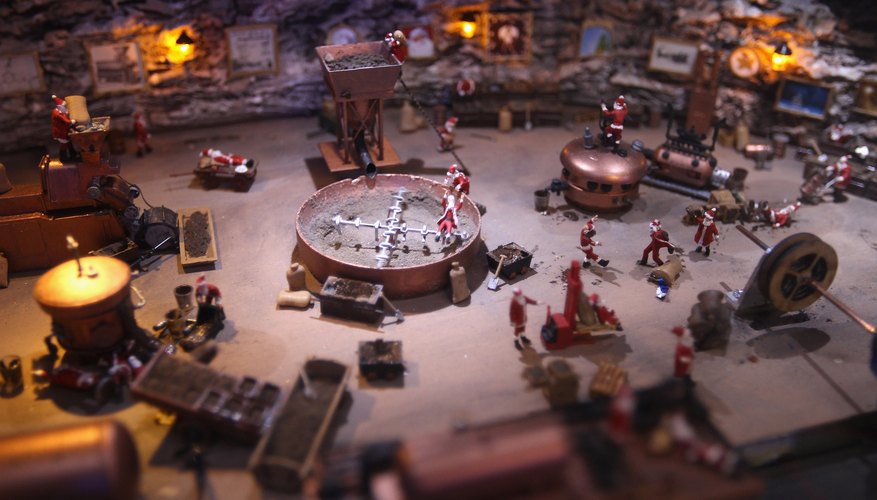 Sean Gallup/Getty Images News/Getty Images
Houses, shops, schools and churches make a village, but trees, cars and people make the scene come to life and turn a village display into a conversation piece. Miniature trees, of great variety, can be purchased at craft stores. These can be purchased with or without snow and without or without lights. The people can be bought at craft stores too, or they can be special ordered. As for the cars, these come from children's toys. Matchbox cars are small, come in all shapes and sizes, and vintage styles are readily available. Adding a few cars to the scene with people amidst the snow, trees and buildings not only adds another layer to your Christmas Village's story, but it makes it that much more unique and your own.
Resources
Writer Bio
Genevieve Babychz has been writing professionally since 2003, with her work appearing on eHow and various websites. She focuses on technical writing and editing as well as writing about bridal fashion and other topics. Genevieve has a Ph.D. in American history from Stony Brook University.
Related Articles