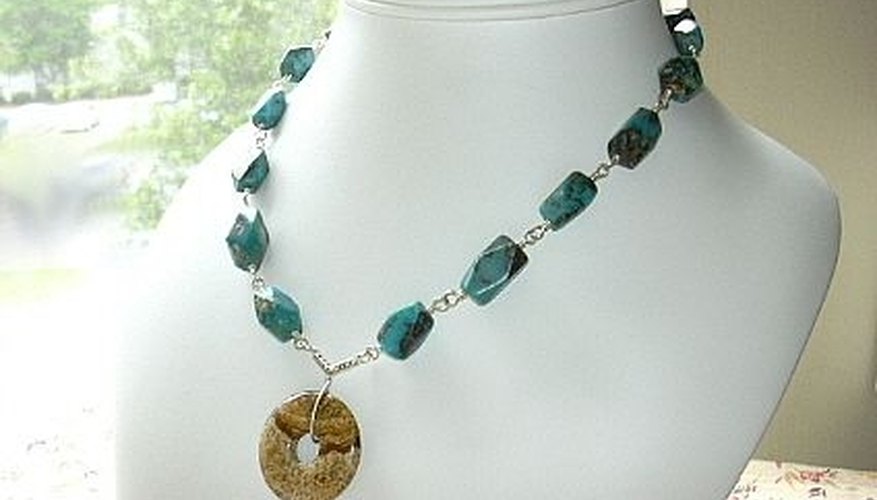 Kristina Jensen--All Rights Reserved
If you're a hobby artisan jewelry designer who makes beaded jewelry and considering taking advantage of the business opportunities for beaders posed by the Internet, you'll find that you have a lot of choices for how to sell your jewelry or beads. While it's definitely challenging, running a jewelry line at home is rewarding both for the creative expression and the income. Learn how to start a jewelry beading business conveniently from home.
Decide on your market. Take into account the kind of jewelry you make. Who would be attracted to your jewelry line and designs? Are you aiming to attract young people or older? Be realistic, making sure that the segment of the population you hope to attract can afford your designs. Don't use expensive beads in necklaces that will only sell to those who want to pay under $20 for a necklace, for example.
Decide on a name that evokes the kind of mental images of your jewelry you're aiming for in your market. The name of your business will depend on the jewelry you create. You might choose a catchy name, an elegant name, or a name that's evocative of the theme of your jewelry. The name for your home based jewelry beading business should be easy to say and remember.
Decide how you'll sell your jewelry or jewelry supplies. You can open your own website or sell jewelry on Etsy, Craftmall, Rubylane, or another online craft mall where visitors tend to go to your site. If you open your own Web store to sell beaded jewelry or jewelry supplies, then consider designing the ecommerce store yourself, or hiring a Web designer who can make the web site attractive. Find a Website hosting service and register your domain name.
Apply for a start-up grant or a loan if you need an influx of cash to launch your jewelry line. There may be grants for women and minorities available.
Purchase jewelry supplies wholesale from local jewelry supply wholesalers, gem shows, or online jewelry supply stores, many of which also have paper catalogs, such as Artbeads or Rio Grande. Not merely beads, jewelry wire and other beading supplies, but tools and jewelry display busts are available in online supply stores.
Build up a good jewelry beading stock, tagging each necklace, bracelet, and other jewelry item with your logo to create your brand. Make sure you have enough handcrafted artisan pieces to offer a good selection to your customers.
Take photos of your jewelry against attractive backdrops. You may want to consider buying jewelry displays even if you don't supplement your online jewelry business with craft fairs, since they offer a classyt backdrop for jewelry photos. And think creatively...a good backdrop can be anything from a soft towel to an expensive wood surface. Use contrast to make the jewelry look appealing.
Take out all the necessary business licenses required in your state and county when you start a jewelry beading business from home.
Tip
Expect a low overhead when you start a jewelry company or a jewelry line online. There are very few operating costs, relative to selling jewelry in a bricks-and-mortar store. When you get a good price on wholesale jewelry supplies, grab 'em!