Jacob Dillow/Demand Media
Aluminum cans are ubiquitous. Though throwing them into a recycling bin is one way to ensure they don't end up in a dump, you can also use them to make art, jewelry, ornaments and lanterns. Some projects may require a trip to the store, but others are so simple (like the lantern) that you probably have everything you need right now.
Lanterns
Jacob Dillow/Demand Media
Decorate your home for a party with little lanterns made with aluminum soda cans. You can also use citronella candles in each and set the lanterns outside during a cookout to help keep mosquitoes away from you and your guests. After cutting off the top of the used soda cans, rinse the cans, fill them with water, and freeze them. Then, lay a frozen can on its side on a towel and gently punch holes using a nail and the tap of a hammer. Plan ahead and draw a design on the outside of the can with a permanent marker; then punch holes on that area only to create that design. Write words or phrases with your holes. Create random swirls or thoughtful patterns. When the ice has melted, fill the bottom with ¼ to ½ inch of sand, place a small candle on the sand, and light it.
Wall Art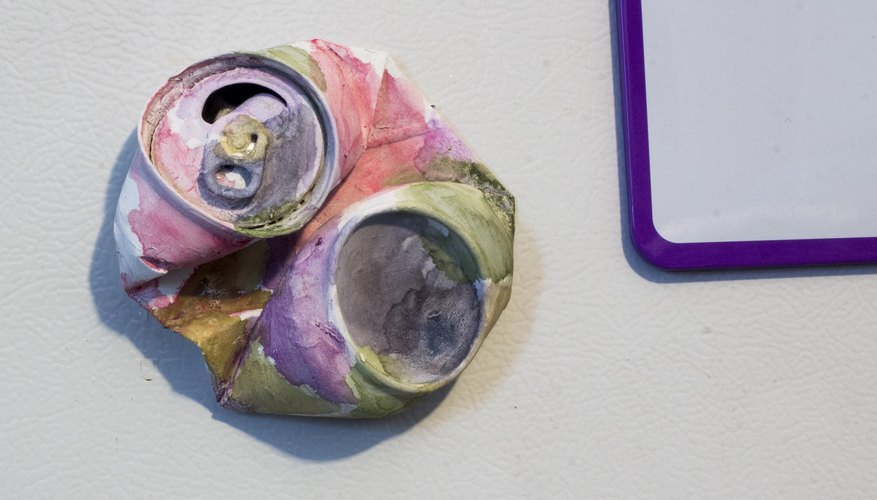 Jacob Dillow/Demand Media
Consider your canvas: an empty, clean soda can crushed flat. An image may present itself right away. Turn it around; look carefully at both sides to decide which you wish to paint. After you coat the can with primer and allow it to dry, plan your artful design. You may even make a few sketches on the can with a pencil before using acrylic paint to bring your art it to life. Let the paint dry thoroughly before spraying on a coat or two of varnish (matte or glossy, depending on the look you want). Glue a magnet to the back of your aluminum can artwork and stick it on your fridge; nail it to your wall, or make a collage of crushed can art.
Ornaments
Jacob Dillow/Demand Media
An ornament may decorate a tree, but it may also adorn a doorknob, a rearview mirror, the corner of a computer monitor, or a hook. The shape can be geometric or seasonal, familiar or unusual. Cut off the top and bottom of a used aluminum can with scissors or a razor blade (be careful!), and make one long cut from top to bottom. Unroll the can and, on the silver side, trace a shape using a pen or pencil – you're just using their pointy ends to make cutting lines. Then, cut out your ornament following these lines. Add embossed detail to your shape with a pen/pencil before sanding the shape's edges and surface. This will make it look more like pewter. Then, punch a hole near the top of your ornament and insert a piece of ribbon, string or raffia. Give it to a friend, a teacher, a coworker, or keep it for yourself.
Jewelry
Jacob Dillow/Demand Media
Used aluminum cans can be cut and unrolled, as described under Ornaments above, to make jewelry and key chains. Some cans are printed with attractive colors and designs; even a product's name, logo or nutritional information can be incorporated. With a permanent marker or a pen/pencil, trace a shape, cut it out and sand the edges. If you want, glue the shape to metal stamping for extra support before punching a hole in which to set eyelets. Add a jump ring and chain to wear it as a pendant. Slip it on an ear wires to wear as an earring (and make another just like it for a set of earrings) or attach it to your key ring. Make multiple, small shapes and run a wire through the eyelets in each to create a bracelet.
Jacob Dillow/Demand Media