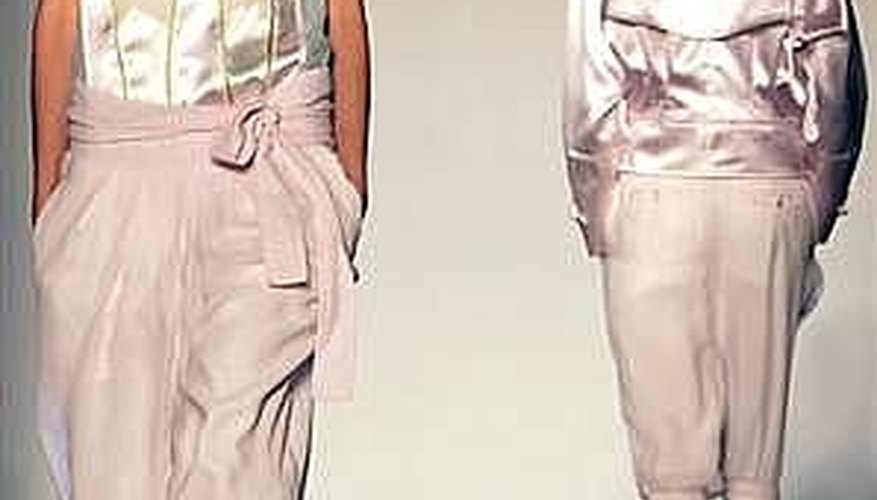 Harem pants, or pantaloons as they are sometimes called, make up the flowing, billowy bottom half of a sexy belly dancing costume. Harem pants balloon out in the middle from the thighs to the calves, and taper at the ankles. Whether you need a belly dancing costume or a flirty look for Halloween, here's how to sew your own harem pants.
Fashion an improvised pair of harem pants if you're in a hurry. Buy a roomy pair of cotton, satin or chiffon pull-on pants, preferably two sizes larger than what you usually wear. Even the legs to an appropriate length, then adjust the waist. Sew casings at the hips and ankles.
Measure your stomach with a piece of elastic. Decide where you want the harem pants waistline-up high or low and sexy. Then measure from this belt line to the floor for your pant length. Take hip and thigh measurements to complete the necessary information for the pattern.
Compile your materials. Choose cotton for a folksy look. For the exotic, Middle Eastern harem style, buy georgette, chiffon, lace or thin silk. You can use heavier fabrics like velvets and brocades as panels draped over the pants, but avoid thick fabrics for the actual pants.
Draw a pattern according to your measurements on a piece of paper. Add 6 to 12 inches for full harem pants and 4 to 5 inches for slimmer pants. Add 2 inches for ankle casing and 1 ½ inches for hip casing.
Cut out the fabric while it's pinned to the diagram. Sew the seams, inseams and casings. Slide elastic through the casings and adjust until the harem pants fit comfortably. Don't make the pantaloons too tight. They need to flow with your dancing.