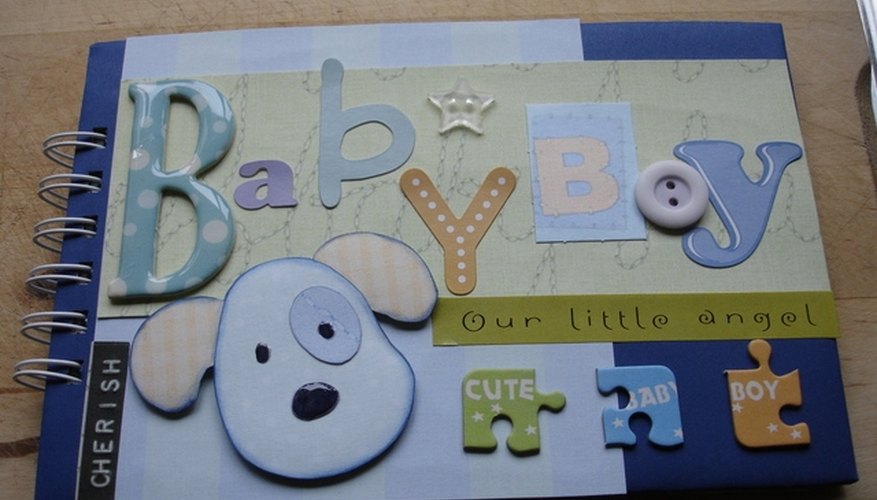 According to MyCreativeMemory.com, scrapbooking is more popular than golf. One in four households has someone who plays golf, while one in three households has someone who scrapbooks. The birth of a baby is the ideal time to start a scrapbook---the baby's firsts and pictures of the baby in special clothing or with family members are natural themes. Planning your scrapbook when you become pregnant can save you time and stress, and will help you create a lifelong keepsake for your baby boy.
Time-line
For a creative beginning to the scrapbook, assemble a time-line from pictures showing the growth of the mother's belly. Take a picture of the mother in the same location each month. Compile the pictures across two pages to show how much she grew month to month. On the same note, babies grow fast, too. Take pictures of the baby each week to show how much he is changing in that short amount of time.
Firsts
The early months of a baby's life are filled with firsts. Some notable firsts are when the baby comes home; when he loses his umbilical cord; his first smile; his first taste of food; and, eventually, the first time he crawls. One section in the book can be designated to the Baby Boy's Firsts. Include both pictures of the events and keepsakes such as the hospital bracelet.
Strike a Pose
Baby clothing is a popular gift at baby showers; however, babies can grow so quickly, he might only be able to wear an outfit once before it is outgrown. Take pictures of your little boy in your favorite outfits and create a page or two. Note next to the pictures if they were gifts and include the name of the gift-giver. That way, if Grandma didn't get a chance to see him in the outfit before it was outgrown, she will still be acknowledged for the gift.
Just Having Fun
The next section of the scrapbook can be photos of the baby having fun. Choose paper to fit the theme of a group of pictures. Perhaps he is sitting in Dad's lap watching a football game. Use football-themed paper as the background and write captions about how he's taking after Dad already. If you have pictures of him with spaghetti sauce on his face, find a background that is food-related to fit the theme. Make sure to date the pictures.
Don't Forget Family
Most relatives will be eager to hold your baby boy and pose for pictures with him. Be sure to capture these moments and include them in your scrapbook. Photos taken while the baby is sleeping in-arms are especially adorable. Ask the family member to write a little message to include with their picture; it can be their thoughts at the time, advice for the future, special words about the baby boy, or anything they want him to be able to read when he is older. It's important to have grandparents, great-grandparents and other elderly family members pose with the baby. Take advantage of these moments whenever you can.