Assorted plastic bottles
Spray paint for plastics
Craft foam in assorted colors
Googly eyes
Red fingernail polish
Hot glue gun with glue sticks
Utility knife
Cutting board
Template (See Resources)
This easy, inexpensive craft will stir your kids' imaginations--and yours. Once you get started, you will see creatures in all kinds of bottles. These fish are made from various hand soap bottles, which come in interesting and inspiring shapes. You will find a link to templates for this project under Resources at the end of this slideshow.
Craft a Fish from a Plastic Bottle
Debbie Williams
You may already have most of the supplies on hand. The new plastic spray paints work amazingly well and coverage is excellent. If you do craft projects with your kids, a supply of colorful craft foam is a handy thing to keep in stock, and a hot glue gun is indispensable.
Debbie Williams
Run hot water over the bottle to soften the adhesive on the label. Using a sharp knife, catch the edge of the label and pull up slightly. Most labels will come off cleanly using this method, but you might need to remove some of the residue with a commercial solvent.
Debbie Williams
Use a utility knife with a cutting board to cut off the pump portion of the soap bottle. This should be done by an adult. Use a gentle "sawing" motion and a sharp blade, and this should be a simple task.
Debbie Williams
Cut out the template pieces from craft foam in your choice of colors. Be creative in your color choices. Study the different types of fish and find colors and shapes that match your bottle shapes.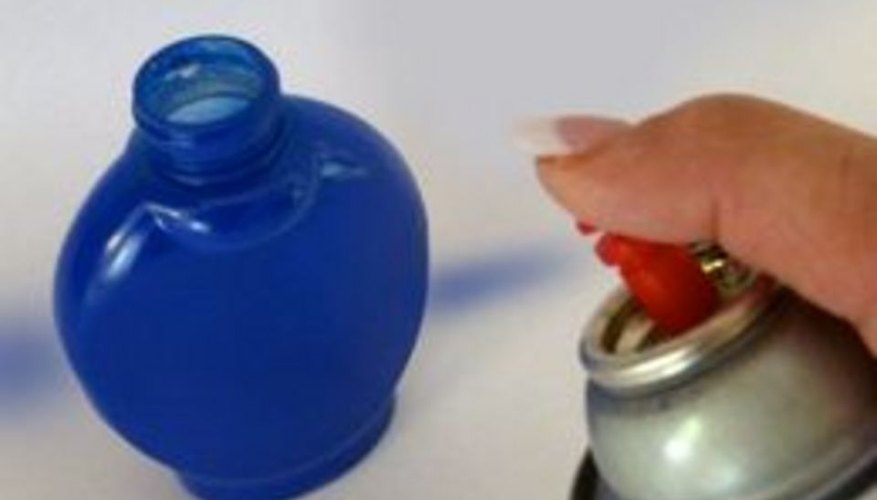 Debbie Williams
Cover a work area with newspaper. Using a back and forth motion, spray paint the bottle. To prevent drips and runs, use several light coats rather than trying to cover in one heavy coat of paint.
Debbie Williams
Glue the tail fins on each side of the foot of the bottle, leaving the outer edges of each side unattached for the moment. It's easy to burn yourself with high temperature glue, so this should be done by an adult. Older children could use low-melting-temperature glue.
Debbie Williams
Glue and pinch the tail pieces to each other, matching the center and the sides as you go. When cool, use scissors to trim any places that are not line up perfectly.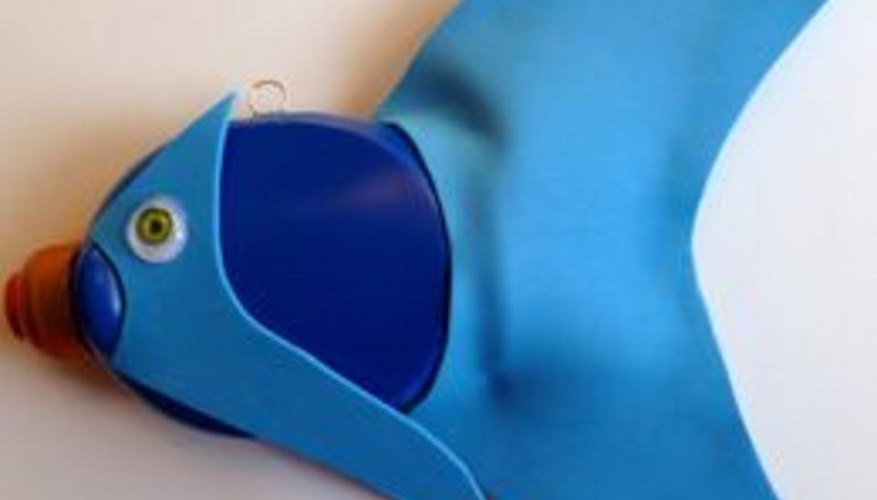 Debbie Williams
Glue the side fins in place. Add some googly eyes and a ring on top to hang your creation. As a final touch, paint the front of the bottle rim with bright fingernail polish to look like lips.
Resources
Writer Bio
Debbie Williams studied design at the Kansas City Art Institute and has operated a graphic design and printing business for the last 17 years. She has been involved in various crafts including sewing, quilting, costuming, woodworking and various DIY all her life.
Related Articles