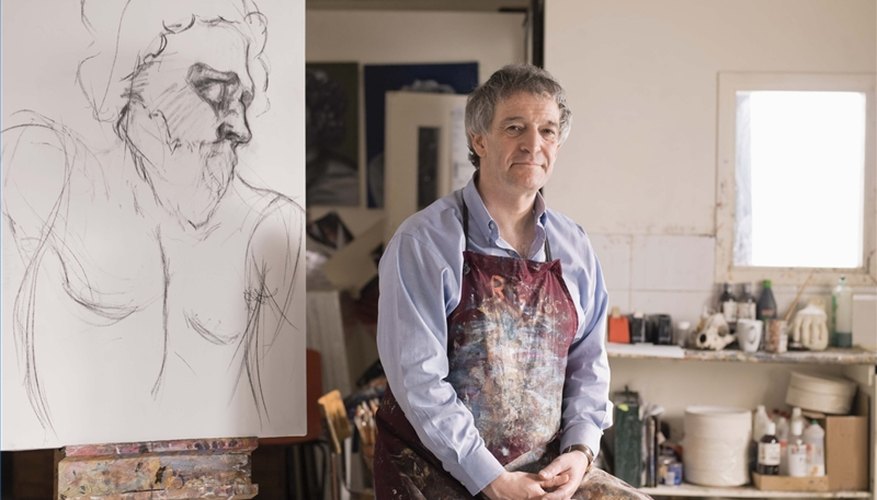 How to Turn a Sketch Into a Painting. While some artists can work directly on canvas and get amazing results, most artists, especially beginners, should get in the habit of sketching the design before applying paint. Psychologically, a sketch is less of a commitment than a painting and allows your mind to play freely with the elements. Creativity and polish happen during revision, which is what you do when you turn a sketch into a painting.
Choose subjects that are appropriate for both a sketch and a painting, depending on your style. A still life of an elaborate vase works if you enjoy detailed oil paintings, but a watercolor artist may prefer the shape and subtle hues of a distant mountain range.
Carry a sketchbook with you at all times. Be on the lookout for subjects you know will make good paintings. Focus on detailed areas separately if you want to include them in your finished piece.
Use a full piece of watercolor or drawing paper to make a larger version of your picture. Draw marks on the sides of the paper at an equal distance. Lightly connect these marks with a ruler to make grid lines.
Draw grid marks on your stretched watercolor paper or canvas for your final piece. It should have the same number as your drawing. Use a ruler to connect the marks, creating a grid with the same number of cells as on your sketch.
Enlarge your drawing onto your paint surface. Beginning in the upper right corner, concentrate on each section of the grid separately. Draw to proportion only what you see in that particular cell.
Paint over the sketched image once you've completed drawing it to size on your surface. Let yourself get creative by adding, subtracting and changing details, using your drawing as a reference.
Tip
Enlarge your sketch with a scanner and graphics program and draw grid lines on it to prepare for painting.
Warning
Don't use a scanner every time so you can practice turning a small sketch into a larger one.