Things Needed
Pattern
Fabric
1-inch wide elastic
Scissors
Thread
Sewing machine
Sewing pins
Zipper foot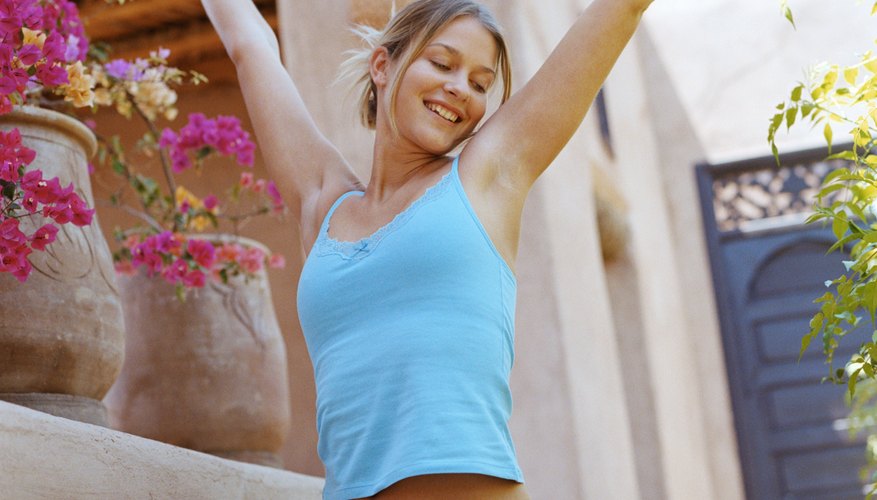 Elastic waistbands provide comfort, flexibility and ease when dressing. Elastic bands work well for children's clothing, pajama bottoms, skirts and garments for people with limited mobility. You can adapt a technique from the garment industry by sewing an elastic band that encases the elastic as you sew the casing.
Choose a pattern with an elastic waist. Make sure the body of the pattern has an extra 1 1/2 inches to fold over for a casing at the waist.
Serge the raw edge of the waist or fold the raw edge inward quarter inch. Fold the casing to the inside along the fold line shown on the pattern. Press.
Wrap the elastic snugly around the waist of the person who will wear the garment to determine the length of the elastic. Add one inch for the overlap and cut the elastic.
Loop the elastic into a circle and overlap the ends of the elastic 1/2 inch. With the sewing machine, use a zigzag or broken zigzag stitch to join the ends together.
Turn the garment wrong side out and pull the waist through the circle of elastic. Fold the casing over the elastic and pin at four to six places around the waistline.
Install the zipper foot on your sewing machine according to your machine manual with the needle to the right of the foot.
Place the pinned casing under the foot. Lower the foot and sew a few stitches to begin securing the edge of the casing. Take care not to catch the elastic in the stitching.
Leave the needle down as you position the casing over the elastic up to the next pin. Hold the casing in place, sandwiched over the elastic, as you stitch to the next pin.
Continue in this manner until you finish the entire casing. Stop periodically and pull on the elastic to gather up the fabric behind the foot and allow the fabric in front of the foot to lie flat. Back stitch and cut the thread. Distribute the fabric evenly along the elastic by stretching the elasticized opening.
Prevent the elastic from twisting inside the casing by top stitching in the garment seam lines from the waist edge down to the lower edge of the casing.