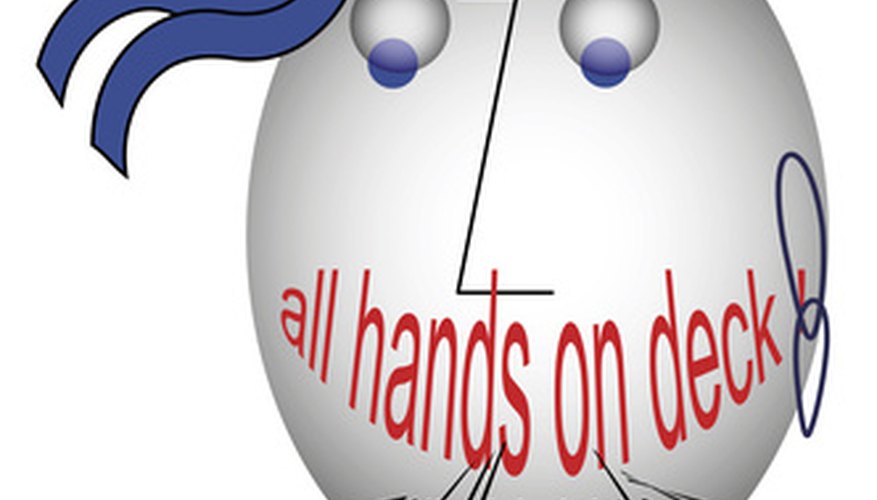 Print your own decals for T-shirts to give you the advantage of controlling the size, color and placement of the decal with very little time and expense invested. It is a simple process when you understand how the transfer papers work. There are different printing rules for application of decals on light fabrics and dark fabrics.
White T-shirt Printouts
Create or select a design on your computer. Size the design so there is a minimum of 1/4-inch margin around the design when printed to the finished size you want to use. Standard transfer papers are 8 1/2 by 11 inches.
Reverse the design so you have a mirror image and print it out on a test piece of plain paper. Make changes and adjustments to the design and size as needed until you print out the final design.
Print the design on the printable side of the light transfer paper. Brands differ, but usually the back side has some form of markings on it to help you distinguish the printable side. Allow the printout to dry for five minutes.
Trim around the design leaving a 1/4- to 1/2-inch border around the decal.
Heat a dry iron on "high." Lay the T-shirt flat on a hard surface. Smooth out any wrinkle with your hands. Position the printed design face down where it will be transferred onto the material.
Iron the transfer on with light pressure for 20 seconds, then apply heavy pressure by leaning on the iron with both hands. Move the iron around so you put heavy pressure over the entire design.
Allow the shirt to cool completely before peeling off the paper backing. Start at one corner and roll the paper back slowly and smoothly so the edges of the design are not disturbed.
Dark T-shirt Printouts
Repeat the process for selecting and image, but do not reverse the design into a mirror image. Print the design out on transfer paper and allow it to dry.
Remove the backing paper from the image starting at one corner and slowly peel it off. If you are having a problem starting it, gently stretch the edge making a small tear in the paper. Then peel from that point.
Heat the iron to its highest temperature. Smooth the shirt out and position the transfer face up so it looks just like it will when finished. Cover the entire transfer with the ironing tissue paper provided with the dark transfer sheets. Iron it on.
Remove the ironing tissue paper and allow the T-shirt to cool completely before moving.
Tip
Wash T-shirts before ironing on a printed transfer. Do not use steam in the iron.