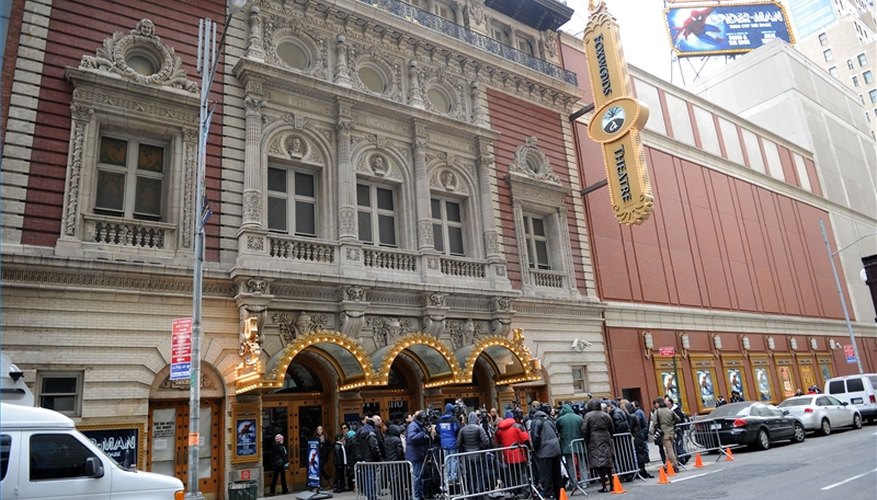 How to Meet the Stars of Broadway. You would be pleasantly surprised how easy it is to meet the stars of Broadway, and most fans of the Great White Way know how to do it. Unlike stars of the silver screen, many Broadway actors and actresses are on the cusp of stardom and enjoy signing autographs, posing for photos and just chatting it up with fans. Read on to learn how to meet the stars of Broadway.
Hang Out at the Stage Door
Find out where the stage doors are for your favorite Broadway shows. If you are seeing a show, get there a bit early and you will likely have no trouble locating the stage door of the theater. Most are located either just feet away from the main theater entrance or just around the corner from the entrance.
Be prepared to make a quick exit from the theater, if you would like to see the stars close-up. Depending on the show, you might find yourself in a crowd at the stage door, so try your best to get a front row position.
Bring your show Playbill and a pen or, better yet, a marker. Bring your camera, if you want to take photos and get autographs. Many stage door aficionados work in twos, with someone taking photos and someone else getting autographs.
Consider purchasing a souvenir program or small poster if you are not seeing the show first. You should have no trouble purchasing souvenir programs and posters in the theater lobby before the show is over, or at one of the many theater shops in Times Square.
Be patient and have fun. It will take a good 15 to 30 minutes for many Broadway cast members, particularly the recognizable ones, to change out of their costumes, wigs and makeup and into street clothes. Have no fear--most Broadway stars, even many of the big names, will eventually appear and sign your Playbills, pose for pictures and graciously accept your accolades. Many of them will simply stroll down the street when they are done, while others will step into waiting limos.
Look for Special Events
Go to New York's Bryant Park, if you are a New Yorker or will be visiting the Big Apple during the summer months. Every Thursday between 12:30 and 1:30 p.m., Bryant Park hosts "Broadway in the Park," a free series of performances of the city's hottest Broadway shows. It is a great way to get a taste of Broadway without paying the steep ticket prices, and it is a great way to collect autographs.
Check to see if your favorite Broadway show offers a "Behind-the-Scenes" tour. A great example is "Behind the Emerald Curtain," an exclusive behind-the-scenes look at the production of "Wicked" at the Gershwin Theatre. The 90-minute tour is offered Saturdays at 10 a.m. and includes a film and a question-and-answer session with cast members. Tickets are $25.
Subscribe to free websites like Broadway, Playbill and Live Broadway. These sites keep you informed about special events where Broadway stars will perform, including fund raisers, cast album promotions and other events.
Tip
When you are seeking autographs from Broadway stars, don't be pushy, obnoxious or demanding. The crowds that gather outside Broadway stage doors tend to be friendly, knowledgeable and respectful of the actors' time and patience.