http://www.thriftyfun.com/tf67681609.tip.html, http://w2.byuh.edu/library/curriculum/Dinosaurs/Dinosaurs17.jpg
Two empty toilet paper tubes
Crayons
Stapler
Single-hole punch
Yarn
Scissors
Binoculars are just the thing to make a child interested in looking at the world around him. They provide hours of pretending and creative fun as your child becomes an explorer, an adventurer and a discoverer of exotic beasts. If you do not want to entrust your child with a real pair of magnifying lenses, consider working together to make a pretend pair. Just having a prop can inspire a child to new heights of observation and make the entire backyard a new and exciting world to explore.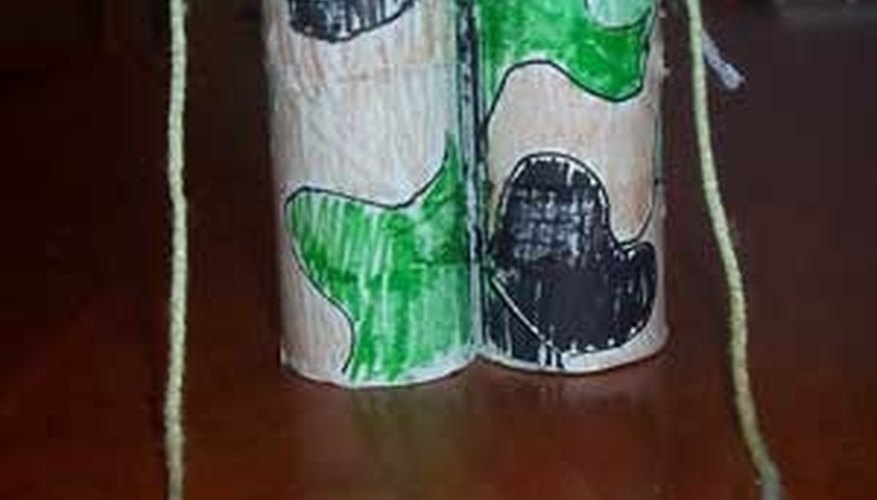 Color the toilet paper tubes. You can make any design you like. You might want to label the binoculars with your name or decorate them with a pretty flower pattern or pictures of things you hope you will see.
Staple the tubes together. They should be placed side by side and stapled along the length of their touching sides. You should be able to fit the top of the stapler in one tube and the bottom in the other in order to staple the middle of the tubes as well as the ends.
Punch two holes in the viewing end of the binoculars. These should be at the same end and there will be one hole in each tube. The holes should be on the outside of the two tubes.
Thread the yarn through the holes. Leave enough extra that the binoculars may easily be slipped over the neck for safekeeping when the investigator needs to run, leap or otherwise occupy her hands.
Make a list of things for your child to look for through his binoculars. These can be simple things like a bird or a tree, or more specific things for older children, such as certain types of plants or leaves and specific colors of animals. Check off the things as they are discovered to make a fun scavenger hunt activity.
Even very young children can make this craft, but because the stapler must be used in a somewhat unusual manner it is a good idea to do the stapling yourself.