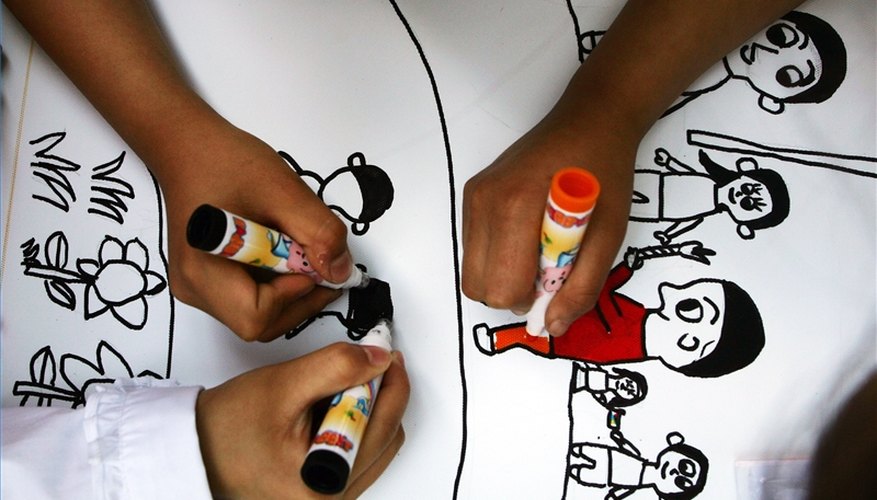 How to Make Poster Paint. There is no need to go out and buy poster paints when you can make your own at home. Mix up any color you choose, and only pay half the cost that you would pay at the store. The following recipe will provide you with enough poster paint to make four different colors.
Put ¼ cup of flour into a saucepan. Add a cup of water into the flour slowly, mixing as you go until the mixture is smooth.
Heat the flour mixture over medium heat. Stir continuously until this mixture thickens.
Set the saucepan to the side to cool.
Separate the flour paste into four amounts of ¼ cup sizes each into four different small containers or jars with lids once the mixture has completely cooled.
Purchase a variety of powdered tempera paint in several colors. Add 3 tablespoons of powdered tempera paint, the color of your choice, to each of the containers. Add 2 tablespoons of water to each color and mix the colors well.
Add ½ teaspoon of liquid starch to each color if you would like a poster paint with an opaque finish. Instead of liquid starch, add ½ teaspoon of liquid detergent if you would like your poster paint to have a glossy finish.
Store in covered containers with the lids closed tightly and label them according to color.
Tip
You can purchase the powdered tempera paint at any hobby or art store and even some department stores. Add glitter to your paints to make your poster paint sparkle.