http://crafts.kaboose.com/swf/lantern1_rdax_65.jpg
Paper lanterns make a great craft to do with kids. Different types of paper can be used such as scrapbooking paper, plain computer paper or tissue paper. Decorate the paper before cutting. Hang over Christmas lights along your porch or in a kid's room.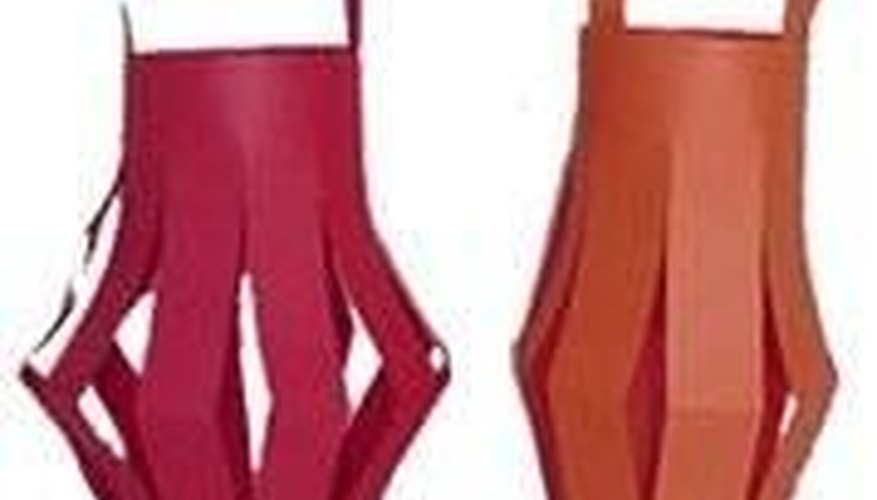 http://crafts.kaboose.com/swf/lantern1_rdax_65.jpg
Construction Paper, 8 1/2 By 11 Inches
Scissors
Ruler
Spray Adhesive And Glitter (Optional)
Tape
Lay one sheet of construction paper on your work surface. Cut a 1-inch strip from one short side of the paper; this will be the handle for your lantern. Set the handle aside.
Fold the piece of construction paper in half lengthwise so the short sides come together; then crease. With the creased side facing you, draw a line across the paper 1 inch down from the uncreased side. Next lay your ruler along the creased edge and make a mark at every 1 inch.
Cut along the 1 inch marks up to the line you drew across the top of the paper; this will make your cuts 4 inches in length. Do not cut through the top of the paper. Unfold your paper and lay lengthwise on your work surface.
Refold the paper bringing the long edges together. Overlap the edges; tape along the edges to hold together. Stand the lantern up on one end and slightly push down so it flairs out.
Staple the handle to the top of the lantern. Place one end of the handle on the inside of the lantern, and staple in place. Place the other end of the handle on the inside of the other side of the lantern, and staple in place. Repeat Steps 1 through 5 to make more lanterns.
Decorate the lantern if desired. Add glitter by spraying adhesive over the surface of the lantern; hold the lantern over a newspaper and sprinkle with glitter. Shake off excess glitter.
Do not place over a lit candle.
Warnings
Do not place over a lit candle.
Writer Bio
Amy Hannaford teaches childbirth education classes and a healthy pregnancy series in Southern Oregon. Hannaford holds an Associate of Arts degree, a certificate in medical assisting, and has been a childbirth educator and birth doula for 20 years. She has been writing articles for Demand Media since 2008.
Related Articles