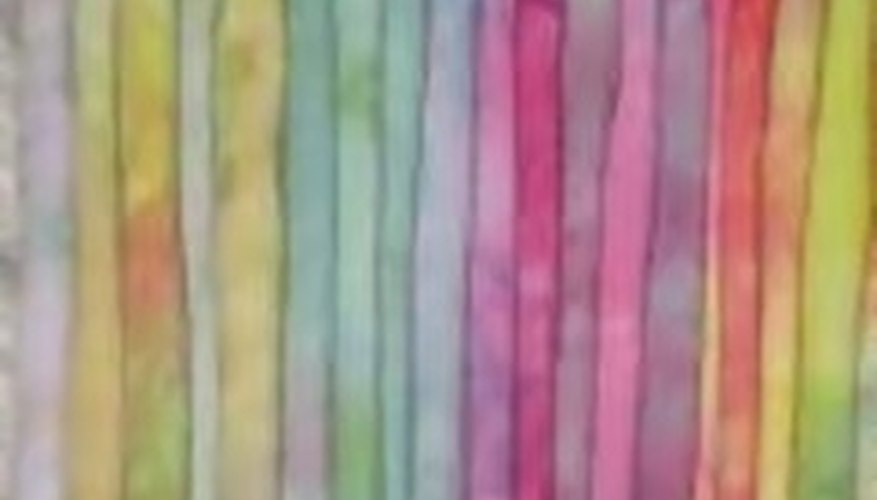 Whether it is based on a decision to save money, "go green," get back to nature or simply a matter of not finding the color you're looking for in a bottle, making your own natural fabric dye accomplishes all of the above and a lot of fun.
For yellow, wrap 2 pounds of goldenrod flower heads and stems in cheese cloth and tie with string. Submerge into at least 1 to 2 gallons of water and simmer for one hour. After one hour, carefully remove the cheese cloth bundles and wring them out over the pot, being careful to not let stems and flower heads fall into the water. Add more hot water to the mix to make 4 gallons of dye bath. If you would like your color to be brighter or do not have much fabric to dye, add less hot water. Remember, your color on your fabric will be approximately 2 shades lighter once it dries.
For purple/lavender follow instructions above, using 2 pounds of blackberries, blueberries or elderberries and simmering them for 1/2 hour. Wild or concord grapes can also be used, giving a deeper purple or blue effect.
For pink/red follow instructions above, using 2 pounds of strawberries, raspberries or tomatoes and simmering them for 1/2 hour.
For brown, the coffee grounds will dissolve directly in the water and do not need to be wrapped in cheese cloth. If you're using tea bags, they also can be placed directly in the water. Simmer for 1/2 hour.
For green take 3 pounds of rhododendron leaves and let them soak overnight. After 10 to twelve hours of pre-soaking, secure the leaves in cheese cloth and boil for one hour. Add enough hot water to make 4 gallons of dye bath depending on color desired and amount of fabric to dye.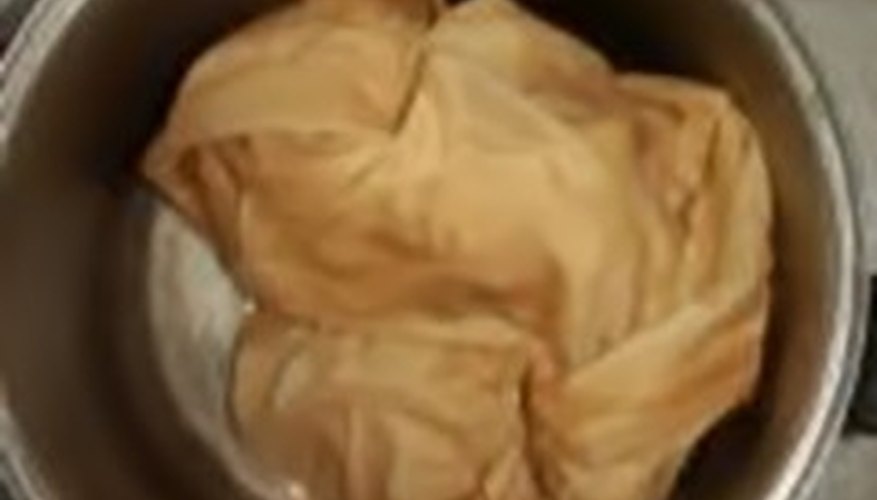 While your bath is simmering, you should be getting your fabric ready to be dyed. Take the other stainless steel pot and add 4 gallons of lukewarm water and 5.5 ounces of alum (aluminum potassium sulfate). Stir with your wooden spoon and be sure that the alum is dissolved. If you have a smaller piece of fabric you may use 2 gallons of water and 3 ounces of alum. (The alum preparation is what will make your fabric hold its color.) Immerse your fabric in the alum solution, and then bring it to a boil for 20 minutes.
Carefully remove your fabric from the alum solution, wring it out and immediately immerse it into your dye bath. Using your wooden spoon, be sure that all fabric remains immersed for at least 20 minutes. When the time has elapsed, remove from dye bath, wring out and let it air dry. Discard all remaining dye bath when you have finished your project.
Tip
For browns, you may also use 2 bushels of marigold flower heads. This color will be more of a rust than a brown. For deeper, brighter colors, add less hot water to boiled mixture
Warning
Be careful when handling the hot cheese cloth bundles and when pulling fabric from alum solution! Use potholders (that you don't mind throwing away) to protect your hands from the hot liquid.