Trinkets or small toys
Necklace chain cut to desired length
Jump rings - I used 8mm to connect the trinkets and 4mm to connect the clasp
Clasp for each necklace made
Needle nose pliers
Spray Paint (optional)
Ring base (if making a ring)
White glue (if making a ring)
Glitter (optional)
Glue gun or crazy glue (if making a ring)
I always begged my mom for a quarter whenever I would see those gumball machines with the little treasures in them. I never got the exact one I wanted on the first try so I was left with a pile of second choices. What to do with these little trinkets? Try making jewelry! It's time to clean out your junk drawer and gather all those party favors and Happy Meal toys to make some trinket-inspired jewelry.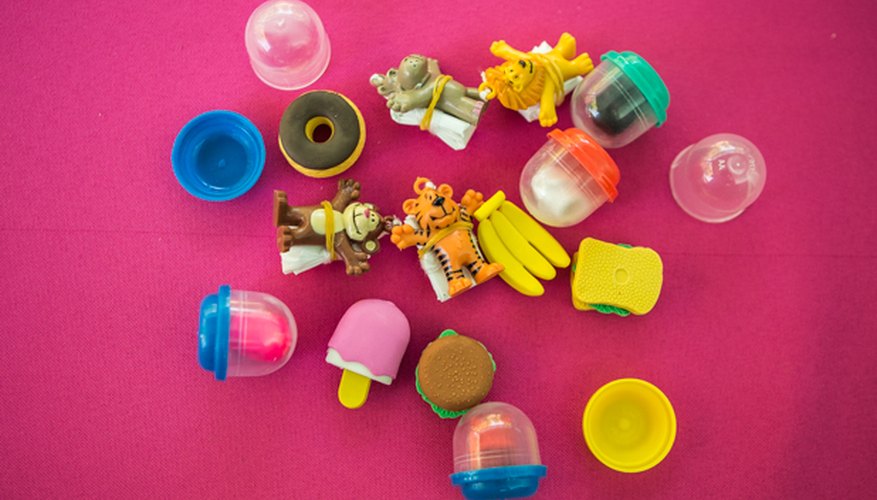 Susie Delaney
Gather all your trinkets and decide on which will look good together on a necklace. Make a little collection of items that go together. For a necklace, get your chain and larger jump rings and your needle nose pliers. If jewelry making is new to you, I highly recommend finding a mom-and-pop specialty store because they provide helpful tips and will ensure you'll get the right supplies.
Susie Delaney
If your trinket does not have a hole for a jump ring you will need to make one. Luckily these little bananas have the perfect spot to put the jump ring through. Use the needle nose pliers to slightly open ring and fish it through the hole on the banana (or whatever you are using).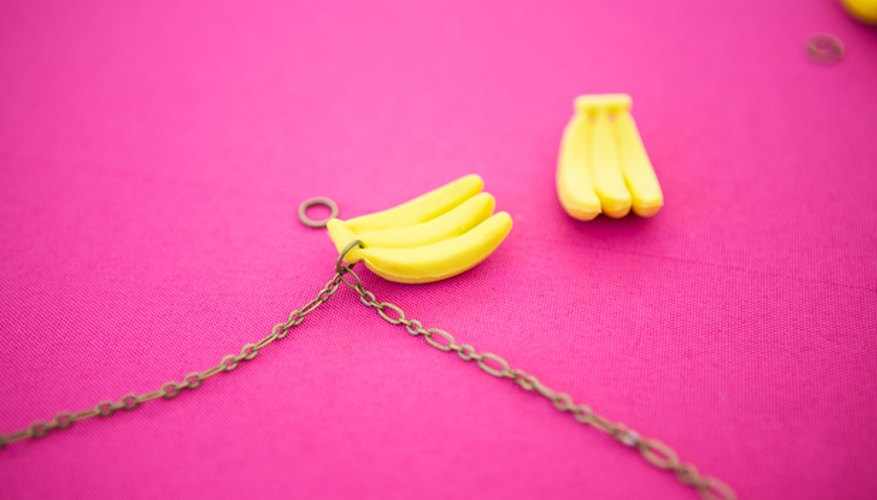 Susie Delaney
Decide how you want your trinkets arranged on the chain. I am using three bananas, so I found the middle of my chain and added my first trinket. Loop the jump ring with the trinket attached through a link on the chain. Use the needle nose pliers to close the ring. If you don't close it well the ring will open and you will lose your little toy.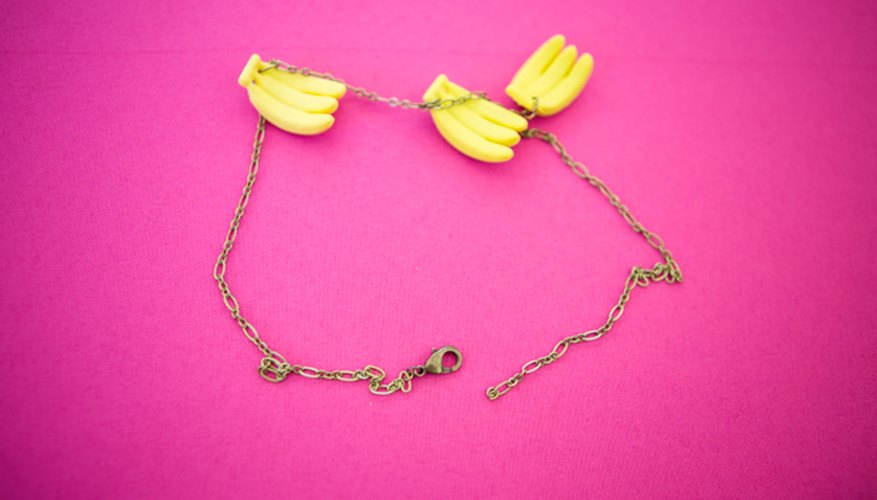 Susie Delaney
When you are finished adding your items, attach the clasp. Use the smaller jump ring, in my case 4mm, and open it with your needle nose pliers and attach it to the clasp. Then attach the jump ring holding the clasp to one end of the chain. Close the ring securely. I used a very open chain so I didn't need to attach a larger ring to the other end of the chain for the clasp to attach to when wearing it. You may need to use one of your 8mm rings if you are using a fine chain.
Susie Delaney
Now you've finished your necklace! I still have more trinkets though - time for round two.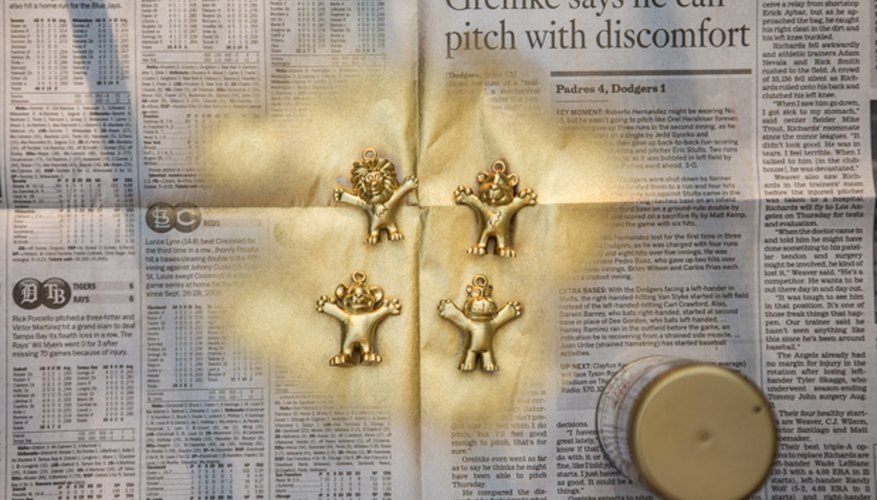 Susie Delaney
I have a lot of these little animals with a little plastic parachutes attached. They are cute but I wanted it to make it a little less kindergarten. Solution? Gold spray paint. I cut off the little parachute and spray painted the front, waited for them to dry and spray painted the back.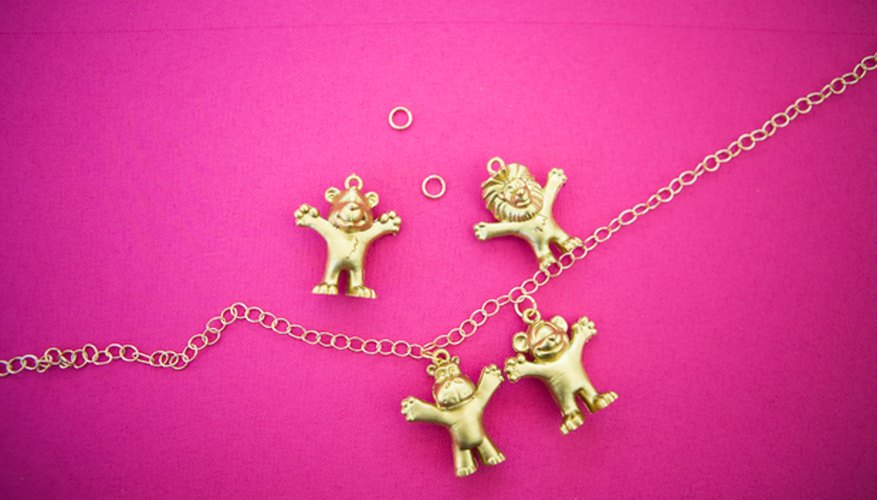 Susie Delaney
Follow the same steps as you did for the first necklace, and attached your painted trinkets to the chain. Attach the clasp to the back as well, like you did with the first necklace.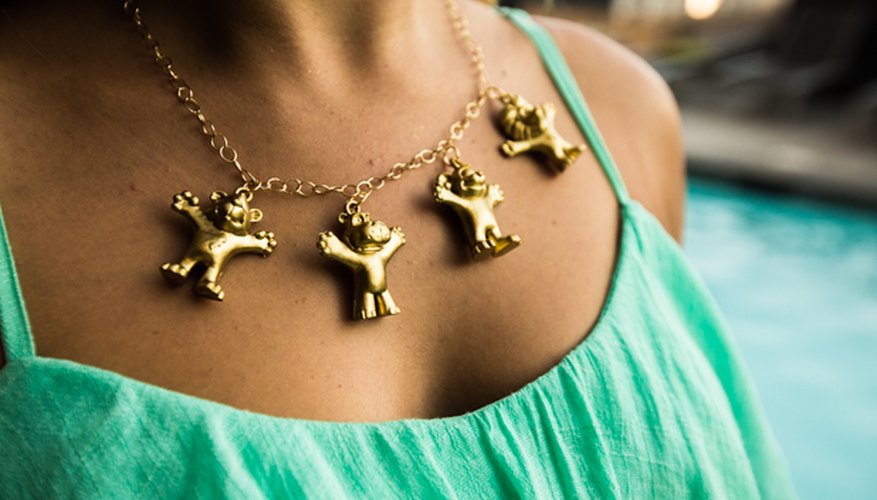 Susie Delaney
The painted toys make this necklace the perfect statement piece!
Susie Delaney
Maybe a necklace is not for you? Let's make you a toy cocktail ring. Select items that have a flat back. This will make attaching the trinket to the ring base much easier. The items can use a little sparkle as well. I covered the item in white glue and covered them in glitter. Set aside to dry.
Susie Delaney
Use hot glue or a stronger crazy glue to attach the trinket to the base. Let dry before wearing.
Susie Delaney
These sparkly rings are so glamorous. Make these easy jewelry pieces with kids, or make some and give them out as fun gifts or party favors!
This can be made with kids with supervised help from adults.
Warnings
This can be made with kids with supervised help from adults.
Writer Bio
Susan Delaney was born and raised in beautiful sunny California in the area that is widely known as the Valley. She writes the blog Bittersweet Susie where she shows off her skills with a glue gun and misadventures that forced her parents to taste test jell-o recipes from the 1950s.
Related Articles