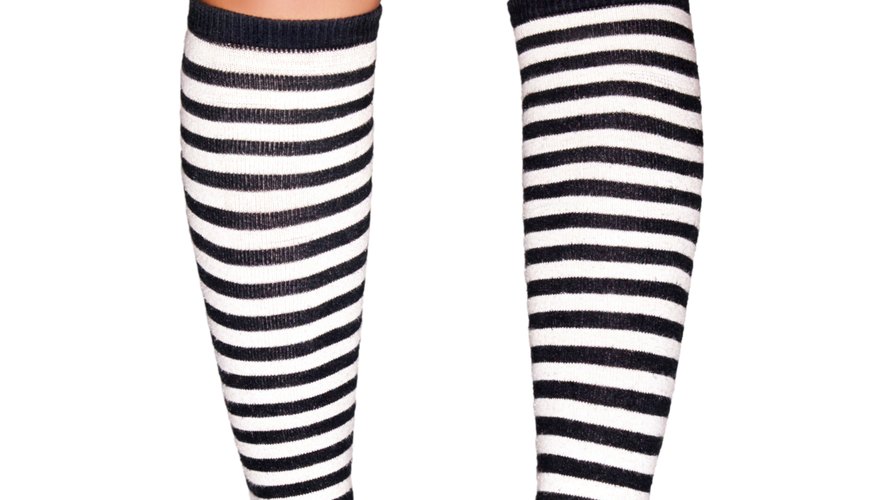 Thinkstock/Comstock/Getty Images
Elementary schools often implement a goofy or silly sock day for fundraisers, spirit days or class competitions. While it's easy for your child to just wear a pair of mismatched socks, make the occasion a fun afternoon craft project. Turn a pair of plain socks into goofy socks using basic supplies. Choose to dye them, embellish them or personalize them to make them goofy. Or, do all three to create socks that will really stand out on silly sock day.
Tie dye white socks using colored permanent markers. Stretch a sock over a plastic sports bottle without the lid. Make a dime-sized circle of dots on the part of the sock that is stretched over the bottle opening. Use two to three different colors. Use a medicine dropper to drip rubbing alcohol over the circle and watch the ink spread into a tie dye pattern. Let the ink dry for five minutes before dying a new part of the sock. When you finish, put the socks in the dryer for 20 minutes to set the colors.
Stitch or hot glue lightweight objects to the socks. Try buttons, plastic spider rings, pipe cleaners, small silk flowers, beads, sequins or tiny plastic toys. Other ideas include bows, pompoms, lace or rickrack.
Personalize the socks by putting letters, names or sayings on them with fabric puff paint or glitter paint. Write your child's initials or name in a prominent spot and let the paint dry completely, about 12 hours. Other ideas include writing the school name, the class name or the alphabet. Write words that describe the theme of the event, such as "Happy Holidays," or "Silly Sock Day."
Tip
Avoid stitching or gluing any embellishments on parts of the sock that will be inside the shoe. Dried puff paint in those areas can also be uncomfortable.
Warning
Don't let children use a sewing needle without supervision.