holly candy cane ornament image by Scott Williams from
Fotolia.com
For lollipops:
Bright red, green, yellow, purple, blue, pink and orange paint
2-inch and 4-inch trim brushes
Laying-in brush
15- to 18-inch-diameter flat, rigid-plastic foam circles
Colored cellophane gift bags
Curling ribbon
4-foot dowel rods or broomsticks, 1-inch diameter
Hammer
For gingerbread people and candy canes:
Gingerbread people templates
Candy cane templates
Overhead projector
Clear overhead projector sheets
Easel pad
Carpenters' pencil
2-inch-thick rigid-plastic foam, 4 feet long by 3 feet wide
Hot knife
White and brown paint
6 feet rebar
Wrap-end Christmas Candies:
2-foot square plywood sheets, 1/2 inch thick
Jigsaw
Medium through extra-fine sandpaper
4-foot-long board, 2 inches by 4 inches
Table saw with miter fence or back saw and miter box
Brass wood screws
Green, red and white paint
A Christmas Candy Land display takes time to perfect. Rendering your favorite holiday treats in materials that will withstand winter storms, curious wildlife and excited children requires a month or more of advance planning. Begin with a modest first-year display, and add two or three new items each year to keep decorating costs from taking the "Merry" out of your Christmas.
Lollipops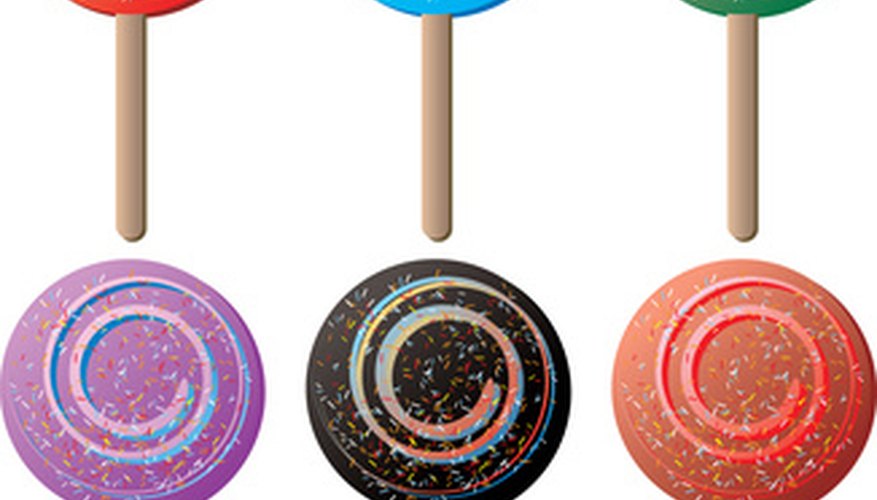 Paint the narrow edge and one whole side of each rigid-plastic foam circle in a single bright color. The trim brush will allow you to paint the narrow edge in single, smooth strokes, while the laying-in brush's wider face and thicker bristles cover large areas more quickly. Allow the paint to dry overnight.
Paint the remaining side of each rigid-plastic foam circle with the same bright color. Allow to dry overnight.
Make a 1-inch-diameter pilot hole into each rigid-plastic foam circle to fit the rods or broomstick sections.
Pound each rod into the ground at least 1 foot using a large hammer.
Push each rigid-plastic foam circle onto one of the rods you have driven into the ground.
Pull a clear cellophane gift bag over each lollipop from the top and twist it around the rod at the bottom of the painted rigid-plastic foam circle. Tie the twisted portion of the bag with a length of curling ribbon so it will not blow away in high winter winds.
Gingerbread Family and Candy Cane Row
gingerbread man detail image by Rob Hill from
Fotolia.com
Select a gingerbread person enlargeable pattern from Chenille by the Inch, Lee Hansen Graphics, other online sites or your favorite coloring book—or design a gingerbread person of your own.
Fill your printer's paper tray with clear, plastic overhead sheets. Print your chosen design.
Tape a sheet of easel paper to the wall. Lay the printed gingerbread design on your overhead projector. Move the projector forward and back until the image on the wall is clear and fills the entire easel pad.
Trace the image onto the easel pad using a carpenters' pencil. Cut around the outline of your gingerbread person to make a paper template. Tape the template to a 2-inch thick, 3-foot by 4-foot sheet of rigid-plastic foam.
Use a hot knife to cut the gingerbread man shape from the rigid-plastic foam. A hot knife melts the material, according to the National Model Railroad Association, Cincinnati Division 7.
Paint one flat side and the narrow edge brown and allow to dry overnight.
Turn the painted rigid-plastic foam over and paint the remaining flat side brown. Allow to dry overnight.
Add eyes, smile, buttons and other details to each gingerbread person using white paint. Allow to dry overnight.
bricklayer,mason image by Greg Pickens from
Fotolia.com
Pound 6-foot lengths of rebar into the ground at least 18 inches using a large hammer. Push gingerbread men onto each rebar rod through one foot, up a leg and across to the neck or head of your gingerbread man to hold them in place.
Repeat Steps 1 through 8 using a candy cane template to make a candy cane border for your yard. Use stripes of red and white paint instead of using brown and white.
Hard Wrapped Candies
Print your favorite hard candy designs onto overhead sheets. Project the images onto an easel pad on the wall to enlarge them.
Outline the candy image and cut it from the rest of the easel pad. This is your candy template. Tape it to the sheet of plywood and draw around it using a carpenters' pencil
Cut around the outline of the template using a jigsaw. Use medium through extra fine sandpaper to smooth away any roughness.
Paint each candy like hard candies such as peppermints and barley candies.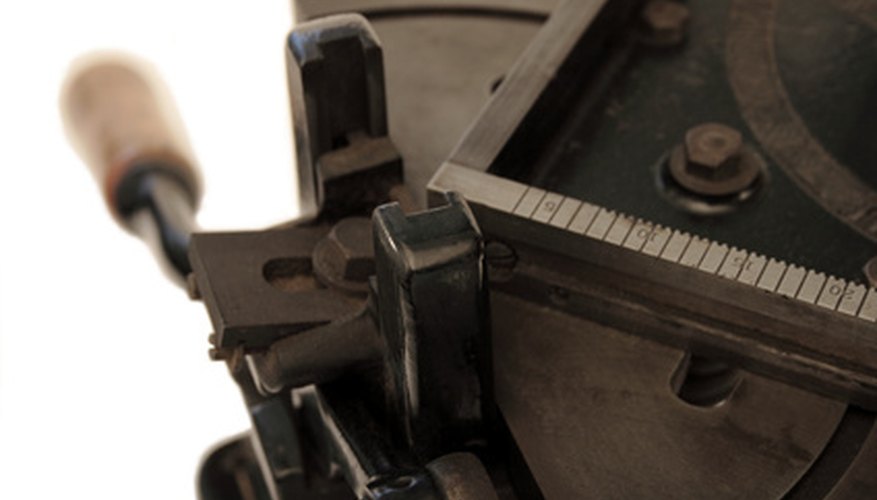 Miter a 4-foot long board, 2 inches by 4 inches (half of a 2-by-4), to a 45-degree angle to create a prop for each candy. Use a miter fence and your table saw or a back saw and miter box.
Attach the prop to the cutout on the back side. Drill a 1/8-inch pilot hole through each prop and into the cutout without drilling through the wood. Attach the prop to the cutout using brass wood screws.
Arrange the candies and other items throughout your yard. Make two rows of candy canes along each path in your yard.
References
Resources
Writer Bio
Jane Smith has provided educational support, served people with multiple challenges, managed up to nine employees and 86 independent contractors at a time, rescued animals, designed and repaired household items and completed a three-year metalworking apprenticeship. Smith's book, "Giving Him the Blues," was published in 2008. Smith received a Bachelor of Science in education from Kent State University in 1995.
Related Articles