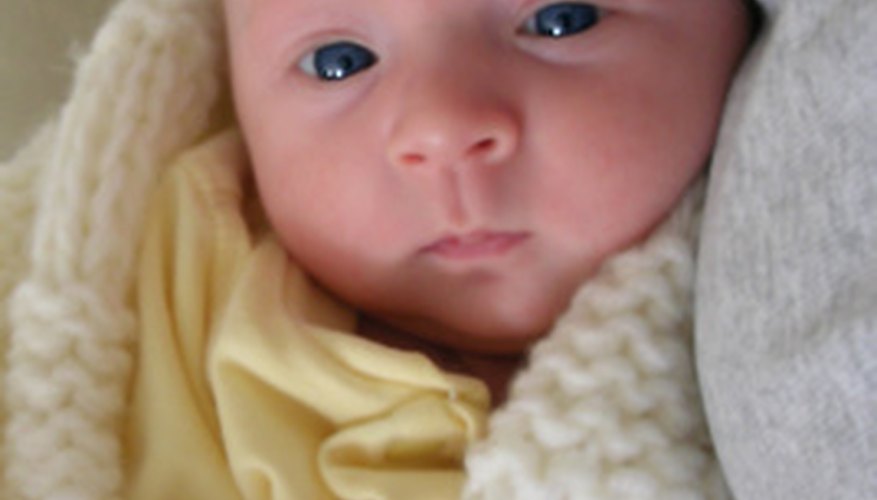 An infant carrier cover is the ideal way to keep your baby out of the sun, cold or other elements without removing her from her cozy carrier. The cover can be used on strollers, car seats and other carriers. This project requires very little crafting skill and can be completed by any mom looking for a custom carrier cover. By making this item yourself, you will have the opportunity to select any color, design, fabric, shape and size that you want.
Fold the fabric of your choice in half with the back side facing outward. Lay it over the empty carrier. Pin the edges to designate where you want the top, bottom and sides of the carrier cover to fall. The cover should be large enough to keep the entire carrier shaded, but not so large that it will get caught beneath the carrier when you set it down.
Trim the fabric about an inch outside of the area designated by the pins. You will be trimming off the folded edge of the fabric as well, so that you have two identical pieces. With a ruler and fabric marker or pencil, lightly outline the edge of the cover where you will be sewing both pieces of fabric together.
Sew the edges of the fabric together with a needle and thread or a sewing machine, leaving an opening at least six inches long on one of the sides. Turn the piece inside out using this opening, so the outside of the fabric is now facing outward and the finished seams are on the inside. Sew the opening of the fabric closed.
Drape the cover over the infant carrier. With your pencil or fabric marker, lightly mark two spots on the cover to indicate where the handle of the carrier falls. This is where you will be adding your ribbons to secure the cover to the carrier. Indicate spots for two ribbons, one on each side of the handle. This will keep the cover lifted so it does not drape directly onto the baby.
Cut two lengths of ribbon, at least 18 inches long. Sew these to the markings on the cover. Each ribbon should be secured in two places in the center of the ribbon, about two inches apart, to keep the ribbon from ripping off easily.
Drape the cover over the infant carrier and tie the ribbons to secure. The cover should drape neatly over the entire carrier and be held up by the ribbons secured to the handle. If the cover is drooping too much, you may need to add a third ribbon in the center of the handle, or two additional ribbons along the sides of the handle.
Tip
Rather than using two yards of a single piece of fabric, you can also use one yard each of two coordinating fabrics if your prefer different patterns on the top and bottom of the cover.