FamilyFun.com, MakingFriends.com, CreativeCommons.org, DavidBruce.com, DKimages
Empty coffee can
Glue gun
Vinyl tape
African themed stickers (such as wild animals)
Colored construction paper
Colored vinyl tape
Scissors
Plastic jug
Beads
Craft lace or yarn
Tempra paint or paint pens
In this article, you will discover two great guides for making African instruments. Both are geared toward children, so they can be used at home or in the classroom. Learning how to make African instruments can be both fun and educational in a creative way. For this article, we will be making two instruments: a drum and a shekere, which is a percussion instrument that you shake. For both of these, you will need a minimal list of inexpensive supplies, and many of them you might already have around the house or classroom.
Paint a plastic jug any way you like. This will begin your shekere. For an authentic look, stick to bright colors, which are popular in Africa, such as red, green, yellow and vibrant blues and purples.
Cut two pieces of yarn or other craft string after your paint has dried. Make one of these 1 foot long and the other one 5 feet long (12 and 60 inches). Take your beads and string about eight of them onto the 12-inch section of yarn. Then, tie the ends together so it makes a beaded circle.
Fold the 60-inch section of yarn in half and then wrap it around the jug, underneath the handle. Tie a knot at this location, and then leave the extra length hanging down. Use the remaining yarn to string beads and knot them in various locations on the drum.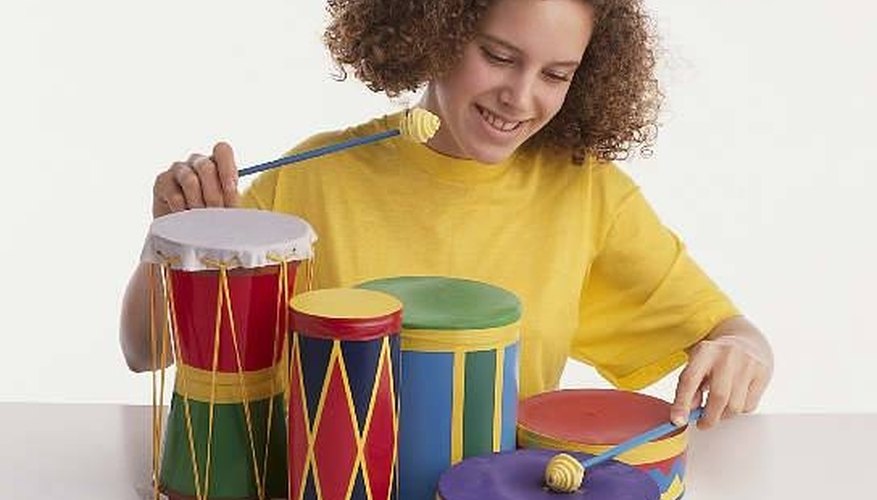 Toss some dried beans inside of the jug to make the shaker noise. This will be a lot of fun, especially for younger children. If you have the resources and time, teach a traditional African tune to sing along with your shekere shaking. A site such as Djembes.org will provide you with African MP3s if you have trouble finding music.
Cut a piece of construction paper in any color you choose and glue it to the coffee can using your glue gun. This will make your African drum. After the paper has set, decorate your drum any way you want to. Use vinyl tape, African themed stickers, markers, crayon and whatever else you have to make it festive.
Branch out with your decorating supplies--the more embellishments you have, the more unique your final product will be. Teach a brief lesson about Africa while making your musical instruments. This will help kids understand a different culture. Put on some African music to set the mood for your project.
Help small children use scissors to prevent injury. Use glue guns with caution. Use glue sticks instead if you are nervous about potential burns. If younger children are at home, check the floor for any stray beads or other small objects that could cause a choking hazard.
FamilyFun.com, MakingFriends.com, CreativeCommons.org, DavidBruce.com, DKimages